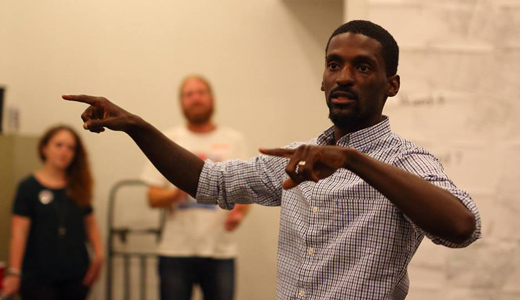 ST. LOUIS — Maverick 78th District State Rep. candidate Bruce Franks made history Sept. 16, trouncing long-standing machine incumbent, Penny Hubbard.
After a rare special election re-vote, Franks won with 2,234 votes to Hubbard's 701.
Franks, a member of the St. Louis Workers' Education Society, will be the third grassroots activist member of the Society to go to Jefferson City, Missouri's state capital.
"I came from the people. I represent the people. I cannot be bought," Franks told People's World.
The re-vote was ordered after numerous concerns were raised about the abnormally high number of absentee ballots cast for the incumbent during the August 2nd primary election. While Franks won the day-of vote with 53 percent, he was declared the loser by 90 votes due to Hubbard's high absentee ballot numbers.
After a lawsuit was filed with separate investigations by the Missouri Secretary of State's Office and the FBI, a re-vote was ordered. Governor Nixon also removed two St. Louis City Board of Elections commissioners, signaling an end to business as usual for the Hubbard family – which had built one of the largest and most effective political machines in St. Louis city politics.
Franks' personal journey
Franks, a south St. Louis native, learned early in life about gang and drug violence. At six years old, he witnessed his brother get used as a human shield in a shootout and die before his eyes.
As a young man he experienced racism and white supremacy first hand.
In the streets of Ferguson, after Michael Brown's murder in 2014, he was beaten by the police.
Franks saw beyond the protests, though. Instead, he found ways to build bridges.
Ever the optimist, he decided to foster dialogue with the police, building a deep and growing connection with ESOP Genesis, the Ethical Society of Police, St. Louis' African American police officers' association representing nearly 300 area police – which is often at odds with the white-led, conservative Police Officers' Association (POA).
Franks also founded the non-profit 28-to-Life, a Black youth mentorship organization, and works with YouthBuild, which helps at-risk youth gain trade skills and a pathway out of poverty, the streets, gangs, and drugs.
Franks has also participated in the Painters' District Council 58 sponsored Advanced Skills Workforce Center (ASWC), talking with participants about his upbringing, why he wants to shake up Jefferson City and what it means to have a good paying union job.
A grassroots effort
Franks is a coalition builder who says he is tired of politics as usual. It took a broad-based coalition of labor and progressive allies for him to win on September 16, to defeat absentee ballot fraud and powerful status quo politicians – like Congressman Lacy Clay, who supported Hubbard.
Franks is part of an insurgent group of candidates carrying the Bernie Sanders' political revolution forward on a local level. In all, local "Bernie democrats," as they call themselves, challenged nearly 30 state legislative, ward and committee seats in St. Louis' August primary.
Rasheen Aldridge, a former Jimmy John's employee, turned fast-food organizer who was appointed to the Ferguson Commission, was part of this insurgency. He challenged Rodney Hubbard Sr., Penny Hubbard's husband, in the 5th Ward Committeeman post. Like Franks, Aldridge won the day but lost by 55 votes after the absentee ballots were counted.
Aldridge is also seeking a re-vote.
As a WES member, Franks made clear early on his support of workers' rights to form and join unions, though most St. Louis area unions backed the incumbent. Franks is solidly against so-called 'Right-to-Work' and 'Paycheck Protection' legislation, but he also wants to see more African Americans welcomed into union sponsored trade programs like the Painters' ASWC, which specifically targets women and people of color.
Franks, with his face tattoos and from-the-streets experiences, will shake up Jefferson City.
He will join WES members, Clem Smith (85th District) and Peter Merideth (80th District), all of whom have pledged to fight for a progressive, pro-union, pro-choice, pro-LGBTQ+ agenda.
"This was never about me," Franks added. "This is about the people. This is about challenging corporate greed. This is about stirring things up and creating change."
"They said it would never happen. We've proved them wrong. And this is just the beginning," Franks concluded.
Photo: Bruce Franks Jr., State Rep. Elect (D 78), at a fundraiser, several days before the victory. Stan Valise | PW