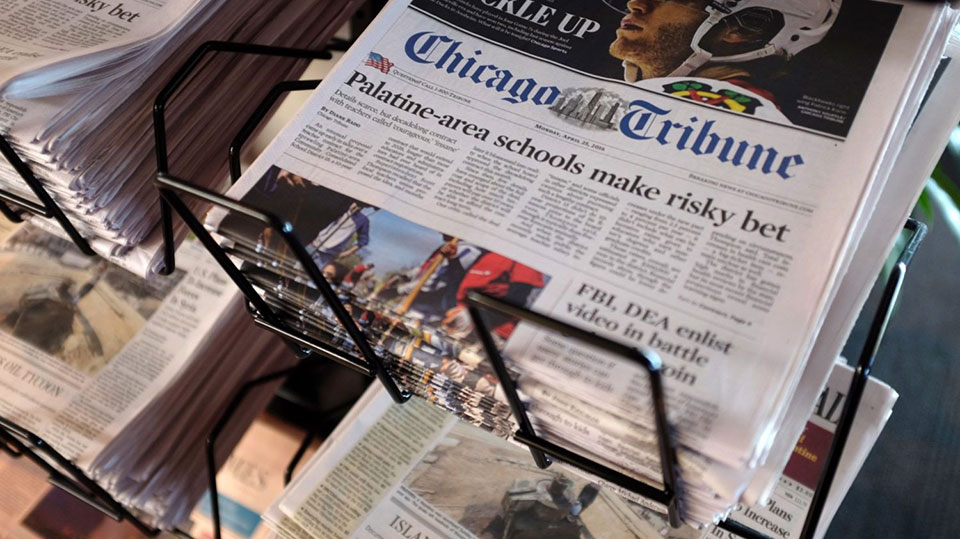 CHICAGO —Workers at Tribune Media newspapers are underpaid, overworked, four-fifths white and there's a big gap in pay between white staffers and the rest, even where the workers are in equal jobs. Workers of color are more overworked than white workers, too.
That's the takeaway of a 21-page report by The News Guild of conditions at the notable chain. And the union specifically asked the respondents, who included more than 70% of all full-time newsroom staffers, to evaluate conditions before vulture hedge fund Alden Global Capital swooped in and swallowed the chain for millions of dollars.
After Alden took full control a year ago, it started imposing massive layoffs, offering buyouts, and selling off real estate—its pattern at other papers it owns nationwide. At those publications, Alden's often followed with sudden closures, leaving cities as news deserts.
The News Guild report's results are similar to those produced by both unions and independent and academic analysts in past years. But in light of the spotlight on racial disparities in the U.S., thrown into high relief by the demonstrations after George Floyd's murder in Minneapolis, the report also shows how little has changed in the sector.
Individual stories from present and former Tribune media staffers paint a sorry picture. They include: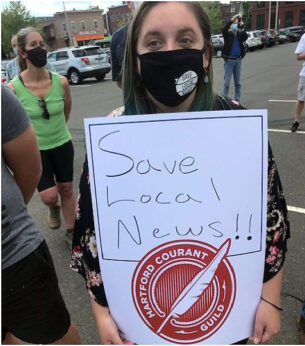 "Several times in my three-and-a-half years…I've become aware that I, a man, am paid more than women with similar experiences working in near-identical roles," Alex Putterman of The Hartford (Conn.) Courant revealed to TNG.
"In these instances, I tried to help my female colleagues bargain for equal pay, but that shouldn't be part of my job and definitely shouldn't be part of theirs. Tribune should pay all its employees fairly. We shouldn't even have to ask."
"It seems pretty obvious the younger you are, the more likely you are to be underpaid. And this needs to be addressed," added Wendy Fox Weber of the Tribune's suburban papers.
The survey is the latest indication of the state of the nation's newspaper industry, featuring low pay, bad benefits, a crash in ad revenues as publishers failed to cope with the loss of income to the Internet, and frequent subsequent hostile Wall Street takeovers.
Publishers answered with massive cuts in staff, coverage, and publication frequency. As a result newsroom employment nationwide has dropped by half in the last 15 years. Of the remaining workers, hordes have turned to unionizing with The Guild, a Communications Workers sector, to protect themselves.
The unionization drive has picked up so much steam that TNG now represents almost half, if not more than half, of the nation's newsroom workers. That includes unionizing historically hostile newspapers, specifically The Chicago Tribune and The Los Angeles Times.
Those two papers' longtime owners, notably the Chandler family in L.A. and Col. Robert R. McCormick in Chicago, went to extraordinary lengths for more than a century to keep their shops union-free. TNG's successes also include unionizing in the historically hostile South, winning recognition votes in Florida and Texas, among others.
A good share of the unionized workers nationwide are at Tribune, which includes its flagship Chicago Tribune, its suburban papers, the Baltimore Sun and its suburban papers, the Allentown (Pa.) Morning Call, the New York Daily News, the Hartford Courant, the Orlando (Fla.) Sentinel, and a group of Maryland and Virginia dailies, among others.
Before Tribune fell victim to Alden, it had sold off The Los Angeles Times.
Some 384 workers from all the papers except New York responded, and the data was aggregated to protect individuals. Though New York Daily News staffers didn't—or couldn't—respond, the union uncovered data showing a long history of unionization there and at the Baltimore Sun produced smaller wage gaps than elsewhere. Other findings included:
A lack of diversity. Despite Guild demands, Tribune HR personnel responded with lip service pledges. Newsrooms are 80% male, and 81% white. Overall staffing, which included ad reps and other non-reporters, produced a male-female ratio of 58%-42%.
TNG locals at the Tribune papers asked bosses to recruit minority candidates at historically Black colleges and universities and via national associations representing Black, Hispanic, Native American, Asian American, and LBGTQ journalists. The Guild also wants to meet regularly with paper managers "to discuss diversity and inclusion in the workplace. "Their response to each proposal: 'Not interested.'"
Median pay for men was $55,000, compared to $47,008 for women. Men were 80% of the newsroom workforce.
Median pay for whites ($53,997) outpaced that for Hispanic-named workers ($49,462), Asian-Americans ($46,486) and Blacks ($46,259).
Two-thirds, including 74.44% of the women, felt underpaid. Eight out of nine of all workers reported no raises from Jan. 1, 2019, through Alden's takeover in March 2021.
Almost a third (31.84%) reported working more than 40 hours weekly for most weeks of the year, a longtime problem in the newspaper business.
Frequent overwork was especially widespread (58%) in Orlando, which recently unionized. Tribune's digital media arm was the only unit below 20%. All the worker groups said it would take 43-44 hours per week to finish all the work they were expected to do in 40.
"We're calling on Tribune to create a more equitable work environment for all—one that doesn't discriminate on the basis of race or gender," the report demanded in conclusion.
"We ask the company to take concrete, measurable steps to address the lack of diversity in our workplaces and make good on its talk about its commitment to diversity and inclusion."