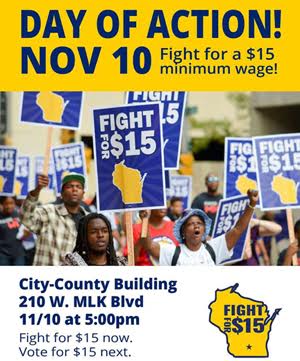 The closing of a legendary manufacturing company was handled as routine in a 161-word story Nov. 3 by the Gannett chain newspaper, once an independent pride named Milwaukee Journal Sentinel, whose own rapid descent from stand-alone print to E.W. Scripps takeover to Gannett buyout speaks to what is happening in the newspaper industry.
Rick Barrett was reporting but no room for humanizing a letter from Joy Global required under state law. It briskly revealed that the world renowned maker of behemoth mining shovels (second most highly regarded in the world next to another Milwaukee centered company, Bucyrus, now Caterpillar) was shutting down its famous Orchard Street plant, laying off 51 union employees and five non-union workers. These cuts start in January after Joy Global recently slashed 26 salaried jobs and 113 hourly employees at a nearby National Avenue facility on the south side.
In fairness to the media staffs, there was a lot of bad news on their Wisconsin plate.
Almost simultaneously (Nov. 4) newspapers had to report that Madison's legendary Oscar Mayer plant, once a booming 4,000 workers and still the most famous hot dog and bologna name in the US (remember the Wienermobile and that famous jingle?) was closing, moving its corporate headquarters to Illinois and in the process eliminating all remaining 1,000 jobs.
It struck hard in a city known for thriving technology in the modern industrial world sporting a world-class feeder in UW-Madison, said Mayor Paul Soglin, putting the best face on the closing while acknowledging it was going to have a damaging rippling effect. He pledged finding work for the Oscar Meyer thousand would be among his top priorities. Other Democratic officials howled in dismay and also pledged whatever support a minority legislative party can do.
Even given such promise, everyone knew how many families would be devastated, according to sources within the UFCW, the United Food and Commercial Workers. Doug Leikness, the president of Local 538 that represents some 650 of those workers, noted that he, his father and his grandfather had all worked there.
It didn't help when business journals reported that Kraft Heinz, now the world's third largest food company that acquired Oscar Meyer earlier this year, was building a new Oscar Mayer plant in Davenport, spurred by $8 million in Iowa and Davenport incentives. That included a retention promise for its Iowa workers at another plant there but no discussion of who would get jobs in the new expansion.
The hits keep coming. Wisconsin law (WARN) requires companies to report plant closings and mass layoffs. Without counting any of the previously noted, in just October (the last month available) Wisconsin laid off 1,258 workers – not just in manufacturing but in agriculture (among the biggest Shopko, ConAgra Foods, McCain Foods, Sentry and Dairy Farmers of America).
In his Uncommon Causey, columnist James Causey listed 9,431 workers on the WARN list who lost jobs just in 2015, far more than the year before. He reminded readers this is horribly backwards from Gov. Scott Walker's campaign promise to add 250,000 jobs, no matter how his political machine plays with the numbers.
Even the right-wing trade group, Wisconsin Manufactures & Commerce, is having trouble with its face. In September its leader conceded shortage in attracting teachers, IT experts, health care workers and even accounting – but Kurt Bauer claimed there were thousands of manufacturing jobs if only the state had skilled duty-committed workers. At this rate of shuttering, it seems, WMC should have no problem filling many – and at lower wages now that Wisconsin is a right to work state.
As previously reported in Peoples World, Caterpillar has already shrunk its mining operation in Milwaukee from nearly 800 workers, when it spent $7.6 billion to acquire Bucyrus three years ago, to 250 today.
Granted there is an international downturn in mining equipment requests spurred by commodity pricing (which strikes many economists as short-sighted given the likely pressure for new sources of ore, except coal). Granted, too, that Wall Street tends to do cartwheels when food companies consolidate, since that brings a reduction in workforces. In the face of these pressures, today the workers left behind become just a spit in the ocean.
But Milwaukee's mining giants survived a century of the horrible lows and ecstatic highs in global demands based on reliability of American goods – including two world wars and a depression. It's just that the modern managers don't seem to have the same commitment to keep experienced workforces intact until the inevitable bounce.
Both companies relied on the reputation of quality longevity provided mainly by the United Steelworkers. In these thousands of layoffs, most of the workforce is middle aged. Their families and growing children will have to fend anew in a violently changing market.
All that is happening can't be directly blamed on Gov. Walker and the Madison legislature. Neither have the moxie or intelligence to infect the world market. But whatever forces are at work have landed mighty hard on Wisconsin.
Going out of their way to provide incentives (also known as payoffs) to its business clientele, seeking to limit the political power of unions, changing the John Doe laws so elected leaders can't even be investigated with that prosecutorial tool – that has occupied their taxpayer time. None provides better tools for workers to survive downturns or keep families intact with health benefits, education breaks and food programs, all cut and made painfully difficult in Wisconsin.
Their corporate buddies making out like bandits with special Wisconsin Economic Development Corporation (WEDC) loans and other incentives turn out to be hardly the giants of finance, not even good at trickling anything down but fees for corporate lawyers.
The Walker approach hasn't opened Wisconsin to business. It seems to have propelled an exodus.
Photo: UFCW Local 538 Facebook.