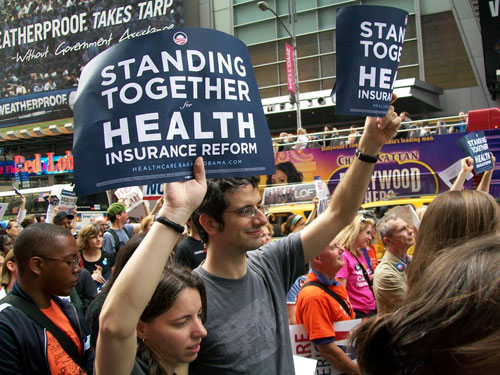 NEW YORK – At nearly the same time as the funeral for Ted Kennedy, the "Lion of the Senate," took place in Boston, thousands of people gathered at the crossroads of the world to both fight for President Obama's health care reform package and to say "thank you" to Kennedy for his lifelong struggle on behalf of working people, especially his fight to make sure everyone in America had access to quality care.
Attendee Curtis Lewis summed up the sentiment of most at the rally: "I'm here to support health care for everyone," he said. "It's a very important issue, and it's about time. I'm also here to honor Senator Edward Kennedy."
"Let's make Senator Kennedy's dream a reality," John T. Ahern, president of the New York City Central Labor Council said to those gathered. "We know no one should be without health care. But right now, 47 million Americans are without health care. It ain't right, brothers and sisters. We need a public option."
Ahern, who was surrounded by members of both AFL-CIO and Change to Win unions, told the World that the C.L.C. had decided, for the first time, to make this year's Labor Day parade a march, with two demands: to pass Obama's health reforms and to pass the Employee Free Choice Act, which would allow workers the right to organize unions without intimidation.
"Most of our members have health care," Ahern told the World, "but we need to look out for those who don't."
There was a palpable sense of optimism in the crowd. "Optimistic? I'm very optimistic. I know it's going to happen," Nina Agrawal, founder of NYC for Change and community outreach director for the National Physicians Alliance, told the World.
While most members of the city's Congressional delegation were attending Sen. Kennedy's funeral, the rest were at the rally. Rep. Jerrold Nadler, D-N.Y., told the crowd that he was ready to get back to Washington and fight. To loud cheers, he condemned those who say that the U.S. can't afford health care reform, but could afford "a trillion dollars for a stupid war in Iraq that did nothing but serve the vanity of George W Bush."
Rep. Yvette Clark, D-N.Y., was also in attendance. She emphasized that there was no contradiction in fighting for the Obama plan and at the same time fighting for single payer.
"Don't believe the hype," Clarke said. "Single payer health care is still on the table!" Indeed, many in the crowd seemed to share this sentiment, carrying both Organizing For America and Health care for America Now signs, as well as handwritten placards calling for the enactment of the so-called "Medicare for All" bill. Both OFA and HCAN are in full support of the Obama proposals.
As for Obama himself, there was a nearly universal affection for him in the crowd. When Clarke announced that Obama "had given us our marching orders" and that people should follow them, the crowd erupted in cheers.
"He's been strong," said Mark Hannay, director of Metro New York Health Care for All. "He's definitely in touch with popular attitudes, especially through his organization, Organizing for America."
Agrawal, a pediatrician who works in New Jersey and lives in New York, said that there was a new atmosphere among "the new generation of physicians." The American Medical Association played a notoriously bad role in the fight for health care reform in the 1990s, but has now backed Obama's proposals. According to Agrawal, "what is good for patients is good for doctors." Her organization has been doing visits to legislators, led by both patients and doctors united. "It's very powerful," she said.
The rally was organized by dozens of organizations, including Organizing for America, Healthcare for America Now, the New York State AFL-CIO, and numerous local groups.
As much as it was a rally demanding health care reform and a remembrance of Ted Kennedy, it was also a celebration. Those gathered celebrated both the life of Michael Jackson—whose birthday was today—as well as the feeling that victory in the struggle for health care is finally near.
A Jackson song played over the sound system, summed up the mood of those in the crowd and in the fight: "Don't stop 'til you get enough."