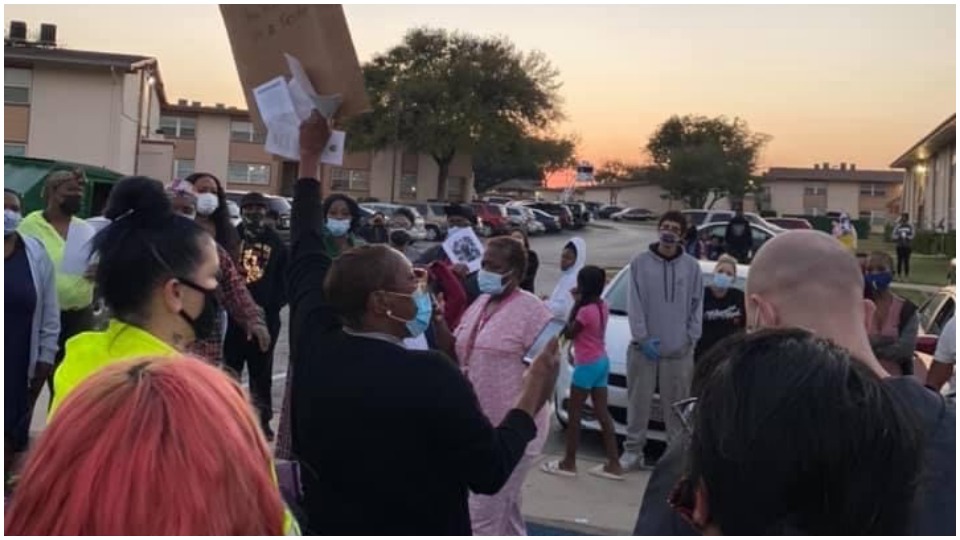 DALLAS—The Dallas Stops Evictions coalition started organizing tenants at the Estell Village Apartments because tenants there were furious about management implementing a new rule that tenants had to have a driver's license in order to obtain a parking sticker to park in the apartment complex. This rule was implemented even though the law says that you do not need a driver's license to have a parking pass. Management said it would tow any car without a sticker.
Estelle Village apartments are in the Highland Hills area of South Dallas, a historically African-American area of the city. The vast majority of the tenants to this day are Black or African-American.
When volunteers from Dallas Stops Evictions visited in early October, tenants listed off all of the problems at the apartment, such as black mold, rats, roaches, bed bugs, and termites. Black mold makes people sick, causing breathing problems, runny noses, joint pain, sinus infections, rashes, and itching. It can cause harm to the immune system, worsening asthma symptoms, fertility problems, bleeding in the lungs, lupus, and cancer.
The tenants talked to us about how management had welded one of the complex's gates shut, leaving only one way in and out. They told of constant harassment by security, of how they are barely allowed to stand outside without security coming up and giving issuing them a violation. They showed us how the playground had been slowly dismantled, while the basketball court was taken away so the children were losing every play area.
The next day, DSE sent 12 organizers, masked up and physically distanced, to flyer the building for a tenant meeting the following Monday, Oct. 19. Tenants got involved to help with the distribution. There was strong support throughout the complex for the organizing assistance. As we were flyering, more tenants showed us the black mold and rat holes in their apartments.
U.S. politicians promote the country as the greatest in the world, but so many of its own citizens live under the kind of oppressive and wretched conditions that Estell Village residents deal with every day. These conditions, faced disproportionately by Black people, other people of color, and other low-income and working-class people, are rarely discussed and almost always swept under the rug.
Related Stories:

Organizing report: Slumlord abuse gives rise to tenant organizing in Dallas

'Cancel the Rent'—Tenants pressure D.C. city council and corporate landlords
When we talked to tenants outdoors, apartment security harassed us on multiple occasions, asking us who we were and even calling the police on us. The tenants insisted that we were their guests.
We held the Monday night meeting outdoors at the playground, with around 50 tenants attending. People were fired up. Our goal was to come up with a list of demands from residents so they could be presented to management. Tenants started firing off their complaints. One tenant, who is Black, passionately discussed the harassment he received from security and showed the copies of 150 violations that he has accumulated while living on the property.
The final list of demands declared: "We, the undersigned tenants of the Estelle Village, hereby let management know that we are residents, not victims! We…demand a lease that is compliant with our list of demands."
Among the 24 demands on the list were: income-based rent; an end to evictions under CDC pandemic rules; parking pass rules that follow Texas law when it comes to required documents; the unlocking of welded gates; Americans with Disabilities Act (ADA) compliance in all buildings; the clearing of all black mold and cleaning of all ventilation; regular pest control measures; general cleaning of the complex; internet connectivity for all residents; an end to harassment and privacy violations by security; public space for adults and play areas for children; better lighting; and more.
We made posts on the Dallas Stops Evictions Facebook page about the horrible conditions at Estelle Village and shared in a mass Facebook group called Reform Dallas. Through this, Eric Williams, a candidate for Texas U.S. House District 30, contacted us. Estelle Village is located in District 30. Williams made a video for Facebook and helped bring attention to the problems facing tenants. He proposed that DSE should hold a press conference to help publicize tenants' demands.
On Friday, Oct. 23rd, Amanda, an Estelle Village tenant, Amanda delivered the demands to the management's office with one a DSE organizer, Shabaka Ani. Management was given 30 days to meet the demands or face further action from tenants. We held the press conference that night. Even though we sent press releases to all of the major media outlets in Dallas, none of them showed.
So DSE broadcast on the grassroots Facebook news programs "Word On Da Street w/ Judah" and "Smash da Topic breaking news," as well as from our own Facebook page. Estelle Village tenants passionately discussed the horrible injustices and deplorable living conditions at the apartment complex.
Some activists seem to think that if you give away charity, then people will somehow thrust you forward as their leader, as the vanguard. The experience we've gained organizing tenants shows that this is flawed thinking and ineffective if you're trying to create real systemic change.
Class struggle-oriented organizations are needed for regular working-class people in order to solve their problems. These include tenant unions, labor unions, and unemployed councils. These organizations must organize the working class for power. The working class is the class of the future. Revolutionaries are for the working class, and we have no interests outside of the working class.
An organizer gets the masses of people involved in actions to improve the lives of the collective community. Often the problems that people face are on their job, or where they live, such as their apartment complex. These problems are created by a ruling class that profits from the exploitation of the masses of people. Racism and the ideology of white supremacy are used to justify the super-exploitation and often brutal oppression of Black, Brown, and Indigenous people. These problems cannot be solved by any individual; they can only be solved by people getting organized and fighting together for their rights.
Change is not made by a few people; revolutions are made by millions and millions of people together. When people get together and talk, they realize that they often face the same or similar problems, and most of the time those problems link back to the system which puts profits before people.
Dallas Against Evictions activists are still calling for the formation of tenant unions everywhere. We call for elected officials to protect people from slumlords. We call for rent controls and to stop the evictions. Quality housing is a human right. Organization and education defeat ignorance and fear. Organize, Organize, Organize!