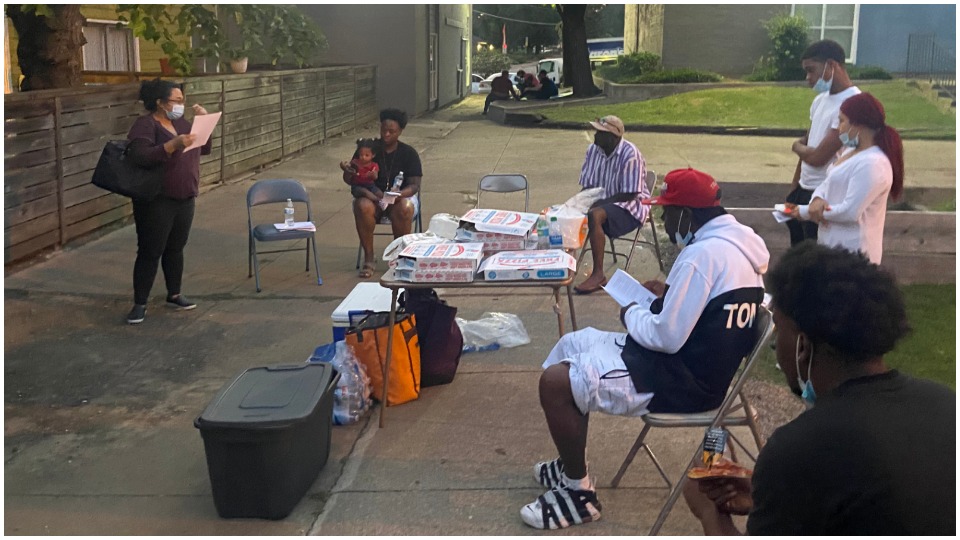 The following organizing report comes from Stu Becker, a teacher and activist from Texas who's working with the new coalition Dallas Stops Evictions.
DALLAS—With an eviction crisis sweeping the country, many tenant organizers are starting to realize that protesting alone is not enough. They're coming to the conclusion that more permanent class struggle-oriented organizations are key for building working class and oppressed people's power. The Dallas Stops Evictions coalition formed out of an effort to respond to the eviction epidemic.
Many organizers in the new group came out of the Black Lives Matter movement and began meeting at Dallas City Hall, where BLM protests have usually been held, to discuss responses to the housing crisis sparked by the COVID-19 pandemic. Seeing that one-off rallies or marches alone couldn't stop evictions, proposals were raised that the group should start some serious tenant organizing in order to build long-term tenant power. We decided to organize in the Estara Apartments in East Dallas because a wave of illegal evictions were taking place there.
We started talking to tenants there, and they told us they were paying half or even as much as 60% of their monthly income on rent. We then mobilized organizers to start knocking on doors at the complex. Due to COVID-19, in our door-to-door organizing, we are taking proper precautions, standing at least six feet back with masks on. We told tenants that we are with a group called Dallas Stops Evictions. We said that we want to form a tenants union to fight for lower rent and better living conditions. We asked them if they would support that. We made it a point to emphasize that we are not paid organizers, but rather that we were community activists determined to stop evictions—that we are doing this out of love for people. After we said that, the tenants opened up and a genuine human interaction took place.
Abusive landlord, substandard living conditions
After we gave our short rap, many tenants expanded on the problems they have with the apartment complex. The rent is too high for the low quality of housing they deal with, and management does not respond to maintenance requests. A few tenants had the same story of a bathroom flooding and management ignoring pleas for a fix. Several tenants complained of rat and roach infestations in their apartments. More railed against the tow truck companies that haul away their cars from the apartment parking lot without good reason.
As awful as they are, there is nothing unique about these conditions. They are common for low-income people, Black people, Indigenous/brown/Latino people, poor white people, and immigrants in Dallas and across the United States.
The list of substandard living conditions at Estara goes on. All around the complex, there are dirt walkways with no pavement or concrete which become nothing but mud when it rains. Management does nothing about it, so tenants are forced to put down plywood on their own so as to avoid the mud. Where pavement does exist, it is uneven with steps that are often not level with the concrete, leaving people to trip over them and get hurt. There are exposed electrical wires. There are holes in the wall.
Right by the apartment, there is a huge pile of furniture left outside, presumably from tenants who have been evicted. Tenants also told us about trash that is regularly left there and does not get picked.
The poor treatment goes beyond the One tenant told Dallas Stops Evictions that their son, who is Black, was racially profiled by apartment management. The residents at the complex are majority Black, with Latinos and some whites. The landlord tells tenants that they can't sit outside or hang out outside. The management is abusive and sends messages out to the tenants listing the names of their neighbors who didn't pay their rent.
Scoring wins, setting precedents
One day, Dallas Stops Evictions deployed 12 organizers to door-knock and distribute flyers for a tenants meeting at the apartment complex. The apartment manager finally noticed us after over a month of organizing in these apartments (showing just how attentive they actually are to the lives of residents). This may have been due to one of the tenants taking our flyer and showing it to him.
The next night, the manager sent an email to all of the tenants in the apartment complex, declaring: "Outside Group Organizing Disturbance at the Estara."
The message to tenants played on the old "outside agitators" line used by bosses, landlords, and oppressors of all stripes for generations:
An outside group called Dallas Stop Evictions, without the permission of the Estara Management, been (sic) distributing flier, bothering residents and planned to organize a gathering and disturbance at the Estara on 9/15.

The Estara is a private property and trespassers will be charged and prosecuted. We have asked Heartland Security and our off duty police security to be present at that time and arrest trespassers. We shall also call Dallas Police Department so that they can also be present.

We ask that residents please stay away and refrain from any form of participation.

Thank you for your co-operation.

EVERGREEN RE MANAGEMENT LLC
Management is determined to stop any tenant organizing in its tracks. One tenant at Estara, named Quanisha, received an eviction notice from the apartment security, not the constable, as required by law. She was not able to pay her rent because she lost her job as a result of the COVID-19 pandemic. Even though she applied for rental assistance, the apartment management still planned on evicting her.
Due to the efforts of Dallas Stops Evictions, one of our organizers, Maria Arriaga, was in contact with Quanisha. She told Maria that she was about to be evicted by Estara. So, Maria and another organizer, Michael Gonzales, went to Quanisha's apartment and gave her the CDC paperwork to show that it's illegal to evict people at this time during the pandemic. Quanisha and her husband signed the paperwork and brought it to the management. As a result, the eviction was blocked. It was a victory for Quanisha and her family, but it also put management on notice that tenants are learning what their rights are and won't be pushed around.
Dallas Stops Evictions continues to organize tenant meetings and plans to expand its work to other apartments in the city.
We call for the formation of tenant unions and organizations everywhere. We call for rent controls and to stop the evictions. We call for elected officials to protect tenants from slumlords and violations of due process. Housing is a human right. Organization and education defeats ignorance and fear. Fight back! Organize, organize, organize! Build the Dallas Tenants Union! Build tenants unions everywhere!