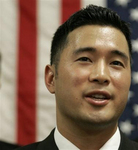 Fort Lewis, Wash. — More than 1,000 antiwar protesters marched outside the gates of Fort Lewis as the court-martial of Lt. Ehren Watada opened Feb. 5 on charges stemming from his refusal to serve in the Iraq war.
[On Feb. 7, the military judge declared a mistrial, due to confusion over a document signed by Watada, and set a new trial date of March 12.]
The marchers, including Veterans for Peace, Iraq Veterans Against the War and Gold Star Families for Peace, gathered on an overpass with picket signs that read "Support Lt. Watada, Stop Illegal War," "Troops Home Now" and "Impeach Bush." Many motorists honked or flashed the "V for victory" sign as they drove by.
Actor Sean Penn told the crowd, "It will take more people like you" who stand in defense of conscientious objectors like Watada to force an end to the four year war. "Keep up the pressure until they listen to us," he said.
Also in the crowd were the wife and children of Medical Corpsman Augustine Aguayo, who is now stationed in Germany and who faces court-martial for refusing to deploy to Iraq.
Liz Rivera Goldstein of Port Townsend, Wash., who serves as a full-time organizer of Watada solidarity activities, told the World, "This turnout is amazing. There are people from all over the country here today. I think it is a tribute to Ehren's eloquence and his family's hard work in his defense."
She pointed out that Watada's defense differs from other conscientious objector cases. "He is a selective objector to the Iraq war, which he views as illegal," she said. "The military does not recognize a soldier's right to object to a particular war. But how can you ask a soldier with sincere beliefs, who has deeply examined his conscience, to serve in a war that he believes is immoral and illegal?"
Watada cites in his defense proof that President Bush misled the nation with false claims that Iraq had weapons of mass destruction and close ties to al-Qaeda. He also cites cases of abuse inflicted on Iraqis by U.S. military personnel as a reason to refuse. Watada volunteered to serve in Afghanistan. He also attempted to resign his commission. Both requests were rejected. Since refusing orders to deploy to Iraq with the 3rd Brigade, 2nd Infantry Division, he has performed administrative duties at Fort Lewis.
Goldstein added, "We'll continue to work in Ehren's defense. We'll keep a presence here at the base throughout the trial." If he is convicted, he could be sentenced to four years or more at the Leavenworth Federal Penitentiary in Kansas or another prison. "Wherever he is, we will organize support for him," she said. "There are going to be more and more soldiers stepping forward to speak out against this war."