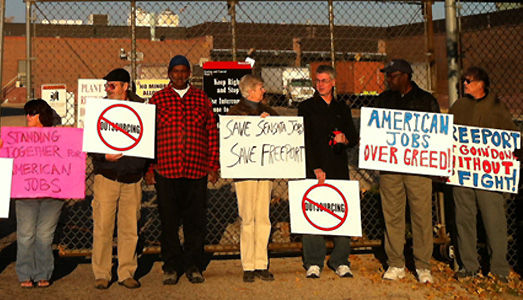 FREEPORT, Ill. – On the eve of the big presidential debate outsourced Bain workers began a standoff today with trucks sent in to remove equipment from their plant.
Residents of the town began arriving this afternoon to join workers who were blocking the loading dock at the Bain-owned Sensata Technologies plant here. "We intend to prevent the equipment from being removed from the plant," Tom Gaulrapp, a 30 year plant veteran who was leading the group in a march to the loading dock, told the People's World. "We just got word that the mayor is on the way to join us," he said.
The company – Sensata – emerged as a flashpoint in the controversy over Romney's ties to Bain this summer, with the workers calling upon Romney publicly to help save their jobs from being outsourced. Last month workers received their final pink slips.
Not only does Romney stand to profit from the outsourcing of the jobs to China through the stock he still owns in the company, his 2011 tax returns show that he got a huge tax break by moving Sensata stock to charity organizations he controls – and that he continues to profit from Bain's offshore holdings and tax avoidance strategies.
Debbie Kemple, a town resident backing the workers said, as she marched up to the loading dock, "I am committed to staying here to block the trucks until they stop trying to take away the equipment my friends and neighbors used to make such good quality stuff for so many years."
The highly skilled Sensata workforce made sensors used in automobiles and had to train the lower paid overseas workers who are replacing them. "It was like digging our own graves or building our own coffins," said Gaulrapp.
Another worker told the People's World that she and a group of her co-workers managed to stop the first truck coming in today. "We told the driver he can come in but he won't be able to get out," she said. Minutes later workers and community supporters were in place blocking the loading dock.
Outsourced workers have been camping out in a protest encampment across the road from the plant. Workers and unions from as far away from Massachusetts have been calling local food establishments and paying for food deliveries, including pizzas, for the encamped workers.
More than 175 of the workers who, until they began blocking the trucks today, have been literally sleeping out under the stars, will be jobless by Christmas.
They have named their encampment "Bainport."
Gaulrapp called attention to a video that has come to light in which Romney explains the business model he created for Bain Capital and states the company's purpose is to buy companies and "hopefully, five to eight years later, to harvest them at a significant profit."
"His harvesting of profits means tossing us, the people he calls the 47% aside," said Kemple.
"People ask us why we're focusing on Mitt," said Gaulrapp. "It's simple. He's the guy who created the model of harvesting profits by shipping good American jobs overseas."
Photo: Community in front of Sensata loading dock. We will not let them take our equipment! http://bainport.com/