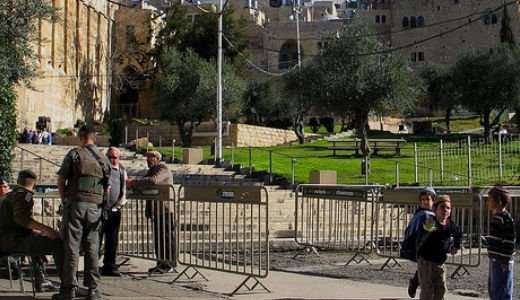 LONDON (March 1) — The Palestinian Authority has held its weekly cabinet meeting in Hebron instead of Ramallah to affirm its claim over a shrine there that Tel Aviv recently added to its list of national heritage sites.
The Israeli cabinet's decision last week drew widespread international criticism and heightened fears that Benjamin Netanyahu's hard-line administration is hell-bent on staking claim to as much Palestinian land as it can before returning to long-stalled final-status talks.
Israelis and Palestinians have clashed frequently in the past over the two West Bank shrines that PM Netanyahu's government has added to the heritage list – the Tomb of the Patriarchs, or Sanctuary of Abraham, in Hebron and Rachel's Tomb, or Dome of Rachel, in Bethlehem.
And over the past week tensions have soared, with stone-throwing Palestinian youth clashing with Israeli troops in Hebron almost daily.
Some 500 Israeli extremists have set up a colony in Hebron amid 170,000 Palestinians.
The PA cabinet met there a day after Israeli police forces dispersed masked Palestinian rioters at Jerusalem's al-Aqsa mosque, which is known to Israelis as the Temple Mount.
Dozens of Palestinian youth had barricaded themselves into the compound amid rumours that Israelis intended to take it over during the Purim holiday, which began on Sunday.
Israeli police have set up checkpoints to bar Palestinians under the age of 50 from entering the Old City for the duration of the holiday.
And gunmen opened fire at an Israeli security vehicle in the east Jerusalem neighborhood of Silwan on Sunday, lightly injuring a security guard.
Under pressure from Washington, an aide to Mr Netanyahu has said that the heritage list is not meant to delineate future borders and that it is premature to talk about specific renovation plans.
But Palestinians fear that the decision is another sign that Mr Netanyahu wants to hang on to wide swathes of the occupied West Bank, a territory that the international community has earmarked for the future state of Palestine along with Gaza and east Jerusalem.
And Mr Netanyahu's decision, criticised by some in Israel as ill-timed and superfluous, was being portrayed by others as the first victory of a newly formed "land of Israel" lobby consisting of 39 of Israel's 120 MPs.
The lobby opposes the creation of a Palestinian state and the PM's decision to slow West Bank settlement construction, said its leader, Arieh Eldad of the National Union party.
"I was sure our lobby would be effective," Mr Eldad said, adding: "We weren't sure we would have such proof of the effectiveness of concentrated effort."
Reposted from http://www.morningstaronline.co.uk/index.php/news/content/view/full/87416.