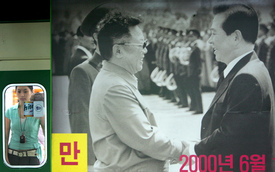 WASHINGTON — Peace advocates demanded last week that the Bush administration end its war of nerves against North Korea and open direct peace talks with its government aimed at normalizing relations, promoting disarmament and ending the war danger on the Korean peninsula.
"War is not the answer to the conflict between North Korea and the U.S. and its allies, and would be a disaster for both North and South Korea," said Joe Volk, executive secretary of the Friends Committee on National Legislation (FCNL), a Quaker peace organization here.
Volk pointed out that the recent missile tests by the Democratic People's Republic of Korea (DPRK or North Korea) "demonstrate the failure of the Bush administration's reliance on 'coercive diplomacy' in its negotiations with North Korea. U.S. ultimatums delivered under the heading of 'diplomacy' did not work."
Instead, Volk proposed resumption of multiparty talks led by countries in the region "and a real diplomatic program to change the U.S. relationship with North Korea."
Rep. Dennis Kucinich (D-Ohio) recently posted a statement on the crisis on his re-election campaign web site. "We need a new foreign policy towards Korea," he said. "We need a president who will visit both Koreas, meet personally with (DPRK President) Kim Jong Il" to develop "diplomatic and humanitarian relations with North Korea with the goals of assisting the Korean people, furthering reunification and advancing disarmament."
Leslie Cagan, national coordinator of United for Peace and Justice, told the World, "We have been concerned for quite some time that North Korea is in the sights of the Bush administration. Over and over this administration has resorted to military action before it has even thought about diplomatic options. We must demand that the Bush administration … refrain from military action against North Korea."
William J. Perry, defense secretary during the Clinton administration, recently proposed a pre-emptive strike against Pyongyang. But Ted Galen Carpenter, defense and foreign policy commentary for the Cato Institute, sharply disagreed. "Prudent Americans would reject schemes for pre-emptive military action," Carpenter wrote in the July 10 Baltimore Sun.
A pre-emptive attack by the U.S. or Japan could "trigger general war on the Korean peninsula," Carpenter continued. "The last Korean war killed millions of Koreans and more than 50,000 American soldiers."
"Proponents of pre-emptive strikes would risk the lives of millions of South Koreans as well as the lives of U.S. troops stationed in South Korea," he said.
Comprehensive economic sanctions "are only marginally less unrealistic and dangerous," he continued. The U.S. instead should "seek to defuse tensions by proposing bilateral negotiations with North Korea on a wide range of issues. … There is little evidence that the security situation in Northeast Asia will improve substantially until there is a meaningful dialogue between North Korea and the United States."
The Japanese government responded to the July 4 test by floating the idea of a pre-emptive strike against North Korea. Japan was also pressing for approval by the UN Security Council of comprehensive sanctions on the DPRK.
But China and Russia, both with power to veto sanctions, are both strongly opposed. The official China news agency, Xinhua, reported that Hu Jintao, president of China, told visiting Yang Hyong Sop, vice president of the DPRK parliament, "We are against any actions that will aggravate the situation. We hope that relevant parties will do more things conducive to the peace and stability of the (Korean) peninsula."
During a recent visit to South Africa, Kim Hyong Jun, the DPRK's deputy foreign minister, said, "As soon as the United States lifts financial sanctions, we will be ready to participate in the next round of the six-party talks."