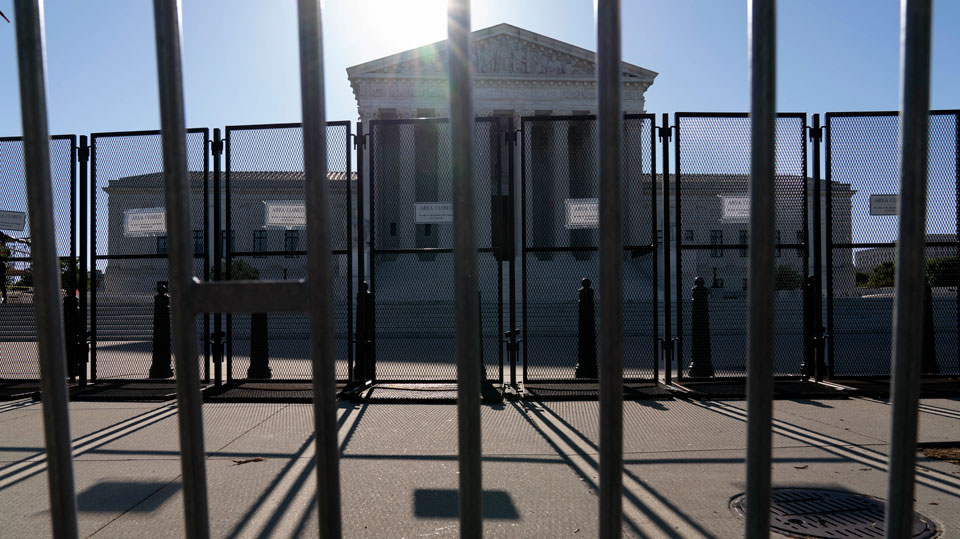 WASHINGTON (PAI)—As a key Senate vote approached the last full week of June on a package of gun control measures, a new coalition, the "24/7 People's Filibuster For Gun Safety," launched its own talkathon—playing off the senatorial tactic gun safety foes use—for tougher gun controls.
But even as the speakers, including Poor People's Campaign Co-Chair the Rev. William Barber II, laid out the case for curbing the carnage on the nation's streets, in schools, in churches, at clubs, and in grocery stores, the Republican-named six-Justice majority of the U.S. Supreme Court dealt a big blow to their cause.
In its ruling, Justice Clarence Thomas declared states and localities could not regulate possession and transport of guns outside people's homes. The New York City affiliate of the notorious gun lobby, the National Rifle Association, filed the case.
"People get killer guns in their hands because of the policies of the government, and because of the power and money of the gun lobby," Barber declared.

"Haven't we had enough children shot yet?" he asked later. "How much more blood does it take?"
Not enough to change the court majority's mind, apparently. Its June 23 decision legalized people to carry guns anywhere and everywhere. Laws in eight states and D.C. requiring gun owners to prove they need guns to protect themselves and obtain permits for them are now expected to fall. To try to stop the NRA, New York had repealed its law.
Court or no court, senators and citizens plowed ahead. "This day is going to be an extraordinary day," Sen. Chris Murphy, D-Conn., lead Democratic bargainer on the gun control package, predicted to the popular "filibusterers," who staged their talkathon.
Gun control's been a Murphy crusade ever since a gunman wielding an AR-15 semi-automatic massacred 20 kids and six teachers at Sandy Hook Elementary in Newtown, Conn. But it's not just massacres, he noted. Three weeks later, constituents challenged him to try to stop the one-by-one carnage in neighborhoods and streets.
The package includes funding for "red flag" laws, longer and more detailed background checks for people between 18-21 who want to buy guns, funding to make schools safer, and closing loopholes that allow gun shows to sell weapons without background checks, and potentially violent people—domestic abusers—to buy them.
But it does not ban assault weapons. And it does not deal with white supremacists' hate crimes with guns, as some speakers at a recent March For Our Lives rally demanded.
"This country has seen families ripped apart" by gun violence "and done nothing," said Murphy.
Barber strongly supported gun control, as gun deaths and injuries disproportionately affect people of color—a point made by many speakers of color among the "filibusterers."
"When some people's appetite and affinity for guns is greater than their desire for living wages or for protecting our children, then they have come to a moral madness that could dismantle our democracy," Barber warned.
"They have no concern for others," he said of the gun lobby and its corporate backers and political followers. "They say give me this; it's my God-given right."
And the NRA and its backers "determined assault weapons should be more available than voting rights or health care. This kind of logic proves our political structure is essentially ill—with gun obsession and with dollars."
Nevertheless, campaigners should not stop. "Whenever you have constant attempts to block what you are doing," be it campaigning for gun control and/or for the Poor People's Campaign's causes, "it's a sign that you're right.
"A hundred years ago, from labor rights to civil rights to women's rights to LGBTQ rights, all were seen as impossible." Now, to a greater or lesser extent, they've been achieved.
Even so, quoting the famed abolitionist Frederick Douglass, Barber added: "Power never concedes anything without a struggle." And the gun lobby and its corporate backers have had power over politicians for decades.
News about the court's decision broke right as Barber was speaking. He was one of the most prominent speakers in a long lineup of gun control advocates, marshaled by the coalition.
Barber had just pointed out that Southern founding fathers, specifically Virginians George Mason and Patrick Henry, crafted the U.S. Constitution's Second Amendment and its language about "the right to keep and bear arms." They were afraid a strong central government would deprive them of weapons needed to put down slave revolts, he said.
Unions strongly support the crusade for gun control. Teachers (AFT) President Randi Weingarten has championed the cause for more than four years since a gunman armed with an AR-15 murdered three AFT-teacher members and 14 students at Florida's Marjorie Stoneman Douglas High School.
"Educators and school staff deserve to be able to focus on students; they should not have to prepare to be human shields to protect those students," Weingarten's union said on its Facebook page.
"Health care workers deserve to be able to focus on healing their patients, not stopping violence that can follow patients into the ER. All of us deserve to know that our schools, stores, streets, and places of worship are safe. Tell your senators to pass the Bipartisan Safer Communities Act," the legislation the lawmakers considered.