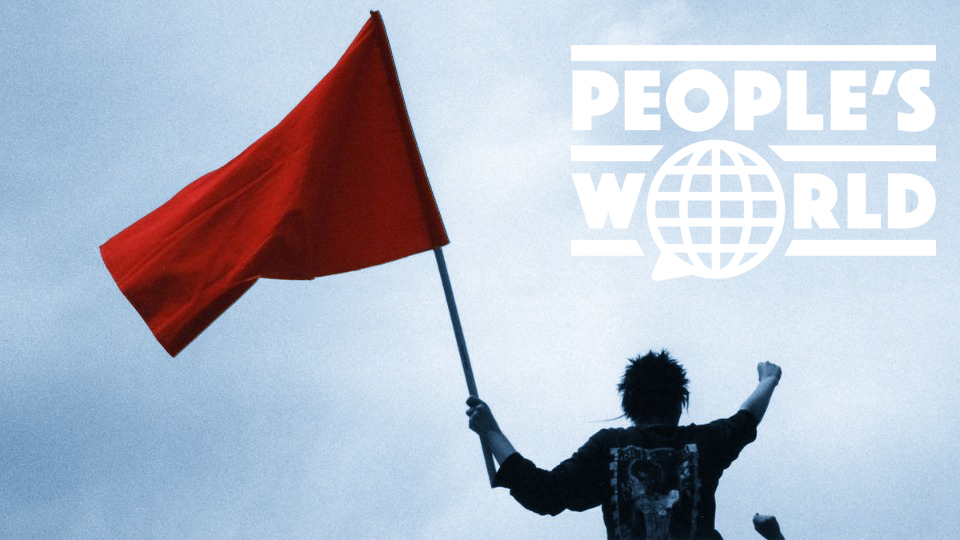 Each of us knows someone, perhaps a loved one, who has gotten sick or died. We mourn this tragic loss of life, pain, and grief, much of it avoidable.
We're writing to update you on how People's World has adjusted to the pandemic crisis. Due to revenue losses, our talented and dedicated staff is unfortunately on temporary rotating lay-offs. Despite these challenges, everyone working at People's World is laboring hard to make sure it keeps appearing five days a week. They know how much you and the working-class and people's movement depend on its news and analysis.
Six weeks ago, we launched an appeal to raise $50,000 by May 1 to get People's World through these difficult times. Readers shattered this goal in just six weeks! Supporters like you donated because they know the value People's World brings to all of our lives.
As one donor from Washington state recently put it, " People's World is our voice. It's our trumpet broadcasting the message that a better world, Bill of Rights socialism is necessary and possible."
Some in the People's World community have supported the publication for a lifetime. 102-year-old Bea Lumpkin's photo went viral worldwide when she donned a hazmat suit to vote out Trump. Bea has helped keep People's World going since the days of the Great Depression.
"There were always picket lines for workers on strike, demonstrations to demand food for a hungry family, bringing people out to vote," Bea wrote recently, "or knocking on doors to sell the Daily Worker"—the name People's World went by in those days. Just last month, 88 years after she first started distributing the paper, Bea was still making the rounds for People's World. She asked an audience at a Black History month event to chip in whatever amount they could.
It's that kind of determination and dedication that has pushed the current fundraising campaign to blow past its original goal.
Mass vaccinations and emergency relief are brightening economic prospects and giving hope of a return to life with family and friends. But overcoming the situation will take months, and restoring our revenue sources will take longer.
So now there is a new challenge for all of us: $75,000. We can't meet this new goal by May 1 without you. If you've already donated, thank you! If you are unable to give again, we understand. If you can contribute, great!
The country and the working class face dangerous times. The broad alliance and movement critical to defeating Trump and retaking the White House and Congress are moving quickly to address the crisis left behind in his wake. Passing the historic American Rescue Plan was only the first step.
The Senate filibuster must be abolished to enact the avalanche of progressive bills passed in the House. These measures include For the People Voting Rights and John Lewis Voting Rights Acts, the Equality Act, Citizenship Act, Pro-Act, student debt relief, and green infrastructure.
The truth hangs in the balance, under attack by a vicious right-wing propaganda media ecosystem and their big business backers. People's World's working-class perspective, analysis, and advocacy are needed in this fight too.
For all these reasons, we are determined to keep publishing through this crisis. Let's dig deep to raise $75,000! We can't reach our new goal without you! $50,000 came through the door in just six weeks because hundreds of loyal readers in our community donated $5, $10, $25, $50, $100, $500, or $1000. If 250 readers donate $100 each, we'll match our new goal!
You can donate online right now, or sending a check or money order to:

People's World
235 West 23rd Street
New York, NY 10011
This is a challenging time. With your support, People's World can continue to be the "trumpet" for our rising working-class and people's movements, a unique voice for socialism, with crusading working-class journalism.
In solidarity,
John Wojcik, Editor-in-Chief | Chauncey K. Robinson, Social Media Editor | C.J. Atkins, Managing Editor