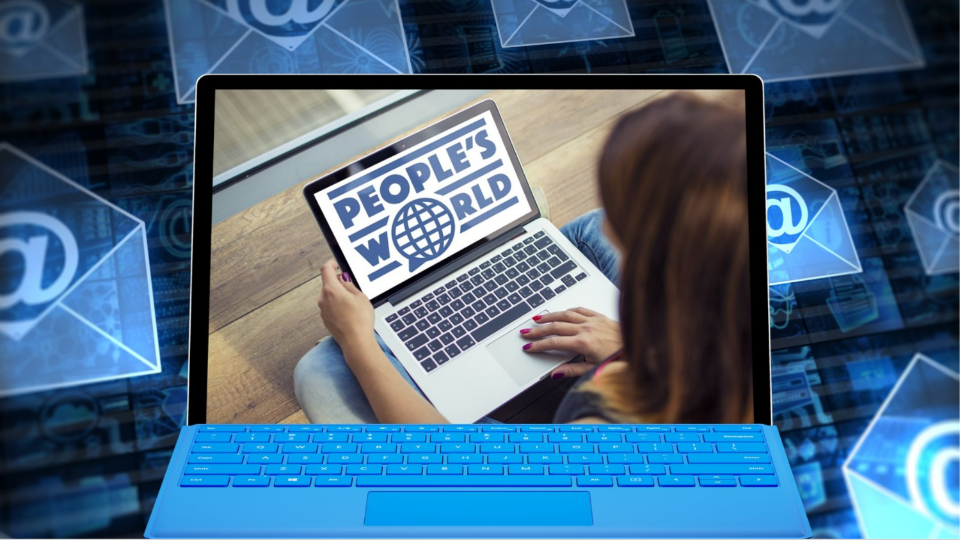 Mark Gruenberg, our Washington Bureau Chief and labor correspondent received the following letter from Peter Freitag, a reader from Colorado. Peter reads People's World every day and is a financial contributor to the newspaper. If you, like Peter, appreciate the alternative to the mainstream corporate media provided by People's World, won't you consider becoming a sustainer?
Dear Mark Gruenberg,
About a year-and-a-half ago, I came across People's World, which I'd never heard of. Since that time, I have been a daily reader and sometimes a monetary contributor. I look for your stories every day.
In my retirement, I have been researching the fate of my maternal grandparents, who were killed by the Nazis during the Holocaust. In addition to being a Jew, my grandfather was a member of the Social Democratic Party (SPD) and was in fact first arrested the day after Hitler became Chancellor.
Bullets were fired into my grandparents' home that night. Later that year, he was imprisoned in the Osthofen concentration camp, a place memorialized in Anna Segher's novel, The Seventh Cross.
I mention this because my research has caused me to look side-by-side at what was happening to my family members and what was occurring in Germany at the time. As you note so well in your article today about Ron De Santis, his candidacy is an example of fascism on the rise. The actions he has taken and wishes to take in the future are far too reminiscent of 1930s Germany.
I simply wanted to acknowledge and thank you for the important work you are doing. Your writing and that of all those at People's World provide a significant alternative to the "news" covered in the popular media.
With sincere appreciation,
Peter Freitag
Lakewood, Colorado
We hope you appreciated this article. Before you go, please support great working-class and pro-people journalism by donating to People's World.

We are not neutral. Our mission is to be a voice for truth, democracy, the environment, and socialism. We believe in people before profits. So, we take sides. Yours!

We are part of the pro-democracy media contesting the vast right-wing media propaganda ecosystem brainwashing tens of millions and putting democracy at risk.

Our journalism is free of corporate influence and paywalls because we are totally reader supported. At People's World, we believe news and information should be free and accessible to all.

But we need your help. It takes money—a lot of it—to produce and cover unique stories you see in our pages. Only you, our readers and supporters, make this possible. If you enjoy reading People's World and the stories we bring you, support our work by donating or becoming a monthly sustainer today.