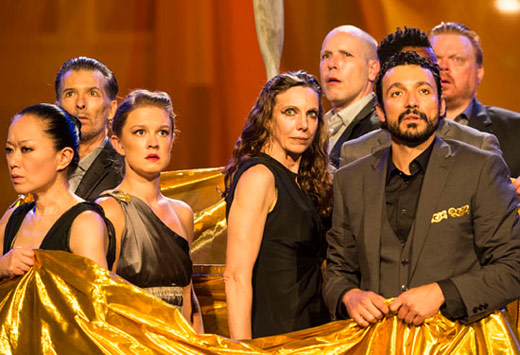 A pair of plays is being performed near Malibu-both are presented in amphitheaters, deal with historical upheavals, ponder the nature of theater as an expressive medium and, in a macabre foreshadowing of ISIS beheadings, Equivocation at Will Geer's Theatricum Botanicum and Persians, both involve decapitations.
Aeschylus' 5th-century BCE (Before Christian Era) classic Persians is being produced under the stars at Getty Villa. This outdoor production directed by Anne Bogart is a case study in stagecraft wherein the ancient meets the avant-garde. According to Bogart, Persians "is considered to be the first extant play of western civilization." As such, the ambitious helmer asserts, "We are attempting to chart nothing less than the birth of drama, the big bang of the theater."
At first the theatrical techniques of Aeschylus' 2,500 year old Ur-drama may be off-putting to 21st-century audiences, unused to dramatic devices such as (literally) a Greek chorus, ritualism, and so on. But by the end of this play antiquity and experimental theater seem to collide and merge. After 90 minutes or so, Aeschylus' style as filtered through Bogart kinda grows on you.
First performed around 472 BCE, Persians' story-such as there is-is about the real-life naval defeat of the Persians by the Greeks a mere eight years earlier. In addition to being a tragedian, Aeschylus was actually a veteran of the wars against Persia, so knew whereof he wrote.
Mind you, the dramatist created his work before the rules of drama existed, so Mr. Aeschylus presumably knew not of that show biz maxim: "Don't tell me, show me!" So much of this epic nautical battle is related in the dialogue delivered by members of the nine-actor cast (who are from the New York-based SITI Company).
Viewed from our 21st-century perch, Aeschylus' tragedy may be resonant in the collective psyche as the original "clash of civilizations," between West and East. Of course, Aeschylus put quill to papyrus before Christianity and Islam existed. Nevertheless, some may interpret this as the primordial propaganda piece pitting what is now Iran against the Western world.
The production makes good use of props-from a broken oar to a statue's decapitated head, pulled by a costumed actress across the stage on a long fabric train. As mentioned, this is an eerie bit of theatrical prophesying of ISIS' brutal beheadings of at least three Westerners, two of whom were journalists.
The mise-en-scène makes some inspired use of the Getty's Villa setting when, toward the end of the action-which has up to now taken place mostly on the ground-level space between the amphitheater and the villa and in the aisles between the seats-the Greco-Roman-style building is opened up and becomes part of the scenery. This is organic theater, J. Paul Getty style.
Funny thing happened on the way
However, a funny thing happened on the way to the Villa: The mostly modern dress costuming by Nephelie Andonyadis falls down on the job. What the Hades is the point of contemporary attire if the play takes place 2500 years ago in ancient Greece? (I'm not much of a fan of ahistorical garb of characters in recent productions of Greek-themed plays.)
Well, maybe the point is that this 2500 year-old tragedy about war is, o woe and alas, as relevant today as it was in 472 BCE when Persians premiered in Athens. Consider this line uttered by the Ghost of Darius: "Outrage, once ripened, yields a bumper crop of retribution."
Still so true, for violence remains the scourge of humanity. Just consider the NFL's recent rash of reported beatings and abuse of women and children by those contemporary gladiators, pro football players. Or ponder the epidemic of rape in the U.S. military. Have you noticed that few, if any commentators, dare cite the proverbial elephant in the room? Namely, that football is an extraordinarily violent sport and the U.S. armed forces is the greatest purveyor of violence on the face of the Earth (thank you to Martin Luther King, Jr., for that observation in A Time to Break Silence), making ISIS look like schoolyard punks in comparison. ISIS beheads three poor misbegotten Westerners, while the Pentagon slaughters millions.
Have you heard a single pundit dare declare that if we really want to abolish NFL domestic abuse, et al, Americans must stop patronizing spectacles of violence as forms of mass entertainment? (The only thing missing at football stadiums are the vomitoria into which fans poured their guts out at the Coliseums of old.) And have you heard a civic leader or news analyst dare to say that if women (and men, too) don't want to be sexually molested they should avoid the ultra-violent U.S. military like the plague upon humanity that it is? Voluntarily joining up with brutal individuals/organizations is not a wise, effective strategy for staying out of harm's way.
So maybe Persians' modern dress is, unfortunately, appropriate after all. Those arrogant, goose-stepping, overzealous Xerxes types still march amongst us. In any case, Persians is tough going for most amphitheatergoers and is primarily for fans of Greek and ancient drama and/or students and lovers of theater and its history.
But if you go, BYOT (Bring Your Own Toga), because there aren't any onstage-and besides, it gets cool at night out-of-doors, so strap your sandals over a pair of socks.
In any case, from Aeschylus' Athenian city-state to the United States (that postmodern global empire), war is still Hades.
Persians plays through Sept. 27 on Thursdays, Fridays and Saturdays at 8:00 pm at the Getty Villa, 17985 Pacific Coast Highway, Malibu. For more info: (310) 440-7300; www.getty.edu.
Photo: SITI Co. ensemble. © 2014 Craig Schwartz, Outdoor Theater at the Getty Villa.