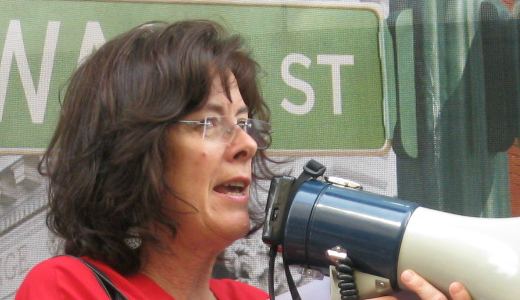 PHILADELPHIA – Over 100 union members, health care activists and their allies rallied outside the downtown office of Sen. Pat Toomey, R-Penn., Sept. 1 to deliver their message: "Tax the Rich; Health Care for All!"
Speakers included Patricia Eakin, president of the Pennsylvania Association of Staff Nurses and Allied Professionals; Mike Davis, vice president of Communications Workers of America Local 13000; and Chuck Pennacchio of Health Care for All Pennsylvania. Both the staff nurses and communications workers have conducted militant strikes during the recent period.
Chuck Pennacchio told the spirited crowd that Pennsylvania was one of 22 states where single payer health care was on the legislative agenda.
Toomey is a freshman in his first year of Senate service; various groups have held weekly demonstrations at his downtown office in a skyscraper on JFK Boulevard. Demonstrators have frequently noted how inaccessible his office is on an upper floor of the building, to which none of them have been able to gain access.
Demonstrators have also noted the bizarre fact that Toomey's freshman status has not prevented his being appointed by the Republican leadership to the "super commission" charged with overseeing the next round of cuts to the federal budget. Toomey's experience is as a Wall Street investment banker.
Photo: Ben Sears/PW