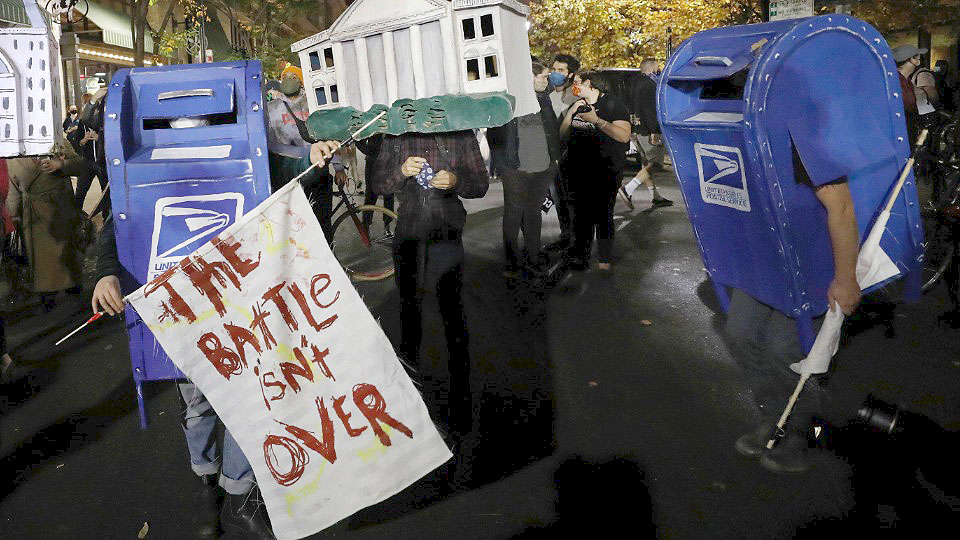 WASHINGTON (PAI)—The decline in money-making first-class mail, as businesses closed due to the coronavirus pandemic, emphasizes—again—the need for federal aid to keep the Postal Service going, its three top union leaders say.
But Senate Majority Leader Mitch McConnell, R-Ky., and GOP President Donald Trump—who schemed to stop vote-by-mail in his drive to steal the 2020 election—aren't listening.
That's because when Congress comes back to town on Nov. 30, the Senate's ruling Republicans will tackle a money bill to keep the government going beyond Dec. 11, while pushing aid to workers, unemployment benefits, anti-pandemic measures, and $25 billion for the USPS, among other moves, off to one side.
Never mind that the coronavirus case count has risen to more than 180,000 per day and that the daily death toll is increasing, too.
The USPS needs the money because the pandemic hit it hard in fiscal 2020, which ended Sept. 30, its year-end report showed. Revenue rose by $2 billion, to $73.1 billion, but operating expenses also increased, by $2.3 billion, to $82.2 billion, Trump-promoted Postmaster General Louis DeJoy reported. First class mail volume dropped by 4.2%, but the number of packages rose by 25.8%.
"These figures, driven by the economic shutdown's impact on first-class mail, show the need for federal assistance during the pandemic, just as other sectors have received," Letter Carriers President Fredric Rolando said. "Over the past eight months and counting, the United States Postal Service has demonstrated its essential value, with tens of millions of Americans sheltering at home during this public health crisis while postal employees deliver needed supplies, medications, and much more."
"Meanwhile, the Postal Service has proven vital in protecting the core of our democracy—the right of citizens to choose their leaders—by facilitating an historic volume of mail ballots during that same health crisis. Perhaps never in its 245 years has the public post office been more indispensable to the country."
That delivery effort came despite DeJoy's pre-election actions to curtail voting by mail.
They included yanking USPS's familiar blue mailboxes out of Democratic-led central cities and Black- and brown-populated neighborhoods, removing and disassembling special sorting machines that handled big mail ballot envelopes, ordering trucks to leave postal sorting centers half-full or less, leaving piles of mail on the floor, in order not to deliver after hours, and banning overtime.
Under public pressure and, eventually, a court order, DeJoy stopped those moves, though he didn't reverse past destruction, before the election. And he vowed to resume them once the balloting was over—a point Postal Workers President Mark Dimondstein cited in leading a national day of action on Nov. 17 against DeJoy's destruction.
"DeJoy is still the Postmaster General, and he promises to follow through on policies that slow down mail and drive away revenue now that the election is through. The Postal Board of Governors who are enabling these destructive policies remain in place for the foreseeable future," Dimondstein warned in a post-election statement.
"The struggle continues for needed COVID emergency financial relief from Congress. We must remain vigilant in the constant effort for maximum health and safety in this COVID world. Wall Street postal privatizers come in all political stripes.
"Efforts to expand and enhance Postal Services must accelerate. Postal reform legislation is needed," Dimondstein said.
That legislation, the postal unions add, would both increase areas where USPS can increase revenue—such as re-establishing postal banking—but also get rid of the yearly $5 billion pre-payment of future retirees' health care costs which a GOP-run Congress and GOP President George W. Bush imposed in 2006. Without that expense on its books, USPS would have made money virtually every year until the pandemic hit, Rolando has said in the past.
Mail Handlers/Laborers President Paul Hogrogian mentioned that in lauding Democratic presidential nominee Joe Biden's victory over Trump.
"We spent the past four years under the Trump administration protecting our members and our jobs against threats of privatization, attacks on our collective bargaining rights, and our hard-earned benefits," he said.
"Now we have a pro-postal and pro-labor friend headed to the White House. During his candidacy, President-Elect Biden made several promises to the postal community: pushing to repeal the prefunding mandate that lead to USPS' financial instability; protecting service standards so Americans in urban, suburban, and rural areas receive first-class mail and parcels in a timely manner; and maintaining collective bargaining…We'll need to work hard to make sure these promises are kept."