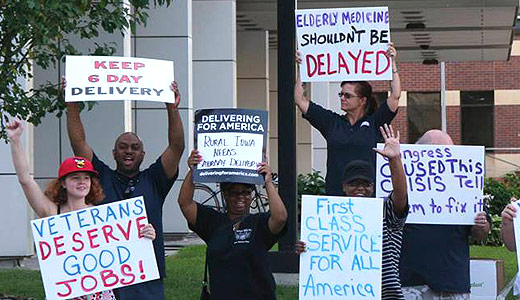 WASHINGTON (PAI) — The nation's four postal employee unions are uniting to sponsor yet another mass protest, on November 14, against Postmaster General Patrick Donahoe's planned January 2015 shutdown of 82 more distribution centers. And the Mail Handlers/ Laborers formally notified the Postal Service the union believes the closings break its contract.
Centered around the theme of "Stop delaying America's mail!" the unions timed the protest for the last meeting of the Postal Board of Governors for this year, said Letter Carriers President Fredric Rolando, who just won re-election to a new term in his union's top job.
"The Postal Service is set to make severe cuts in mail delivery service that, if implemented, would cause hardships for customers, drive away business, and cause incalculable harm to its reputation," he said.
A report by the non-partisan Government Accountability Office (GAO), released October 27, backed Rolando. It said Donahoe's past closings slowed 25 percent of first-class mail.
The Letter Carriers said closing 82 more mail-processing centers would slow the mail so much that overnight mail delivery even within the same city or town would likely disappear.
"This plan would sacrifice service while failing to address the real causes of the Postal Service's financial problems," Rolando said, speaking for himself, Postal Workers President Mark Dimondstein, Mail Handlers President John Hegarty and Rural Letter Carriers President Jeannette Dwyer.
Donahoe's closings are part of his scheme to eliminate the USPS deficit. He also wants to end Saturday service, let 100,000 workers go by attrition, fire another 100,000, replace full-time unionized well-paid postal worker jobs with part-timers and subcontract out USPS functions to minimum-wage non-union workers at Staples and, APWU adds, Walmart.
And Donahoe demands elimination of door-to-door delivery. All the moves, Dimondstein says, are part of Donahoe's scheme for "creeping privatization" of the Postal Service. Privatization is also a goal of congressional Republicans.
The unions reply the red ink Donahoe cites is due to a 2006 "postal reform" pushed through a Republican-run Congress by GOP President George W. Bush that reform orders USPS to pay $5.5 billion yearly to pre-fund future retirees' health care benefits. As a result, the USPS runs a billion-dollar profit on operations now that the Great Recession is over, but the health care mandate turns it into a multi-billion dollar loss.
The NALC and APWU both voted "no confidence" in Donahoe earlier this year. Both demand he resign – or be fired – in favor of a Postmaster General committed to a positive future for the Postal Service.
Donahoe has also given the back of his hand to union proposals, in legislation by Sen. Bernie Sanders, Ind.-Vt., to let the Postal Service enter new and profitable business lines and to eliminate the health care pre-payment.
The day of action is designed to highlight both the impact of Donahoe's planned cuts and to promote the alternative plans, the four unions say. Donahoe's cuts since 2012 have cut service, the unions and GAO add.
Donahoe's new cuts are "so severe that they will forever damage the U.S. Postal Service," the unions said in a letter to their locals, urging them to start mobilizing members for November 14. "On January 5, the USPS is slated to lower 'service standards' to virtually eliminate overnight delivery – including first-class mail from one address to another within the same city or town. All mail throughout the country will be delayed," it adds.
"Beginning January 5, 82 Mail Processing and Distribution Centers are scheduled to close. These cuts will cause hardships for customers, drive away business, cause irreparable harm to the U.S. Postal Service, and lead to massive schedule changes and reassignments for employees. They are part of a flawed management strategy that unnecessarily sacrificed service and failed to address the cause of the Postal Service's manufactured financial crisis."
The GAO report backs the unions' letter to locals. Even before she got it, one senator who sought the report, Sen. Heidi Heitkamp, D-N.D., launched an online petition against further USPS cuts. The other, Senate Government Affairs Committee Chairman Thomas Carper, D-Del., used the report as a reason to again push a postal "reform" measure the unions call unacceptable. Carper's plan tracks well with Donahoe's demands, they point out.
"Revised delivery standards have increased delivery time for some first-class mail and periodicals, notably by reducing mail with a 1-day standard," GAO said. "USPS revised its standard to maintain 1-day delivery for intra-Sectional Center Facility (SCF) mail, but not for inter-SCF mail. SCFs serve as the processing and distribution centers for post offices in a designated geographic area," GAO said. Those are the facilities Donahoe wants to close.
"USPS also revised its delivery standards for 2-day delivery. Mail must now be within a 6-hour drive between the applicable processing facilities rather than within a 12-hour drive time to meet the 2-day delivery standard; mail sent outside the 2-day delivery area shifted to a 3-day delivery standard," GAO said.
"USPS estimated that about one quarter of first-class mail volume was affected by the changes in delivery standards. Further, the percentage of single-piece and bulk first-class mail with a 1-day delivery standard decreased from 2012 to 2014, while the percentage with a 3-5 day delivery standard increased. USPS also eliminated 1-day delivery standards for periodicals, which generally shifted to a 2-day standard."
All this made such a mess of the mail that the Mail Handlers formally notified Donahoe's minions last month that USPS' 82 planned closures break the union's contract. They formally filed a nationwide grievance and requested arbitration.
The closures "violate the mail processing guidelines" in the USPS' own handbook, which are "incorporated by reference" into the NMPHU contract, its September 18 letter said.
"The handbook requires USPS to take certain actions, conduct various studies, accept and consider various opinions and hold certain public meetings" before implementing such closings. Those procedures last at least six months, and USPS has followed none of them, the union said.
The national unions are involved only in the last of the nine steps in such actions, NMPHU reminded the USPS brass. But the first step must be based on current data, and USPS is using numbers from when it started the last round of closings in 2011. And the procedures call for bottom-up consultations, with public notice at the very beginning and accountability throughout, it added.
"The current plans to close or consolidate the 82 processing facilities are based on untimely processes resulting in essentially meaningless studies and reports. Implementation would violate" pertinent sections of the handbook "and the National Agreement."
Photo: National Association of Letter Carriers at Neal Smith Federal Building in Des Moines, Iowa.