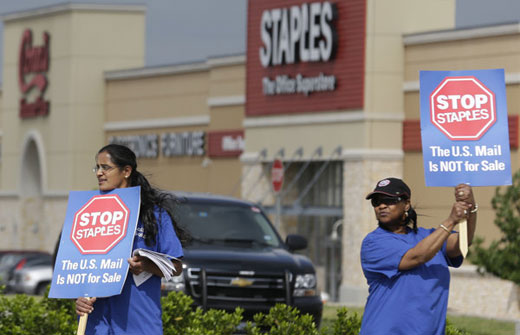 Postal Workers (APWU) members and community allies are rallying today at 50 Staples stores in 27 states as part of a National Day of Action to stop the U.S. Postal Service's (USPS's) privatization of retail operations. USPS is contracting mail services to Staples, with "postal counters" staffed with low-wage, high-turnover Staples employees rather than postal employees.
APWU President Mark Dimondstein sid, "The American people have a right to know that their mail is handled by highly trained uniformed postal employees who have taken an oath to protect the sanctity of the mail and who are accountable to the people of the country-whether it's at the Post Office or an office-supply store."
The USPS began contracting out postal services to Staples in October. So far, 80 Staples stores are part of the pilot program. But the USPS plans to expand the scheme to 1,500 Staples locations nationwide at the same time that it is eliminating public post offices.
The union says that the no-bid "sweetheart deal" will compromise the quality, security and reliability that consumers expect and deserve in the handling of their mail. Dimondstein says that an internal USPS document "makes clear that the goal of the program is to replace the good, living-wage jobs held by USPS employees with low-wage jobs in the private sector." He adds:
But this isn't just about postal jobs. Many people are outraged that a tremendous public asset is being turned over to a struggling private company….Staples makes business decisions based on the bottom line, not service to the people of the country.
Research shows that consumers have high regard for postal employees and are skeptical about the Staples deal, according to InfoTrends, which recently completed a report for the USPS Inspector General. Many postal customers, the firm reports, "were uncomfortable with co-location of Post Offices not staffed by USPS employees, such as with the Postal Service's recent partnership with Staples stores."
'I want a real postal employee to handle my mail,' said one woman from an urban location. 'It's like when you go in to a drug store to get a flu shot. You don't want to get it from a regular Walgreen's employee.'
Today's National Day of Action follows protests by postal workers and community allies in Atlanta, Chicago, San Francisco, Seattle, Berkeley, Calif., and other cities since January.
Many teachers, who regularly buy school supplies at Staples, have joined the APWU in protesting this attempt to privatize postal services. On April 28, the California Federation of Teachers will vote on a resolution asking their members to buy school supplies from other retailers. This likely will be the first of many similar actions by educators to boycott Staples. It's estimated that 30% of Staples revenue comes from back-to-school sales.
For more information, text POSTAL to 91990, or visit StopStaples.com.
This article is reposted from the AFL-CIO Now Blog
Photo: AP