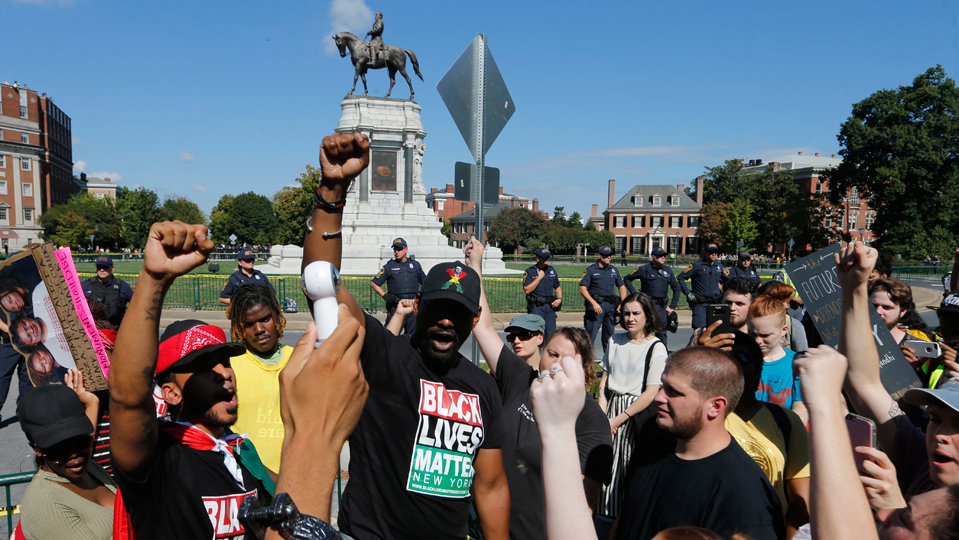 RICHMOND, Va. – On Saturday, Sept. 16, a diverse coalition of organizations — ranging from Black Lives Matter to Virginia Interfaith to Raise Up, an advocacy group for raising the minimum wage — marched in a show of solidarity against a pro-Confederate demonstration around a statue of Gen. Robert E. Lee here.
The demonstration was organized by a Tennessee-based group known as CSA II: The New Confederate States of America, in defiance of an executive order from Gov. Terry McAuliffe which prohibited demonstrations around the Lee monument in the wake of the racist riot in Charlottesville last month that ended with three dead and several others injured.
The pro-Confederate demonstrators, numbering roughly a dozen, were vastly outnumbered by more than a hundred community members intent on safeguarding their communities from white supremacy. The demonstration, which began at 10 a.m. and was supposed to last eight hours, was cut short after only two hours when Richmond Police and the pro-Confederate demonstrators jointly agreed to close down the proceedings.
Building on the momentum of such mass mobilizations as the recent counter-demonstrations in Boston, this event also confirmed that when large enough numbers of individuals turn out to demonstrate against white supremacy, the result is a conspicuous lack of violence. This suggests that the number of anti-racist, anti-fascist demonstrators who turn out is inversely proportional to the incidences of violence.
Though seven counter-demonstrators were arrested, the majority of the charges stemmed from their having worn a mask, a felony in Virginia, while the remaining charges were for carrying concealed weapons. A weapons ban was in place for the demonstration though this did not include guns, but did cover such items as mace, sticks, and knives.
As brief as the event was, there was still time for testimonies and critical discussions among those gathered to protest the public display of white supremacy. Led by the New York chapter of Black Lives Matter, who traveled to show solidarity with anti-racist counter-demonstrators, several chants of call and response made clear the aims of abolishing symbols of white supremacy from public spaces and openly denouncing complicity in systems of racial and economic oppression.
One member of BLM, Angelique Negroni-Kearse, the widow of Andrew Kearse, told the story of how her husband was killed by police while in custody and the resultant uphill battle to find out information about his death and bring those responsible to justice.
This prompted a brief discussion of the ways in which a state that prioritizes the protection of property over people has led to mass incarceration, which in turn has provided the backdrop and legitimation for public displays of racism. Not all in the audience agreed with this rhetoric, with a few individuals speaking out against "divisive language" that they thought painted too general a picture of how law enforcement operated.
At one point during the demonstration, an elderly man wearing a red Trump "Make America Great Again" hat and carrying a sign bearing a crossed-out swastika, appeared on the counter-demonstrator side of the police barricade and was met with questions about what it was he was trying to accomplish.
He was largely recalcitrant, but said that he did not want to appear to be aligned with what he described as "neo-Nazis on the other side." His characterization of the pro-Confederate demonstrators contrasted sharply with the CSA II's stated aim of distinguishing themselves as a group disinterestedly focused on heritage from those that promote racial hierarchy.
As the rally came to a close, several members of CSA II were met with chants calling for them to leave the city as they were escorted by police to their vehicles. The organizers of the event then created a GoFundMe page where they claimed that they were in a "hostile situation" and needed to raise funds to leave Richmond. The hoax was quickly discovered and the webpage pulled down as video evidence revealed that they were under no threat and were being actively protected by members of the police.
The group appears to have been unknown by other pro-Confederate organizations, with the Virginia chapter of Sons of Confederate Veterans claiming they were not familiar with the organization and urging their members not to attend the demonstration.
In the days leading up to the rally, CSA II promoted itself on social media by advertising Confederate memorabilia that they were selling from the back of a pickup truck. By all accounts, it seems as though the group was simply using this demonstration as a promotional marketing tool, depicting once again the ways in which racism and capitalism structurally reinforce one another.
A legal defense fund for the anti-racist demonstrators arrested has been set up.