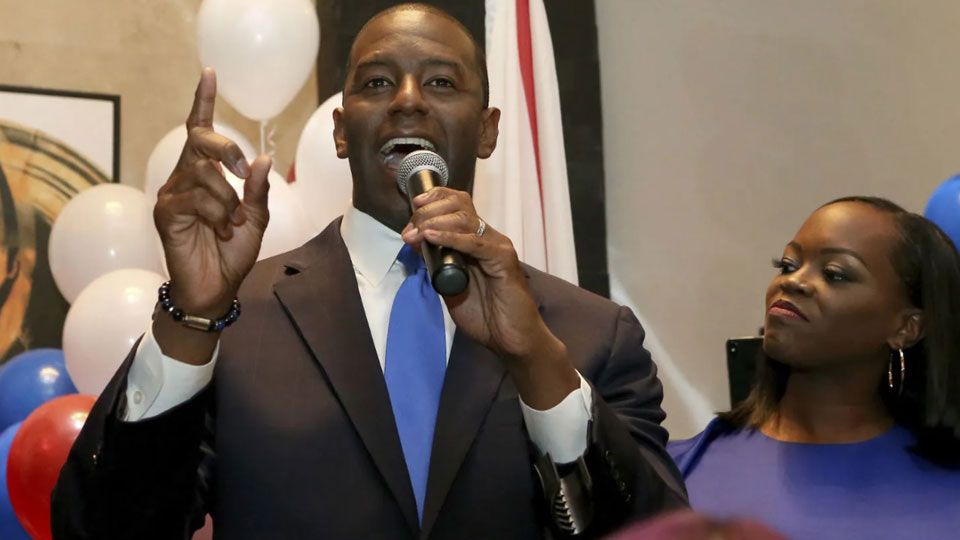 TALLAHASSEE, Fla.—Tallahassee, Fla., Mayor Andrew Gillum, who touted his working-class roots and his progressive stands – such as Medicare For All and the Fight for $15 and a union – on the campaign trail, upset establishment favorite Gwen Graham to win the Democratic gubernatorial nomination in Florida's August 28 primary.
Gillum thus becomes the third African-American – along with Maryland's Ben Jealous and Georgia's Stacey Abrams – the Democrats will field for governorships this fall. All are progressives, backed by the Progressive Change Campaign Committee (PCCC), Sen. Bernie Sanders, Ind-Vt., National Nurses United or all of the above. And Abrams picked up the endorsement, last year, of the Georgia AFL-CIO.
To put their nominations in perspective, only two African-Americans – Virginia's Doug Wilder and Massachusetts's Deval Patrick, both Democrats – have ever held governors' chairs anywhere in the U.S. since the end of Reconstruction.
In addition to Gillum's win, progressive college professor David Garcia, a Hispanic-American and former Chicagoan, won the Democratic gubernatorial nomination in Arizona on August 28. He too ran on Medicare For All but also pledged to really put more money into local schools.
Garcia faces incumbent GOP Gov. Doug Ducey, who finally had to give in on school aid earlier this year after a statewide citizens group and the Arizona Education Association pressured him and the GOP-run legislature into providing more money for teachers and staffers who hadn't had a raise in a decade and for schools whose floors are buckling and roofs are leaking. AEA had to stage a week-long strike and sit-ins at the state capitol building in Phoenix to force the funds.
Abrams' foe is Secretary of State Brian Kemp, who won a runoff earlier this year by out-Trumping his foe. That race, too, pits a dedicated progressive against a far-rightist – and that race is a dead heat.
Gillum's race against Rep. Ron DeSantis, R-Fla., a dedicated Trumpite who got the anti-worker GOP president's endorsement, is also a tossup. Florida is a classic "purple" state and Georgia is a red state that is turning purple due to an influx of Hispanic-Americans.
"Two bold progressive game changers won heated primaries tonight to be the next governors in the pivotal swing states of Florida and Arizona," said Stephanie Taylor, the PCCC co-founder. "Andrew Gillum and David Garcia ran grassroots campaigns centered on an economic populist agenda, including supporting Medicare for All, green-energy jobs, and an assault weapons ban. Tonight's bold progressive victories by Gillum and Garcia — and Stacey Abrams' historic win earlier this year — prove that a bold, economic populist agenda is the best way to excite and energize voters in red, purple, and blue states."
In an immediate fund-raising pitch for Gillum, Sen. Kamala Harris, D-Calif., herself a potential 2020 presidential hopeful who is both African-American and Indian-American, touted Gillum as "a bold, unapologetic progressive who won the Democratic primary… Trust me, you're going to like this guy.
"Andrew comes from a humble beginning. His mother was a bus driver and his father was a construction worker. He was the first in his family to graduate college and has dedicated his life to public service. As Mayor of Tallahassee, Andrew has walked the walk— taking on the gun lobby in court to protect common-sense reform and standing up to Trump and Governor Rick Scott to defend immigrants," she said.
Scott, the incumbent, and term-limited, GOP governor and a former medical company executive, coasted to a win in his party's U.S. Senate primary. He faces Democrat Bill Nelson in another toss-up race in the Sunshine State.
"DeSantis is one of Trump's closest allies in Congress" and is "running for Florida governor so he can enact the same, radical agenda as Trump on the state level. Trump even attacked Andrew on Twitter this morning," Harris noted.
"Florida Democrats nominated milquetoast moderates for governor in each of the past five elections," state political analyst James Hohmann wrote. "They were all white candidates who hailed from Central Florida and moved cautiously toward the middle. They also all lost."
Gillum "offers something quite different. He got his start in politics by working as a youth organizer for the liberal group People for the American Way. He's running on Medicare for All, wants to abolish ICE in its current form, marches for gun control, supports legalizing marijuana and favors impeaching Trump. This helped Gillum cobble together a winning coalition of liberals, minorities and millennials." Sanders campaigned for Gillum. Jane Fonda, Norman Lear and George Soros endorsed him.
There was one other factor in the Democratic gubernatorial primary, The Tampa Bay Times reported: Gun control. Gillum is strongly for it. He took time out from his Progressive Change Campaign Committee candidate training earlier this year to stand outside GOP headquarters in D.C. and demand tougher gun control – a position anathema to Trump and his acolytes.
Gun control particularly resonates in Florida, after the Valentine's Day massacre of 14 students and three teachers – all AFT members – at Marjory Stoneman Douglas High School and the shootings at a Madden19 video game convention in Jacksonville two days before the primary. Two gamers, plus the shooter (also a gamer) died, and nine were wounded.
Surviving Stoneman Douglas students have led a nationwide crusade for a gun control crackdown, particularly against the AR-15 rifles the school murderer used, and against the notoriously powerful and vicious gun lobby, the National Rifle Association.
The Miami Herald noted Lori Alhadeff, mother of murdered 14-year-old Douglas student Lori, "was elected to the Broward County (Fort Lauderdale) School Board in a landslide," winning two-thirds of the vote. "I am so excited. I am elated," she told the Miami Herald. "I can't wait to start making change and start making an impact on the school board."
Gun control also resonates among minorities, who remember the GOP's "stand your ground" law let a neighborhood "vigilante" gun down unarmed African-American teenager Trayvon Martin.
Graham, a former one-term U.S. representative who was redistricted out of her job and daughter of former Gov. and Sen. Bob Graham (D) was the establishment favorite, though unions were split in the race.
Graham heavily outspent Gillum and another candidate, a self-financed businessman who finished a bad fourth, outspent both. But Gillum's grassroots organizing and outside help from Sanders on the campaign trail and big progressive Democratic donors carried him to the 34 percent-31 percent victory.
Two other progressive gubernatorial candidates who are members of minority groups face uphill battles, however.
Jealous, whom National Nurses United backed before his primary trouncing of establishment favorite Rushern Baker, trails popular, non-Trump GOP Gov. Larry Hogan in deep-blue Maryland. Some of the party establishment is starting to coalesce behind Jealous, but two heavyweights, House Minority Whip Steny Hoyer and Montgomery County Executive Isaiah Leggett, are sitting on their hands.
And Paulette Jordan, a state legislator, won the Democratic gubernatorial nod in deep-red Idaho earlier this year. She too favors Medicare For All and other progressive causes. She's also the first Native American woman to run for governor anywhere in the continental U.S.