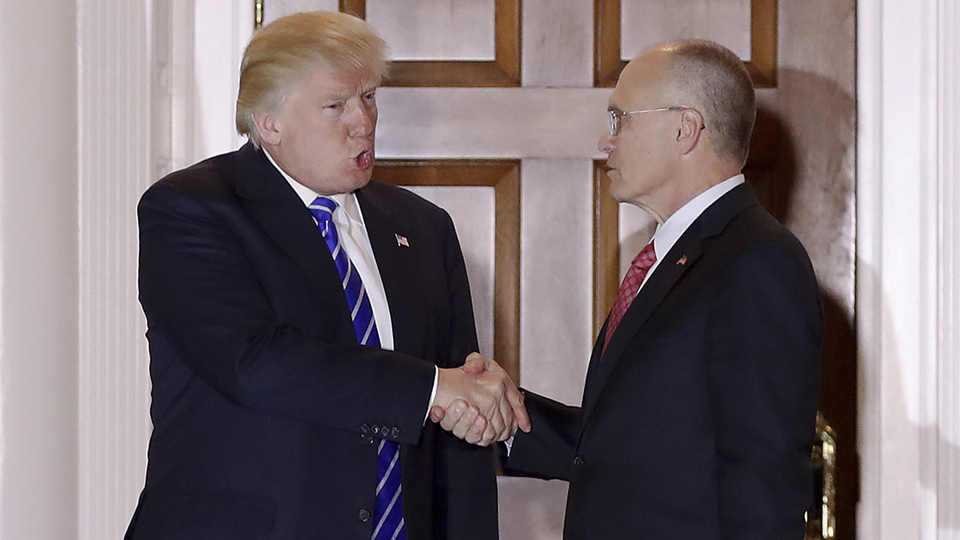 CBS News is reporting that Andrew Puzder is expected to withdraw his nomination for the position of Secretary of Labor under the Trump administration. The source close to the nominee told CBS "he's very tired of the abuse," but the reality is that workers across the country have mobilized against him resulting in four Republican Senators going public about being "on the fence" regarding his nomination.
The excuse the source gave is ironic, given that Puzder's wife appeared on an episode of Oprah Winfrey in disguise to talk about the domestic abuse he subjected her to for years. Puzder reportedly told her, after their divorce, "I will see you in the gutter. This will never be over. You will pay for this."
These dark elements of his personal life seem to correspond with the treatment of women who work for him. The Carl's Junior/Hardee's CEO has run his businesses with the general disdain for workers that has come to define the fast food industry.
If Puzder makes it to his hearing tomorrow, AFL-CIO President Richard Trumka has circulated a list of questions that he thinks should be asked by Senators: "Do you think wage theft is ok?," "Do you think someone working full-time should be paid enough to pay rent & put food on the table?," and "How can working Americans trust you to stand up for them when you speak so poorly about your own employees?"
People will be tweeting these questions and more at Senators and Puzder, if he makes it to the Senate building, with the hashtags "#questions4andy" and "#antilaborsecretary."
If Puzder withdraws his nomination, it will mark the first defeat of a Trump cabinet member. This latest news, combined with the resignation of Mike Flynn, is further evidence that administration has gone back on its campaign promise to "hire the best people."