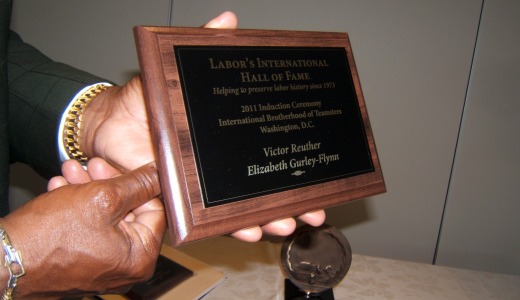 WASHINGTON – "We stand on the shoulders of giants," said Teamsters President James Hoffa at a ceremony marking the May 17 induction of labor pioneers Elizabeth Gurley Flynn and Victor Reuther into Labor's International Hall of Fame.
Hoffa spoke to a crowd in a reception room with a commanding view of the U.S. Capitol building at the headquarters of the International Brotherhood of Teamsters in the nation's capital.
"Especially in these days of the war on workers," Hoffa said, it is important to honor women and men like Reuther and Flynn, along with other legendary union leaders like his father, Jimmy Hoffa, and Victor Reuther's brother, long-time United Auto Workers President Walter Reuther.
He added, "It is workers who put boots on the ground in the battles in Wisconsin and Ohio. We have never faced a test like today, a tsunami of anti-labor legislation. Events like this pull us together."
Standing on easels beside Hoffa were large posters of Flynn and Reuther. A program book with many photos of the two inductees and greetings from many unions was distributed.
Flynn is described in the program book as a fiery leader of the 1912 Lawrence, Mass., textile strike, a founder of the Industrial Workers of the World and the American Civil Liberties Union, leader of the International Labor Defense and chairwoman of the Communist Party USA. Joe Hill dubbed her "The Rebel Girl" in his famous song.
Included are remembrances of Flynn by her CPUSA co-worker Daniel Rubin. "She always spoke about labor rights and women's rights and she was also very much into the struggle for peace – the Vietnam war," Rubin wrote. "She was a firm supporter of democratic liberties," he noted, adding that her views on peace, on women's equality, civil rights and trade union solidarity "all remain valid" Today.
Victor Reuther helped organize the famed 1936-37 sit-down strike at the General Motors Fisher Body Plant in Flint, Mich. Later, he served as UAW education director and international director. He lost an eye in an assassination attempt in 1949.
His son John Reuther recalled that the Reuther brothers worked in an auto plant in the Soviet Union during the 1930s.  He said that stirred his own interest in the USSR. A Soviet journalist suggested that he study there, which he did. Later, in his travels, John Reuther said, he was often greeted at airports by union members out of respect for his father.
Donald Boggs, an executive board member of Labor's International Hall of Fame, presided at the induction ceremony. He told the People's World, "The labor movement was born out of social activism and some of its themes are socialist concepts, that we are all our 'brother's keeper' and deserve a decent standard of living."
Boggs said, "We have to reach out to family and friends, to galvanize support in standing up against the attack on workers. It amazes me when the elite blames unions for this country's downfall. They have used deceit and disinformation. The real issue is the loss of jobs and corporate America's forcing down of wages for working people." He echoed Hoffa's comments on the importance of honoring labor's heroes.
Mike Smith, academic co-chair of the Hall of Fame, thanked the Teamsters for hosting the ceremony "celebrating those who fought for the rights of workers." He presented to Hoffa a $1,500 contribution to the Teamsters scholarship fund.
Smith said the Walter Reuther Library at Wayne State University holds the largest labor archives in the nation and is the source of documentation of those inducted into the labor Hall of Fame, established in 1973.
Among those enrolled are William H. Sylvis,  a leader of the Molders union over a century ago; Mary "Mother Jones" Harris; Frank Little, IWW copper miner lynched in Butte, Mont. (a close friend of Flynn); United Mine Worker President John L. Lewis; Steelworkers union  founding President Philip Murray; Sleeping Car Porters President A. Philip Randolph; Machinists union President William Wimpisinger; Auto Workers leader Olga Madar; railway strike leader Eugene V. Debs, a founder of the IWW; International Longshoremen's and Warehousemen's Union President Harry Bridges; Farm Workers union President Cesar Chavez; and William "Big Bill" Haywood, founder of the IWW and a member of the CPUSA.
Photo: Tim Wheeler/PW