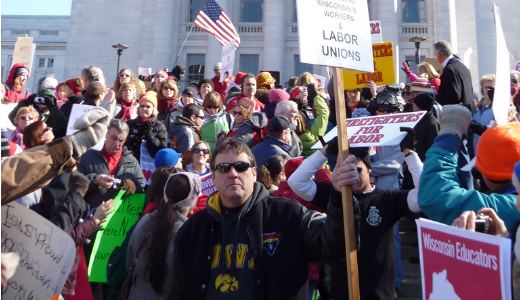 MADISON, Wis. – Three more Republican state senators who voted for Gov. Scott Walker's bill to kill collective bargaining rights for public workers will face recall elections this July.
The nonpartisan Government Accountability Board this week ordered recall elections for Alberta Darling of River Hills, Sheila Harsdorf of River Falls and Robert Cowles of Green Bay.
Last week the board ordered the recall elections of state Sens. Dan Kapanke of La Crosse, Randy Hopper of Fond du Lac and Luther Olsen of Ripon.
Observers say that only a determined and well-organized effort could result in the scheduling of six recall elections at the same time in this or any other state. They say that for the labor movement this is nothing short of a historic achievement.
Unions and their allies had volunteers combing six senatorial districts and engaging, on a one-to-one basis, with several hundred thousand voters. In each district they collected the signatures of more than 20,000 voters in order to meet the requirement of approximately 15,000 valid signatures per district.
Republicans challenged the signatures but their claims were tossed out by the board.
The GOP, unable to match the effort, has filed petitions for recall elections against only three Democrats. None of those efforts have yet been certified by the board.
Democrats have to win only three of the six recall elections against Republicans to take control of the state senate.
Republicans are bracing for defeat.
The Milwaukee Journal-Sentinel reported yesterday that Sen. Kapanke, one of the Republicans being recalled, fears that it is the very public service workers whose rights he voted to kill that will put him out office. He said, according to the paper, that he has "one huge obstacle" that he must "overcome" to keep his seat: "all the government workers" in his district.
In a talk to La Crosse County Republicans last week, Kapanke said he is hoping that all the public employees "are sleeping" on Election Day.
"We've got tons of government workers in my district – tons," said the senator. "From La Crosse to Prairie du Chien and to Viroqua and to Ontario and to Hillsboro, you can go on and on and on. We have to overcome that. We gotta hope that they, kind of, are sleeping on July 12 – or whenever the election date is."
The talk, which was secretly recorded and turned over to the Journal-Sentinel, took place at the Cedar Creek Golf Club in Onalaska. Kapanke told those gathered there that he was one of three Republicans who are in serious jeopardy of losing their seats.
The other two, according to Kapanke, are Sen. Darling and Sen. Randy Hopper.
"We could lose me. We could lose Randy Hopper in the 18th or Alberta Darling over in – wherever she is – the 8th, I believe"
Kapanke said Republican loss of the state Senate could mean big changes. "If they gain control of the Senate, it might be over for us. Because redistricting will play a role, as you know, and we lose that power."
Kapanke is expected to face state Rep. Jennifer Schilling of La Crosse in the recall election.
The six Republicans are facing the recalls because of their support for Gov. Walker's bill killing collective bargaining rights for public workers. That law is tied up in the courts, because a judge has ruled it null and void. In ramming through the law, Republicans ignored the state's open notices requirements.
Photo: Larry Ellis/PW