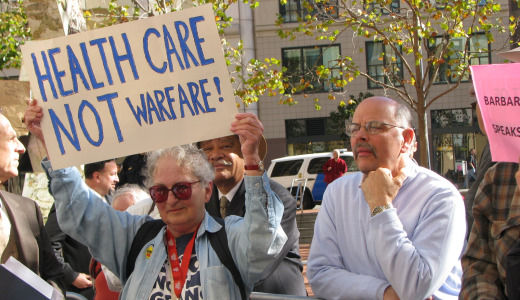 OAKLAND, Calif. – Sending more troops to Afghanistan will only further inflame the insurgency there, will not advance U.S. security interests, and will jeopardize work at home for jobs, health care and safeguarding the environment, Rep. Barbara Lee, D-Calif., declared Nov. 23 as she addressed over 200 peace activists, veterans and community supporters at Oakland's federal building.
"The prospect of sending tens of thousands of additional troops into harm's way is simply unacceptable. None of us can stand idly by and wait," Lee told the crowd, to loud applause. She urged them to help build support for HR 3699, the bill she introduced into the House of Representatives Oct. 1 with 22 other co-sponsors, to bar funding for additional troop deployments to Afghanistan. The legislation "sends a clear and unequivocal message that we do not support further entrenching the U.S. in Afghanistan by escalating militarily," she said.
Lee said she applauds President Obama's commitment to reviewing and questioning U.S. strategy in Afghanistan. She cited letters she and other members of Congress have sent the president, urging a new direction in international policy. One, sent last month by the Congressional Black Caucus, called for "a comprehensive diplomatic plan to engage regional and international stakeholders" for security and stability in the region, renewed emphasis on developmental aid to the Afghan people, and "a well defined … exit strategy."
"Just look at the domestic cost of this!" Lee exclaimed. "The fact is, the wars in Iraq and Afghanistan will cost more than $1 trillion regardless of sending additional troops." In pursuing an end to the occupation and military escalation in Afghanistan, Americans are fighting for job creation, health care and education reform, and sound environmental policies, she said.
"The reality is, we cannot afford either in blood or treasure, an escalation and an open-ended war. It is wrong and it is not in our national security interests. We need an exit strategy to bring our troops and contractors safely home and spend those trillions of dollars on ensuring the economic security of all Americans."
Citing H Res 363 for a "smart security platform for the 21st century," introduced last spring by Rep. Lynn Woolsey, D-Calif., Lee urged redoubled efforts to win a more peaceful and secure world through "smart power" and "smart security," including increased diplomacy, economic development, regional security and nuclear non-proliferation and disarmament.
Responding later to a reporter's question, Lee called for support for the Afghan people's developmental needs, and pointed to the need to address government corruption that has kept much development aid from reaching intended recipients. Emphasizing that she is "not talking about nation building," Lee said that after having engaged in war there, "we have a duty and responsibility to help in some sense to stabilize the country," and added that diplomatic efforts and nuclear disarmament are vital for a peaceful future in the region.
Lee was joined on the platform by antiwar activist and author Tom Hayden, actor and political activist Danny Glover, and veterans' leader Paul Cox. The program was chaired by Alameda Labor Council head Sharon Cornu, who brought greetings from the area labor movement and cited the council's resolution calling for return of the troops, and for investing resources to put America back to work.
Cox, a Marine Corps veteran, emphasized similarities between the current situation in Afghanistan and the Vietnam war, and pointed to the Afghan conflict's origins in the CIA's arming of the mujahedin in the late 1970s.
Glover said Lee's work carries forward Dr. Martin Luther King's emphasis on antiwar struggles as an essential part of the fight for social justice, while Hayden warned of the Pentagon's "doctrine of the long war," which he said was a "50 year war in an arc of crisis that happens to span Muslim countries with oil and pipelines."
Meanwhile, Rep. David Obey, D-Wis., who chairs the House Appropriations Committee, warned Nov. 23 that financing an ongoing war in Afghanistan could destroy President Obama's domestic agenda. "On the merits, I think it is a mistake to deepen our involvement," he told ABC News. "But if we are going to do that, then at least we ought to pay for it. If we have to pay for the health care bill, we should pay for the war as well by having a war surtax."
Photo: PW/Marilyn Bechtel