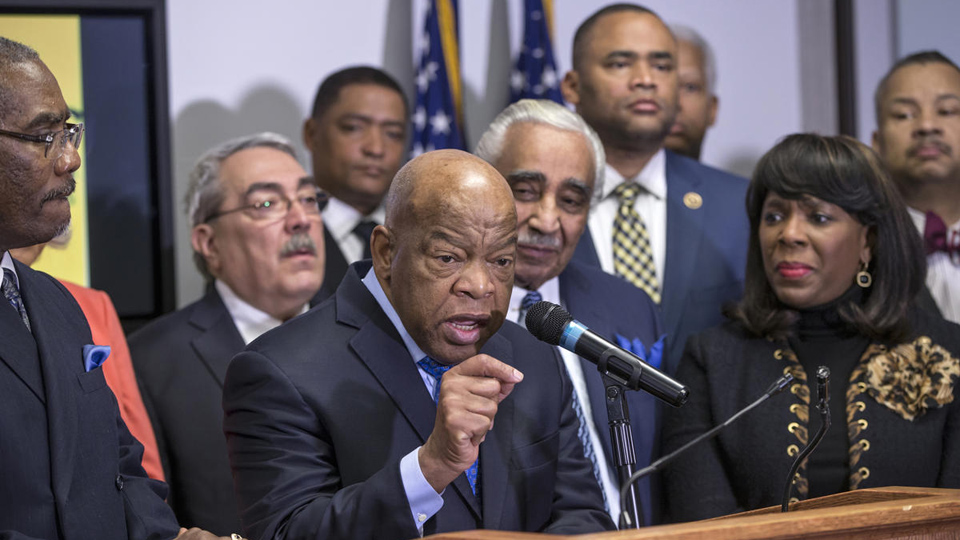 WASHINGTON — Famed civil rights crusader John Lewis, the congressman from Georgia who is Dr. Martin Luther King's last living March on Washington co-speaker, says "the past few months have been hell on wheels" for people committed to equal rights and equal justice under law.
His solution to the increasingly obvious racial hatred and assertion of white supremacy under the Republican Trump administration is three-fold:
Individuals must realize "the spark of the divine" within everyone.
Religious institutions must be "a headlight, not a taillight" for justice.
And people must look within themselves, questioning their own beliefs and biases, then correcting them.
Lewis was the featured speaker at a November 13 symposium at D.C.'s Georgetown University, Confronting Racism In Our Hearts And In Our Nation. It attempted to confront the rising tide of white supremacist racism in the U.S., manifested by the neo-Nazi, alt-right, KKK fatal riot in Charlottesville, Va., and similar events.
The session, with other progressive Protestant and Catholic religious leaders, played to a standing-room only crowd in the campus' Dahlgren Chapel. All speakers generally agreed that change, however painful, starts from within.
Lewis, Catholic Archbishop Wilton Gregory, the Rev. Jim Wallis of Sojourners and Georgetown History and African-American Studies Professor Marcia Chatelain agreed more legislation is not the whole answer, while emphasizing restoring the powers of the federal Voting Rights Act.
The Supreme Court, in a controversial 5-4 vote several years ago, severely injured that historic law by yanking away federal power to overturn racially biased election moves in states and local areas with histories of discrimination by race. Congress' GOP leaders have pigeonholed efforts by Lewis and fellow civil rights-oriented lawmakers to restore the law's clout.
What's more important, and more difficult than laws, the speakers said, is to change hearts and minds.
"We have to give our people – all of our people, our young people and especially our children – a sense of faith and hope, so they do not give way to bitterness and pain," said Lewis.
That may be easier said than done, as African-Americans and Latinos and other "others" confront manifestations of white supremacy in daily life that whites don't even realize exist.
One example came in the Q-&-A when an African-American woman, who emigrated to the U.S. 40 years ago and became a naturalized citizen in 1993, told of being stopped and heavily interrogated by U.S. Border Patrol officers at Champlain, N.Y., while returning from visiting friends in Montreal.
Two whites she accompanied were virtually waved through. But the questions launched at her several months ago, strictly because of her skin color, were so deeply humiliating she couldn't repeat them.
Lewis told her changing such attitudes would be hard, and – without mentioning his name – implied Trump makes things worse. "When you have certain individuals in very high places saying 'You're not one of us,' that's not the American way," he replied. "That's the frame of mind we have to remove."
That's not an isolated incident. Archbishop Gregory, a past president of the Catholic bishops' conference, told of traveling to an exclusive resort in South Carolina recently to speak as a business group guest, and being asked by a white woman guest where the restaurant was. She assumed he was part of the staff. "I'm a guest here, like you," he replied.
"Every black player I coached in 22 years" of amateur and school-level baseball "had 'The Talk'" with their parents about how to deal with police, Wallis noted. "In this liberal town, few white parents have had to do that."
Chatelain advised against trying to repress the anger that racism and white supremacy, conscious or unconscious, brings. "Do not try to soothe the pain or silence the anger. Get with it and put yourself in the shoes of those whom supremacy damages," she stated. "Then act on that realization," she urged.
Wallis injected a note of hope: Even before opposition to the open supremacists of Charlottesville, people were already reacting against ingrained white supremacy, and not just in elections.
He cited the case of a Hispanic pastor in Los Angeles, who had been here for years, is a citizen, and heads his own congregation. He too was picked up by federal officers and held on suspicion of being undocumented. When word went around the city, mass demonstrations began. Pressure for his release mounted and eventually triumphed.
However, many whites still seek easy answers rather than examining and changing attitudes, Chatelain warned. "People ask me, 'What can I do?'" she said. "They think they can read a book about it. I no longer answer that question. I ask them 'What have you done?' and then 'What can you do?' We have to wrestle with the fact our behavior caused this situation."
But even civil rights crusaders have faults, Chatelain reminded the panel. Noting all the speakers at the March on Washington were men, including Lewis, she reminded the crowd of the importance of female marchers and civil rights workers. "Don't forget the women!" she exclaimed, to claps and cheers.
Adopting preaching language, Lewis said one solution is "Love, love, love" for all, emphasizing that all – whites, blacks and everyone else – are human beings. "You have that connection to the spark of the divine in all of us," he said. "Don't hate. Hate is too heavy a burden to bear. It'll destroy you."
Wallis called white supremacy and even unconscious racism "a sin" individuals must confront but rarely do. He said pastors rarely define white supremacy as a sin when preaching. Invoking religious symbolism and language, he added: "The answer to sin is repentance, but not just feeling guilty, but turning around and going in a whole different direction – in education, housing, policing, the criminal justice system, health care, on the streets and in our hearts.
"Unfortunately, this nation hasn't got there, yet."