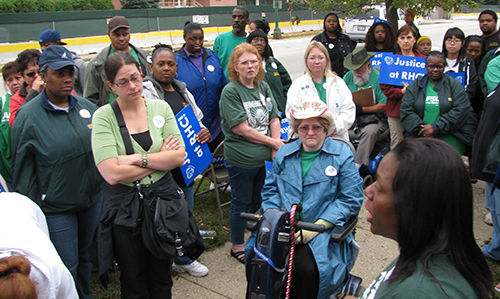 CHICAGO – "This vigil is a symbol of our commitment to justice. We are not giving up. We'll keep on organizing and win a union at Resurrection Health Care (RHC)," declared Shirley Brown. "We'll continue to fight for better lives
Brown, a leading rank-and-file organizer, was speaking at the conclusion of a 36-hour Vigil for Justice Sept. 26 sponsored by Healthcare Employees Acting at Resurrection Together (HEART), AFSCME and their labor, religious and community allies in support of a 7-year fight for union recognition for 8,000 workers.
Resurrection is a network of 8 hospitals sponsored by two Catholic orders – the Sisters of the Holy Family of Nazareth and the Sisters of the Resurrection. It is the largest Catholic health care provider in Chicago.
The vigil took place in front of the Resurrection Medical Center and corporate offices, a sprawling complex on both sides of W. Talcott Drive. The vigil was conducted in the shadow of massive new construction.
Organizers estimated over 300 people attended and expressed their solidarity. Most wrote messages on pieces of cloth that were strung on a fence in front of Resurrection property. A steady blare of horns from passing cars and trucks expressed their support was heard throughout the vigil.
"All this property and Resurrection can't afford to pay a decent wage?" asked Mamie Johnson, an AFSCME Local 2600 member, as she shook her head in disbelief. "They need their butt whipped," added her husband Gene, a retired postal worker. Both had arrived that morning on a bus full of AFSCME members from Springfield.
There is a growing anger among the workers over stepped up harassment and pressure exerted by Resurrection. Nurses and health care workers are being forced to adopt heavier workloads as RHC trims its workforce.
Carmen Cohn has worked at Resurrection for 15 years as an occupational therapist. She has seen steady deterioration in patient care, safety and an increase in workload and productivity. She said union recognition was essential to protect both workers and patients.
"Each occupational therapist is being pressured to work harder and produce more. I worked harder this year and my pay was frozen," said Cohn.
Aides have been eliminated who assisted in lifting heavy patients. So Cohn has to lift patients herself or wait for an aide to become available. "Workers are angry over new RHC rules that make them use their first four vacation days if they get sick."
"We are facing fear, intimidation and misinformation," said Kelly Bellinger, a labor and delivery RN with 15 years at RHC. "We demand Resurrection give its employees rights and a process free from fear, harassment and intimidation. We want a voice at the bedsides and safe staffing levels."
Resurrection has resisted the organizing drive, intimidated, harassed and fired union activists. Many employees were too intimidated to join the vigil, but waved, honked and gave the thumbs-up as they completed their shifts and left for home.
In June the US Conference of Catholic Bishops adopted a set of guiding principals calling for a fair process for health care workers to decide if they want a union or not. AFSCME Council 31 President Henry Bayer blasted the increasing corporatization of Resurrection, "They don't care what the bishops say. All they care about is making money!"
Miguel Mora brought his baby son Diego Ramon to the vigil in support of his wife, a Resurrection mental health professional. Mora, an AFSCME member at the Illinois Department of Health care and Family Services said Resurrection is using the climate of fear to exploit immigrant workers too.
One of Mora's clients was a Resurrection laundry worker who qualified for state services because of the low pay she receives. She was being sexually harassed on the job and it was affecting her family life. Mora hooked her up with the Interfaith Committee for Workers Issues (now ARISE Chicago) and she became active in the organizing drive. "This experience gave her confidence to fight, said Mora.
Lillie Smith Beacham is an RN in the Mother-Baby unit of West Suburban Hospital. She resented the massive new construction while staffing levels are being cut. The ratio of nurses to mother-baby couples had been 1 to 4 and is now 1 to 6 in many cases.
"I feel confident we'll win, but it will take time. Many of the workers are fearful of management. They are being watched. Once they get past the fear factor and understand the need for the union for Resurrection to function, we'll win," she said.
"Moses and the people wandered in the desert in search of the Promised Land. For 40 years the people didn't feel sure they would get there. Civil Rights activists put one foot in front of the other during a long difficult struggle. They were following a higher calling," Rev. CJ Hawking, executive director of ARISE Chicago told the RHC workers. "Keep up the fight and you will get to the Promised Land."