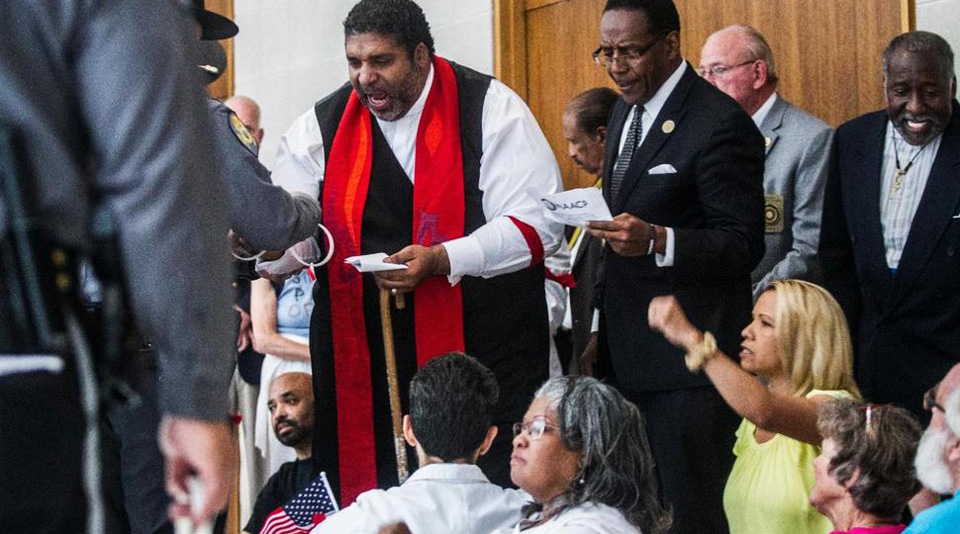 Thirty-two people, including civil rights leader Rev. William Barber II, were arrested for second-degree trespassing Tuesday morning at the North Carolina General Assembly in Raleigh after a sit-in that demanded "affordable health care for all people." Among the organizations involved in the action were the North Carolina NAACP and Moral Monday founder Rev. Barber's new group Repairers of the Breach.
Repairers of the Breach describes itself as an organization dedicated to "educating church and lay leaders who will pursue policies and organizing strategies for the good of the whole," and "challenging the ultra-conservatives who have misinterpreted Christianity… as a faith that hates the poor."
"Health care ought to be viewed as a human right. We need a universal health care system. We do not need the cruel dismantling of the Affordable Care Act which will leave millions of North Carolinians without health care," Barber said.
The group of demonstrators included doctors, students, clergy people, and seniors. They took aim at members of the General Assembly as well as the former governor of North Carolina, Pat McCrory.
Jacquelyn Marks, a North Carolinian senior, told the crowd that she has health insurance now but, if Trump and the North Carolina General Assembly have their way, she will lose it in 6 months.
"For three years, I did not make enough money to qualify for subsidies but I made too much money for Medicaid. I was one of about 500,000 in North Carolina who fell in the Medicaid gap," said Marks, "the governor decided that I, and others, could not have health insurance."
After the demonstrators were denied access to the offices of House Speaker Tim Moore and Senate Leader Phil Berger, the sit-in began. They took turns reading the North Carolina state constitution, beginning with article 1, sec. 12 which refers to the right of people to assemble and petition. Arrests began shortly thereafter.
This action was held exactly one week after a larger rally and speak-out on healthcare at the same place, video of which can be found on the North Carolina NAACP Facebook page. "The working class is working hard to make money for insurance companies, for pharmaceutical companies," said Jade X. Jackson, a resident of North Carolina who is at risk of losing her health insurance, "the prices are rising. [it's] health care slavery."
Repairers of the Breach hosts a monthly program talking about moral issues and public action called "The Gathering." Click here for more information on how to participate.