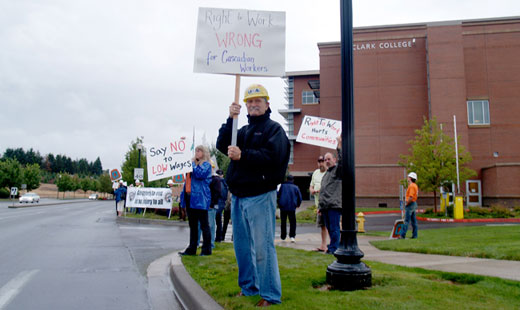 VANCOUVER, Wash. (PAI) – Backers of proposed right-to-work initiatives in Oregon and Washington got a taste of what the political fight might look like Sept. 5 at Clark College in Vancouver, Wash.
Then, more than 50 protesters – primarily from construction trades unions — greeted attendees of a strategy session on how to pass right-to-work referendums in Oregon and Washington. The event was sponsored by the anti-union Freedom Foundation of Olympia, Wash., and the Portland, Ore.-headquartered Cascade Policy Institute.
Protesters blocked cars as attendees entered the college campus at 1s8700 SE Mill Plain Blvd., Vancouver. As the session was about to begin, a handful of protesters entered the building with signs and a bullhorn. Police were called and one protester was arrested for not leaving quickly enough.
"We want to let them know that they're not going to come into Washington or Oregon without a fight," said Eric Fanning, a member of Plumbers and Pipefitters Local 290. "We (labor) may have some disagreements, but on this issue we have total solidarity."
The featured speaker at Clark College was Vincent Vernuccio of Michigan's Mackinac Center for Public Policy, the largest conservative state-level policy think-tank in the nation.
Last year, Michigan became the 24th state to enact a right-to-work law, though it wasn't by a vote of the people. Michigan's Republican-controlled legislature and Republican governor passed a law – in a lame-duck session — making the payment of union dues voluntary for private-sector unions and most public-sector unions (with police and firefighters exempt).
Proposed initiatives in Oregon and Washington are restricted to public-sector worker unions. The Oregon initiative, dubbed the "Public Employee Choice Act," would remove any requirement that public employees pay union dues or any share of the costs that unions incur to represent them. Under current Oregon law, public employees who are represented by unions pay either union dues, if they choose to be members, or reduced "fair share" fees, which cover the union's cost of negotiating contracts and representing workers.
On Sept. 12, the Oregon Supreme Court ordered the ballot title be rewritten. According to an Oregonian report, the court unanimously ruled the state attorney general's office needs to rewrite the ballot title for the measure to make clear the "free-rider effect" of allowing represented workers to avoid union dues.
The attorney general has five business days to submit a new ballot title. This issue of the Labor Press went to press before the new ballot title was announced.
On Labor Day, Oregon Gov. John Kitzhaber (D) told a large crowd at a picnic at Oaks Park that he would oppose any attempts to turn Oregon into a right-to-work state.
"A right-to-work state means you have a right to work for less without a voice in the workplace," Kitzhaber said. "A right-to-work state means you have a right to be exploited and ripped off and work at unsafe jobs and low wages and no benefits."
If a right-to-work law is passed for public sector workers, said protesting construction worker Eric Fanning, "we'll be next."
Michael Gutwig is editor of the Northwest Labor Press.
Photo: Northwest Labor Press