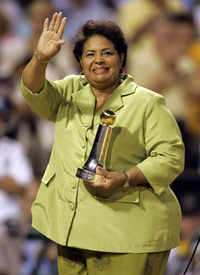 Major League Baseball paid tribute to Puerto Rican hero Roberto Clemente with the commissioner's historic achievement award at the 2006 All-Star Game in Pittsburgh, July 11.
The players wore gold wristbands with Clemente's initials and the wall in right field was 21 feet high for the jersey number he wore.
The award was presented to Clemente's widow, Vera, who said, "I want you to know that Roberto still loves you from heaven."
American League manager Ozzie Guillen was touched during the ceremony and said that Clemente is his hero.
"He was a Latino that opened doors for the rest," Guillen told reporters. "A lot of people remember Roberto for the way he played the game," he said, especially how he "gave to the community, day in and day out, that's the way people should be: taking the steps in life, not just in baseball. His life was unbelievable, outstanding. I always admired him."
Clemente perished in a plane crash on New Year's Eve 1972 while delivering medical, food and clothing supplies to earthquake-stricken Nicaragua. He championed the cause of Latino players and was frequently involved in charitable activities and baseball clinics, especially in Pittsburgh and Puerto Rico as well as all over Latin America.
Every year MLB issues an award in Clemente's name to the player who best combines on-field performance with humanitarian work. A special day is dedicated to his life at every ballpark in September.
Some Latino activists want MLB to go a step further and have been lobbying to retire Clemente's jersey number 21 from all teams, a distinction only accorded to Jackie Robinson in 1997.
Luis Roberto, Clemente's second-eldest son said that the family is not involved in the campaign but is pleased with the renewed efforts to retire his father's number.
"We support the cause because it's a worthwhile honor, not because my dad was another player with great records, but because of what he taught us as a human being, not tolerating any social discrimination, supporting the working class, the needy," he said.
Clemente was one of many Latino and African American professional athletes who was refused service at hotels and restaurants, suffered racial slurs, taunts and physical threats, as well as ridicule in the media during the 1950s and '60s.
Clemente was outspoken and protested against racial discrimination. His principled stance is cited as a reason why waves of other Latino players who followed him found more acceptance.
Baseball fans remember Clemente as someone who played like a man possessed, chasing down fly balls as an outfielder and unleashing great throws at every opportunity with speed and a rifle arm, perhaps the best the game has ever seen.
In his 18 seasons with the Pittsburgh Pirates he won four batting titles, hit 240 home runs, and had a lifetime .317 batting average producing 3,000 hits. Winning 12 Gold Glove awards, Clemente was the Most Valuable Player in 1966. He played in two World Series, helping the Pirates win in 1960, and was an All-Star player 14 times.
Three months after his death at age 38, Clemente became the first Latino elected to the Hall of Fame, through a special ballot after the mandatory five-year waiting period was waived.