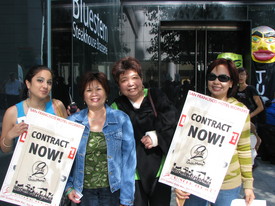 SAN FRANCISCO ― As contracts covering some 9,000 hotel workers were expiring Aug. 14, hundreds of workers and community supporters marched down Market St., the city's main thoroughfare, and past several prime tourist hotels, proclaiming their determination to win a good new agreement with over 60 of the city's best-known hotels.
Their union, Unite Here Local 2, represents room cleaners, dishwashers, bellmen, cooks and other workers who are the foundation of the city's biggest industry, tourism. The Convention & Visitors Bureau says visitors spent over $8.5 billion in the city in 2008, including $5.3 billion on hotel stays.
The hotels say they are hard hit by the economic crisis. But the union points out that following a 2004-2008 boom, the industry continues profitable despite the current downturn, while the workers are bearing the brunt of the contraction. The union identifies workloads, health care, wages and retirement benefits as key contract issues.
Asked what issue is most important to her, Emma Antonio, a room attendant at the W San Francisco Hotel, displayed her broken arm, now carefully wrapped and protected in a sling. "Health care," she said emphatically, noting that hospital treatment of the injury cost $29,000. "With the health coverage we have through our contract, everything was taken care of," she said.
Elita Judge, who performs the same work at the Hotel Vitale, agreed. Judge said of her husband's three-day hospitalization for a kidney infection, "If we had had to pay for this ourselves, we'd be bankrupt now!"
The two also highlighted workloads. "Work that used to be done by two or three people is now assigned to one," said Judge. She must clean 11 rooms per shift, while Antonio must clean 14. "It's very rough work," Judge said, displaying fingers swollen with arthritis. "There's lots of bedding, it's very heavy, there are a lot of decorative items. Standards are very high ― the slightest smudge on the tile and we have to do it over."
At a pre-march rally, bargaining committee members told the crowd the union wants a citywide agreement with fully-paid health care for workers including families and retirees, secure pensions and improved job security including two-year recall rights for laid-off workers.
Board of Supervisors President David Chiu pledged the wholehearted support of the city's elected officials.
The just-expired agreements were won in 2006, after a two-year-long struggle that included a strike and the hotels' weeks-long lockout of workers.
In other labor news, the Bay Area Rapid Transit system was running Aug. 17, after a weekend of suspense occasioned by train operators' and station agents' threat to strike after management imposed a contract substantially cutting pay and eliminating BART workers' equivalent of Social Security. After Amalgamated Transit Union Local 1555 and BART management announced an eleventh-hour tentative agreement, the pact now goes to ATU members for a ratification vote.
Labor leaders said area elected officials including Rep. Barbara Lee, D-Oakland, and state legislators played a key role in achieving the tentative pact. Two other BART unions had earlier settled their contracts.
Meanwhile, workers at New United Motor Manufacturing Inc. in Fremont were preparing for a week of action against the threatened closing of the West Coast's only auto plant and the only unionized Toyota plant in North America. NUMMI, which employs over 4,700 United Auto Workers members, is Alameda County's largest corporate employer, and analysts say another 35,000 to 50,000 California jobs will be lost if it closes.
The plant, which makes Toyota Corollas and Tacoma trucks as well as the Pontiac Vibe, has operated since 1983 as a 50-50 GM-Toyota joint venture. GM is withdrawing under its bankruptcy proceedings. Amid rumors it has already decided to shutter the plant, Toyota says it will announce its decision by the end of August.
The plant's workers, members of UAW Local 2244, have launched a petition campaign to President Obama, pointing out the devastating economic consequences to the Bay Area if NUMMI closes, and urging his support for short-term federal aid and for state legislators' efforts to keep the plant running.
NUMMI workers and their supporters will rally Aug. 20 at the union hall.