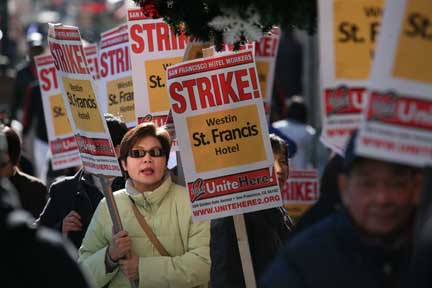 SAN FRANCISCO – About 650 workers at the St. Francis Hotel, one of the city's oldest and most luxurious, walked out on strike on November 18. This was the third of what may be many strikes at San Francisco's Class A hotels. The contract with the workers' union, UNITE HERE Local 2, expired on August 14. Since then, Local 2 has been trying to bargain a new agreement in the middle of an economic depression.
San Francisco's largest hotels are demanding cuts in health and retirement benefits, and increased workloads, saying that the economic crisis has reduced tourism in the city. The luxury hotel chains want workers to begin paying for their healthcare premiums – $35/month this year, $115 per month next year, and $200 per month the year after. A typical San Francisco hotel worker earns $30,000 per year, and many can't work a full 40-hour week.
Over the first nine months of 2009, Starwood Hotels and Resorts, which manages the Westin St. Francis, earned $180 million in profits. Starwood also manages three other San Francisco Class A hotels. The owner of the St. Francis, Strategic Hotels and Resorts, saw $11 million in earnings during the same period. The company bought the hotel for $439 million in 2006.
Local 2 has offered a one-year agreement that would increase costs by only 1.5% (or about $500,000 at the St. Francis), but the hotels have responded that they want that low-cost structure to continue for several years more, in which their revenues and profits would rise as the depression ends. The union has called a boycott of the St. Francis, along with the two other hotels struck earlier in November – the Grand Hyatt and the Palace (also managed by Starwood).