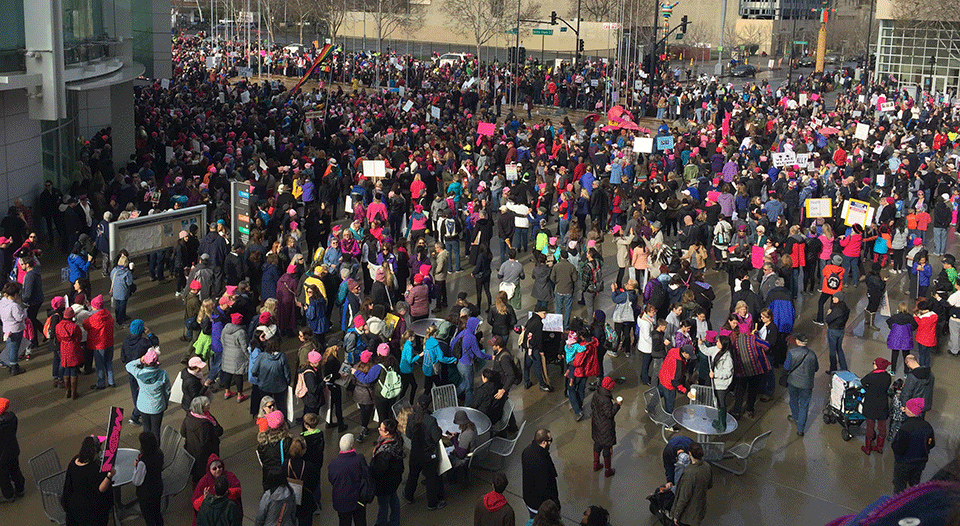 Jan. 21—Thirty thousand people packed San Jose's streets from City Hall to Cesar Chavez Plaza in the heart of downtown today, the biggest demonstration in San Jose's history and part of the upsurge of millions in the Women's Marches standing up for women's rights and rights for all.
A stellar list of local speakers, including women's rights, anti-racism, and LGBTQ activists and major political figures, including the mayors of San Jose and Menlo Park, two Santa Clara County supervisors, and a newly-elected state assemblyperson, delivered blistering speeches promising resistance to the agenda of the Trump Administration and received boisterous affirmation from the crowd.
As they marched to the plaza, the marchers changed slogans proving that the rebellious spirit of the '60s is very much alive: "Power to the people," "Si se puede/Yes we can" and some new ones: "Love trumps hate," "We believe in science," "The people united will never be divided." y.
Santa Clara County Supervisor Cindy Chavez, a long-time progressive activist and former director of the South Bay Labor Council, declared: "Today is a time to be loud, and I want you to remember where you were today when you made history."
LGBTQ activist Gabriela Andrade declared to cheers, "We will not let them do what they think they can do."
The chair of the Santa Clara Valley ACLU challenged the crowd, "Are you ready to defend the Bill of Rights? Are you ready to stop a registry of Muslims? Are you ready to stand In the way of deportations?" and received a loud "Yes!" to every question—and she then lead everyone in chanting, "When women unite, we stand up and fight!"
Several speakers pointed out that state and local officials, from Gov. Jerry Brown on down, have declared that they will do all in their power to protect California residents from Trump administration actions that may target them. Ken Yeager, the first openly gay man to be elected a Santa Clara County Supervisor, said, "We will continue to be a welcoming community," and pointed out that the county had set up a fund for the legal defense of immigrants facing deportation.
He recounted that he was the first to raise the rainbow flag over the county office and declared to loud cheers, "No matter what Trump tweets, those flags are not coming down."
The Rev. Jon Pedigo, director of social ministries for the Catholic Diocese of San Jose, pointed out that just a few blocks from the plaza people were living on the streets, in cars, or out in the open, and proclaimed, "Where there is no justice, there will be no peace." He insisted that "we do not fight with hatred, but with a transformative love."
Touching on the theme of unity, he said, "When we have Catholic and Muslim and Jew, Hindu and Jain and atheist walking together, that is what we must be about." He called out President Trump for hypocritically trying to exploit religion as a cover for his actions: "You cannot hide behind religion to do the things you do, to say the things you say."
Maha Elgenaidi, founder and CEO of Islamic Networks Group, an organization that educates about Islam and other world religions, reminded the crowd that "we are all immigrants, a kaleidoscope of colors, cultures, religions, and tongues" and that "there are no rights without responsibilities, above all the obligation to stand together to protect this nation, its principles and ideals, its values and laws, against the forces of fear and bigotry who would tear us apart." Ash Kalra, recently elected with labor support to the state sssembly against a business-backed opponent who outspent him two to one, pointed out to vigorous boos that Trump had deleted pages from the White House website concerned with climate change and with the rights of women, the LGBTQ community, and workers, but said to equally vigorous cheers, "They can delete websites, but they can't delete us.
That man who said he was going to unite America—well, mission accomplished!" He assured the crowd that, "We're calling ourselves the Resistance in Sacrament, and for a reason" and that the state legislature and the governor will resist any attacks by the White House on the rights and welfare of all California residents, including undocumented immigrants; but he reminded people that they need to show their support to this resistance. With applause and shouts, the marchers showed their readiness to act. As several speakers pointed out, this march was not an end, but a beginning.