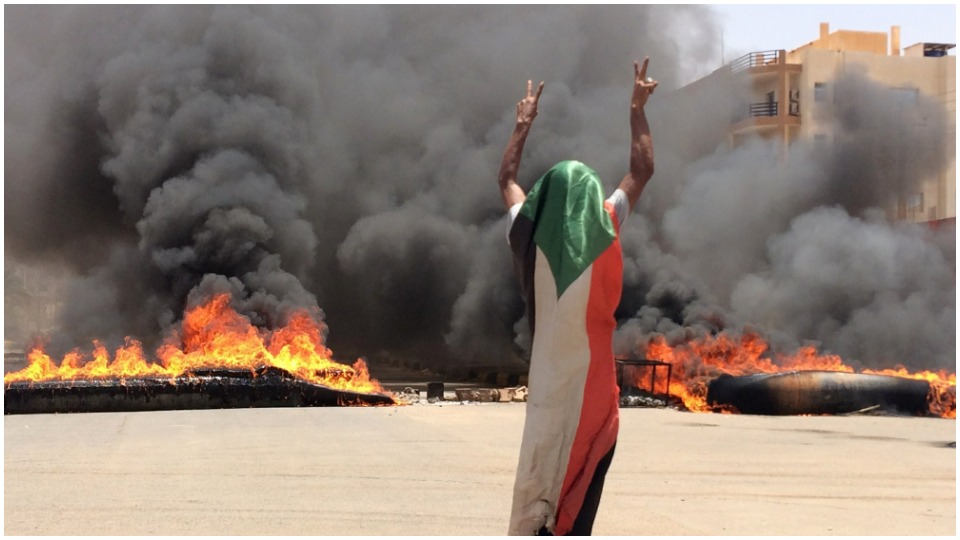 Sudanese opposition forces warned of a "massacre" in Khartoum yesterday as security forces attacked a sit-in protest in front of the army headquarters.
Protesters are demanding the transfer of power to civilians.
Tents were burned to the ground as Sudanese militia opened fire on the crowds. At least 35 people are believed to have been killed.
The feared Rapid Security Forces (RSF) were reported to have stormed hospitals, firing weapons and attacking health workers who were treating the injured.
As the attacks continued, the Sudanese Professionals Association (SPA)—an umbrella group of doctors and lawyers' associations, trade unions, and opposition groups—warned that the attacks were an attempt to derail the revolution.
"The protesters holding a sit-in in front of the army general command are facing a massacre in a treacherous attempt to disperse the protest," an SPA spokesman said.
Sudan has been rocked by a political crisis since December 2018 when protests started over the tripling of bread prices. However, the movement soon broadened into opposition to the rule of Islamist authoritarian President Omar al-Bashir.
He stood down in April and was replaced by a Transitional Military Council (TMC). Negotiations broke down after both sides agreed on a framework for a civilian government but stalled on the issue of the presidency.
The country has been hit by a wave of protests and strike action. Thousands have occupied a square in front of the army headquarters in Khartoum for the past six weeks.
The RSF is led by Mohamed Hamdan Dagalo, known as Hemedti, who is also the deputy of the TMC. The paramilitary group has its roots in the Janjaweed, which killed thousands as they put down anti-government protests in Darfur.
The Sudanese Communist Party, which is a member of the SPA, had expressed reluctance about negotiating with the TMC. In a statement issued on June 1, the party said it had witnessed "repeated, grave violations of human rights" by armed groups like the RSF. It denounced the RSF as "militia thugs who have terrorized and murdered thousands of innocent civilians."
It noted that the TMC had done little to clamp down on financial and political institutions still loyal to al-Bashir and said the army was allowing "security forces loyal to the previous regime" to operate freely and terrorize peaceful demonstrators.
Following yesterday's attacks, the SPA called for a campaign of "sweeping civil disobedience to topple the treacherous and killer military council and finalize our revolution."
This article originally appeared in Morning Star. It has been supplemented with material provided by the Sudanese Communist Party.