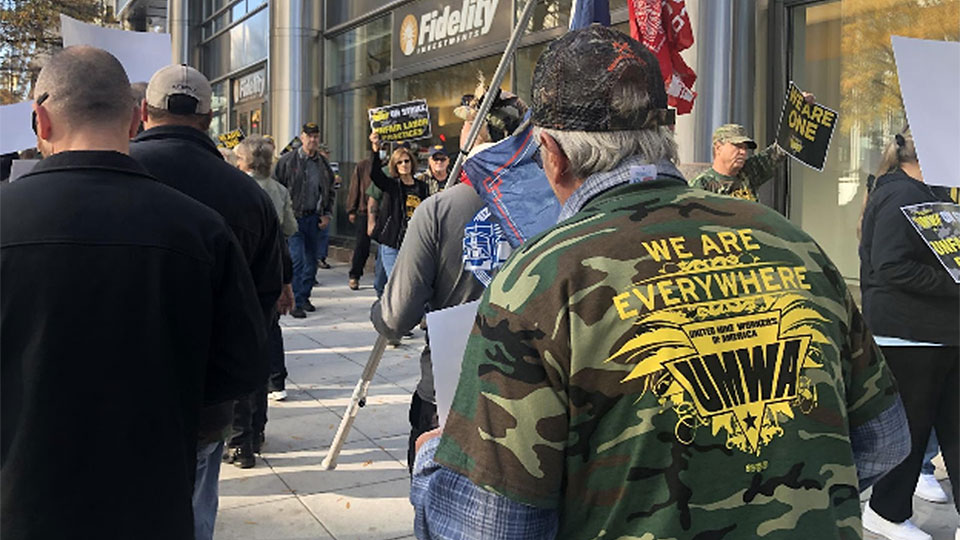 WASHINGTON—Just days after hundreds of Mine Workers and their allies descended on financiers' offices from coast to coast for demonstrations, three prominent Senate Democrats challenged the secretive hedge funds whose dollars finance Warrior Met coal bosses, and the eight-month strike they've forced on their workers.
In letters to Apollo Global Management and others, Sens. Elizabeth Warren, D-Mass., Tammy Baldwin, D-Wis., and Bernie Sanders, Ind-Vt., demand the financiers turn over documents detailing their dealings with mine managers during the strike, which the firm's bosses forced on the 1,100 miners, all United Mine Workers in Alabama, starting on April 1.
Citing various sources, the three state the hedge funds milked Warrior Met since creating it to take over the Alabama mines of the former Jim Walter Energy Company after its 2017 bankruptcy sale. The hedge funds have since reduced their ownership shares, or sold them. But they still draw dividends and sit on the Warrior Met board.
Warrior Met is now very profitable, distributing at least $190 million in dividends to the financiers' secret shareholders, while reneging on promises made then to restore wage and benefit cuts of at least 20% to the workers, once the firm reached the black.
That rapaciousness at the expense of workers in favor of secret investors is a continuing tenet of plutocratic capitalist hedge funds, which private and secretive—and thus unaccountable to shareholders, workers and government regulators. They've been predatory in many industries, but especially in buying, looting and closing community newspapers.
Hedge funds' predations have led Warren, a Senate Banking Committee member and former Harvard Law professor whose specialty was the impact of corporate "bankruptcies" on workers, to introduce legislation to bring the financial moguls to heel.
"Warrior Met miners are currently striking due to conditions that stem from the terms forced on Walter Energy by the private equity consortium that acquired the company after its bankruptcy," the lawmakers' letters to the hedge fund financiers say.
"As part of the restructuring deal," Jim Walter's contract with the UMWA "was terminated, along with the company's pension and health obligations to 2,800 retired coal miners and their dependents." The hedge funds forced $6-an-hour wage cuts on workers, compared to the 2016 pact. They also forced workers to pay 20% of health care premiums.
That's a "particularly troubling change given the significant danger and health risks associated with coal mining," the three senators said in an understatement.
Miners also report Warrior Met bosses expect them to work 16 hours a day, every day—including weekends—and fire them if they miss four days of work, unless there's been a death in the miner's family, the senators said.
"The UMWA estimates workers' concessions 'saved the company a total of $1.1 billion since it emerged from bankruptcy," the senators told the hedge funds. "Yet Warrior Met refused to restore the contract terms that prevailed before Walter Energy's bankruptcy, instead offering workers an hourly pay increase of just $1.50 over five years. Meanwhile, Warrior Met has reportedly delivered bonuses of up to $35,000 to the company's upper management."
All this has led not just to the senators' letter, but to repeated demonstrations in front of financiers' offices. The latest round, on Nov. 18, saw UMWA-clad workers and their backers picket the Boston offices of the State Street hedge fund, Fidelity offices in D.C. and on Wall Street, the Black Rock fund's Newport Beach, Calif., headquarters and in front of one of the funds' offices in Melbourne, Australia,
"We've been on strike down in Alabama for eight months, and that's eight months too damn long," UMWA District 17 VP Brian Lacy told the crowd, including AFL-CIO President Liz Shuler and AFA-CWA President Sara Nelson, on downtown K Street in D.C., Metro DC Central Labor Council writer Chris Garlock reported.
"Warrior Met Coal workers have sacrificed wages, time away from their family and all they're asking for a fair contract. These big investors like Fidelity are making billions of dollars on the back of working people…and if they don't want to look out their windows and see us on their doorsteps every day, they need to do what's right," Lacy added.
"Wherever they are, we're going to be, because they own the mine, and they're screwing the workers," UMWA District 22 Vice President Michael Dalpiaz told the Los Angeles Times during the Newport Beach demonstration. "So wherever they are, we'll be there, because people on that street and in that building need to know what BlackRock's all about."