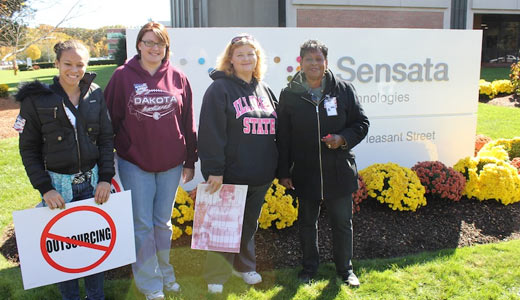 FREEPORT, Ill. – The 170 remaining workers at the Sensata plant in Freeport, Ill., who will lose their jobs to China thanks to Mitt Romney's Bain Capital, will star in a new film about their struggle, to be released Oct. 26.
Behind Your Back, to be available from Stone Soup Studios on DVD, and especially to unionists and their allies, portrays "the heroic struggle of the Bain/Sensata workers to preserve their honor and dignity amid this sad assault on their wellbeing and livelihood," producer/director Alder Lakish told the United Auto Workers.
Lakish's film is the second pictorial revelation of the closure of Sensata at Bain's orders. On Oct. 10, the Steelworkers posted a video on YouTube highlighting not just the closure of the Freeport plant and shipment of its machinery and jobs to China, but low pay – 99 cents-$1.35 an hour – and terrible conditions that Chinese workers at Sensata suffer. Bain is closing Freeport on Nov. 4, two days before the election.
Lakish and his crew were filming during protests in front of the Sensata plant loading dock earlier in October, when three people were arrested for blocking trucks that carried Sensata's machinery away for shipment to China.
Bain, owned by GOP presidential nominee Mitt Romney, owns Sensata. Romney denies knowledge of the closure, but documents disclosed in the prior sale show Romney-owned funds invested heavily in Sensata – and that Bain's purchase of the firm depended on closure of the Freeport plant and shipment of its machines and jobs to China. The protesting Freeport workers set up a tent city, called "Bainport."
In preparation for the closure, Bain sent Chinese engineers to Freeport to be trained by the remaining U.S. Sensata engineers. The Chinese told one Freeport engineer that when the machines arrive in China, the first move there would be to remove worker safety devices, to allow speedier production.
"In political and economic journalism, a story like the struggle of Sensata workers to keep their jobs from being outsourced to China often is communicated as numbers-in this case the 170 workers who are losing their jobs," Lakish told UAW. "But as a narrative filmmaker I am interested in the human side of this story. Who are these people? Especially, who are these brave few who are willing to risk the repercussions of standing up and confronting this huge corporation called Bain Capital who owns Sensata?"
He also is using the film to document the impact of outsourcing on the personal lives of the Sensata workers and their families. Closure of Freeport is "great political treachery and betrayal of these long held American values that seems to be engrained into the very DNA of a corporate raiding and asset stripping structure like that of Bain Capital," Lakish said.
Photo: Bainport workers demonstrating in front of Sensata plant, via bainport.com.