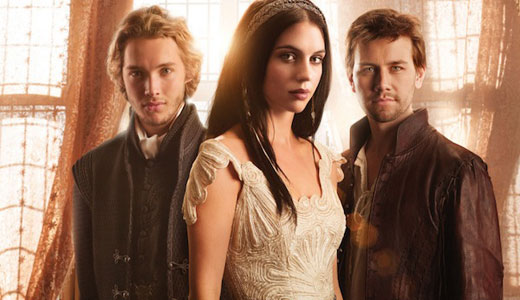 Note: A follow-up article, reviewing the top 10 television shows of 2013, will appear on December 17, 2013.
The recent qualitative drop in Hollywood films has prompted viewers to turn to more poignant, thought-provoking independent films. It's also left a "creativity vaccuum," which is now being filled on the small screen. Indeed, this decade is being called "the second Golden Age of Television" by some critics, and that's due to a recent influx of well-crafted, engaging, and suspenseful programs. Here are six recent or upcoming series that offer something with a little more substance than the big screen's CGI-filled blockbusters.
Almost Human
A new sci-fi series set in Los Angeles 35 years in the future, it depicts a world in which the police are partnered up with lifelike androids. It focuses on a detective who dislikes robots; he is forced to team up with an android who has an unusual trait for his kind: emotion. Very much a modern-day take on I, Robot, it will also serve as allegory for issues including interracial relations, the current drone dilemma, and concerns over autonomous technology. Starring Karl Urban, Michael Ealy. Premieres November 4, 2013 on FOX.
The Americans
Returning for its second season, this Cold War-era drama follows the story of two Soviet KGB officers posing as a married couple in the Washington D.C. suburbs, and their neighbor, an FBI agent. Notable for being a mainstream television series that does not portray Communism as negative or extremist, i.e. avoiding the typical right-wing narrative. Starring Keri Russell, Matthew Rhys. Season 2 premieres February 2014 on FX.
Game of Thrones
The critically-praised adaptation of George R. R. Martin's A Song of Ice and Fire book series will return for its fourth season. Taking place in a fantasy world and following a civil war between various noble houses, the series is arguably one of the most intricate and intriguing examples of epic fantasy since the works of J. R. R. Tolkien himself. Starring Peter Dinklage, Lena Headey, Emilia Clarke, Kit Harington, Natalie Dormer, Nikolaj Coster-Waldau. Premieres early 2014 on HBO.
Better Call Saul
Spin-offs, with a few exceptions, don't have a great track record. They usually ride on the coattails of their original counterparts and never quite live up to the hype. But when the creators of critically-acclaimed Breaking Bad decide to do a new series about Walter White's sarcastic, sleazy lawyer, it might just be crazy enough to be worth checking out. Technically a Breaking Bad prequel, it will likely premiere sometime in early 2014 on AMC.
Reign
Though the idea for this series likely arose to capitalize on the success of Game of Thrones, this looks as though it could be one of the more interesting recent period pieces. It follows the early life of Mary, Queen of Scots in France in 1557, though it also involves another historical figure, Nostradamus. Starring Adelaide Kane. Premiered on October 17, 2013. Currently airs on the CW.
Crossbones
Another show dealing with history (albeit loosely). Based on the book The Republic of Pirates by Colin Woodard, the series will be a fictionalization of the famous pirate Edward "Blackbeard" Teach on and near the island of New Providence. Starring John Malkovich as Blackbeard. Premieres early 2014 on NBC.
Photo: "Reign." CW official site