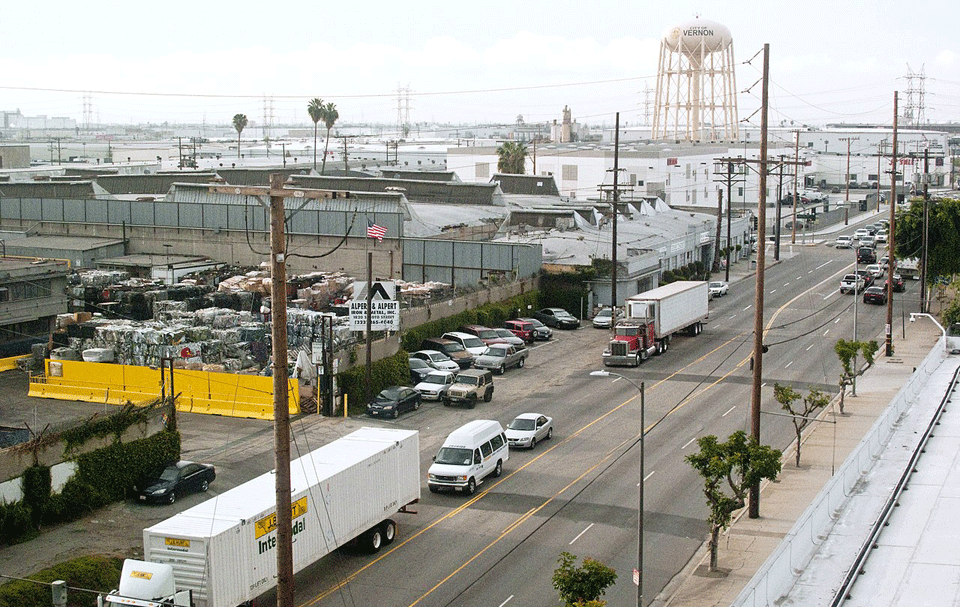 LOS ANGELES—Smithfield Foods has been in the news lately. Their pork processing plant in Sioux Falls, S.D., became a Midwestern epicenter for coronavirus among its workforce this spring. Inadequate and heartless worker protection soon allowed the infection to spread throughout the state's largest city.
Now its meatpacking plant in Vernon, a small but separately incorporated city in L.A. County not far from downtown, has also broken out with the virus. The factory operates in Vernon as Farmer John, well-known in town as the producer of the famous union-made Dodger Dog sold at Dodger Stadium. Of the 1837 workers at the plant, 1300 are represented by UFCW Local 770.
On Memorial Day, the Los Angeles Times reported that 153 Farmer John employees now test positive for COVID-19. That is more than 10% of the union's membership at the meatpacking factory, and just under 10% of the total workforce there. The union called for the plant's immediate closure, and for Smithfield to continue paying workers their full wages and benefits while the plant is closed for a thorough investigation.
Vernon is a tiny independent city with only a handful of legal residents, established as an industrial hub surrounded by other more residential cities within Los Angeles County. Farmer John is not the only Vernon factory hit by the coronavirus. Eight others have been infected as well, including four other meatpacking plants, a producer of baked goods, a green tea factory, a coffee processing plant, and frozen foods and deli establishments. In each of them, at least five, and in some cases up to two dozen workers have tested positive for the virus. Five is the minimum for the county to declare an "outbreak."
Los Angeles County Health Director Barbara Ferrer said, "We are closely monitoring outbreaks within facilities in the city of Vernon, as many of the employees reside in adjacent southeast Los Angeles communities." Those working-class towns include such places as Bell and Bell Gardens, South Gate and Maywood.
Vernon has its own director of health and environmental control, Freddie Agyin, who has assured that workers testing positive will be quarantined for the standard 14 days. "It's been very concerning to see these numbers come in," said Agyin. "If everyone isn't following the guidelines that have been given by the CDC it makes everybody's work a lot more difficult."
Outside of residential settings, such as nursing homes, the Farmer John outbreak is the largest recorded so far in the county.
Workers at Farmer John have been pressing Smithfield for increased safety measures, workplace protections, and information about infections at the plant. They have complained that information has been incomplete and safety measures insufficient. The California Division of Occupational Safety and Health (Cal/OSHA) is currently investigating the plant.
As a union that represents over 20,000 grocery workers in Southern California, UFCW Local 770 members march at the vanguard of the army of essential workers. It also represents many thousands more who work in the retail food, retail pharmacy, meatpacking and food processing, laboratory, and cannabis industries, all considered essential in the current healthcare crisis.
As frontline workers, the union's retail members are disproportionately impacted by the pandemic. Many of them are refugees and immigrants. Since its start, the union has won a $2 per hour temporary hardship pay boost for union members at many Southern California grocery and drug outlets. It has also worked with local and state officials to win protections for grocery workers, including access to personal protective gear, barrier shields, and crowd control measures in stores. Prompted by the union, California Gov. Gavin Newsom secured two weeks of paid quarantine leave for all food chain workers, which covers nearly 3 million workers in California.
Inside Smithfield
"Working conditions inside the plant are similar to what we are seeing nationwide in Smithfield plants," said John Grant, president of UFCW Local 770. "Workers are still too close together on the line, in the breakroom, the bathrooms and other such hubs. Smithfield has not provided full information about what is really going on inside the Vernon plant. Without information we cannot make an informed decision about workers' health and safety. Therefore, we are calling for Smithfield to continue paying workers while they close the plant for a complete and thorough investigation and cleaning and to ensure the company is complying with Cal/OSHA and Department of Public Health guidance."
Smithfield cites all the measures it has undertaken to protect its workers' health and safety, but they do not seem to have been effective. A 25-year veteran of the Farmer John workforce, Pedro Albarran, declared that only belatedly did the company start providing face masks and shields. "We kept asking and asking, and finally we got it." Smithfield blames the low supply of PPE in the country as a whole as an explanation for its inability to comply sooner.
Grant cited a warning from Cal/OSHA: "Failure to adhere to the guidelines could result in workplace illnesses that may cause operations to be temporarily closed or limited."
In response to the crisis, the Los Angeles County Board of Supervisors has ordered a report-back within one week from health officials and from owners of the nine affected companies. The Board also called for a review of outbreak protocols to see if they are adequate and if companies are compliant. "I'm not coming as a bully or anything like that," said Supervisor Hilda Solis, who formerly served in Pres. Barack Obama's Cabinet as Secretary of Labor. "It's about trying to resolve this challenge that we have."
Part of the county's problem is that Vernon is such a tiny city, and does not have employ a full complement of departmental officials, so the question arises as to who has jurisdiction and oversight on labor and public health issues.
"We need to feel safe on the job and we do not," said Rina Chavarria, who works at the Farmer John plant. "We work hard every day. Smithfield has not taken steps to make sure workers are protected and now so many of us are getting sick. We can't go to the plant under these conditions. We are paid too little not to work so we call on Smithfield to do the right thing and close the plant while we keep our pay and benefits."