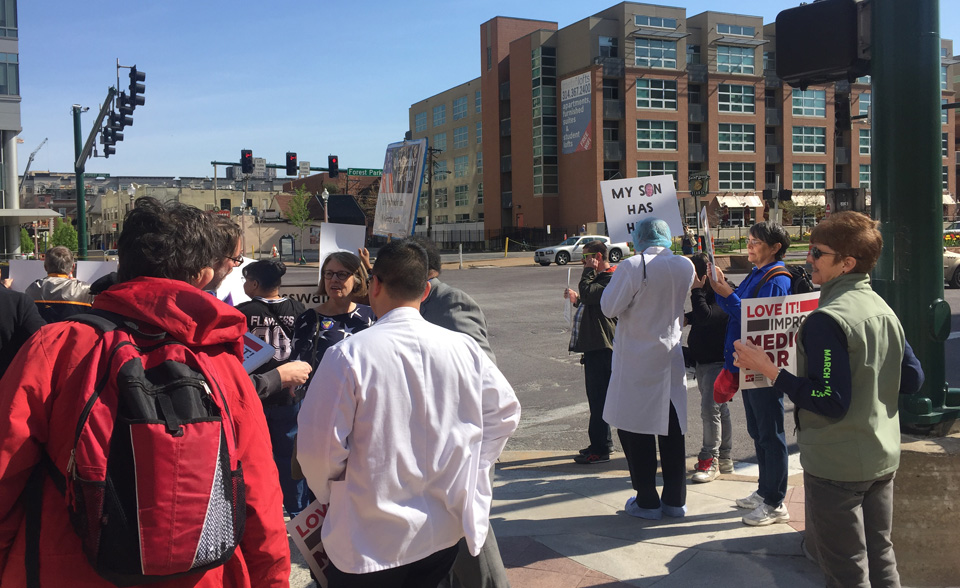 St. LOUIS –Around 100 activists gathered outside Barnes-Jewish Hospital, Saturday, April 8, 2017, calling for a U.S. single-payer (universal)healthcare system. The "Guaranteed Healthcare Rally" was organized by a labor-backed coalition, including the St. Louis Workers Education Society in partnership with: Physicians for a National Healthcare Program, Missourians for Single-Payer Healthcare, local labor unions, and community partners.
The protest was part of a national day of action taking place in over 30 cities.
Holding signs that read "Honk 4 Healthcare" and "Everyone in! Nobody out!" activists received much support from drivers and weekenders taking advantage of the morning's warm sunshine.
At 10:20 a.m., Pam Gronmeyer, MD, representing Physicians for a National Healthcare Program, told protestors that:
"Our healthcare system is broken. Even with advances made under the ACA, too many people cannot afford healthcare. Profit has no business driving the healthcare industry."
Joe Adams, State Rep for Missouri 86th district and sponsor of the Missouri Universal Assurance Act, spoke next and described the uphill battle he and other elected progressives were willing to face in order to expand Medicaid through the state legislature.
"I want to let you know that we will not stop fighting until all Missourians have healthcare coverage," he said.
Even with the Republicans' failure to repeal and replace the Affordable Care Act, Gov. Eric Greitens (R) told reporters that, "We're not going to expand Obamacare here in Missouri, and the fact is that we still need to repeal and replace Obamacare."
Cries of "Healthcare is a human right!" erupted as SEIU Healthcare MO/KS member Sherise Penson spoke to the crowd.
"I see the impact of our backwards healthcare system every day," she said, "I take care of people on fixed incomes. I see the way they struggle to pay for medicine. Something is wrong when our most vulnerable, our elderly, our sick are forgotten."
Tony Pecinovsky, president of the St. Louis Workers' Education Society, told the crowd:
"No parent should have to choose between paying the mortgage, buying groceries or taking care of their children's healthcare needs, like my parents. But our for-profit healthcare system forces parents, especially low-income parents, into this situation. The only solution is single payer."
At 11:00 am, protestors marched solemnly across that street and laid down in an empty parking lot. James Croft, of the Ethical Society-St. Louis, delivered a eulogy as the "die-in" by protestors symbolized all the lives lost due to inadequate healthcare services nationwide.
"We, the people, have taken this action because we have decided that elected officials can no longer tell us who deserves healthcare and who does not."