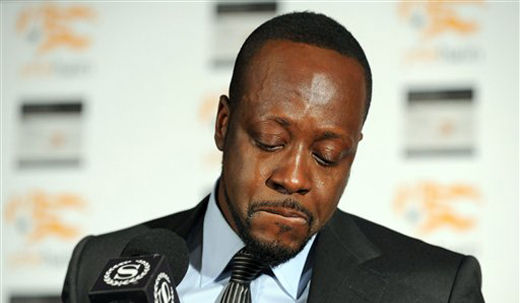 What's being called one of the most widely distributed prime-time televised benefits in history, "Hope for Haiti Now: A Global Benefit for Earthquake Relief" will appear on more than 25 networks tonight at 8 p.m. ET.
The event is being presented by MTV and organized by actor George Clooney in Los Angeles. Musician Wyclef Jean will be leading parts of the telethon from New York and CNN's Anderson Cooper will report live from Haiti during the two-hour special.
Major networks and cable channels plan to air "Hope for Haiti" including ABC, CBS, FOX, PBS, Bravo, Comedy Central, BET, The CW, HBO, MTV, VH1, CMT and Discovery's Planet Green.
Big name performers such as Beyonce, Madonna, Bruce Springsteen, Jennifer Hudson, Mary J. Blige, Shakira, Coldplay, Alicia Keys, Dave Matthews, Stevie Wonder, Jay-Z, Rihanna and Taylor Swift are scheduled to make appearances.
Others include Brad Pitt, Ben Stiller, Chris Rock, Clint Eastwood, Denzel Washington, Halle Berry, Jon Stewart, Julia Roberts, Leonardo DiCaprio, Matt Damon, Meryl Streep, Morgan Freeman, Nicole Kidman, Robert Pattinson, Samuel L. Jackson, Tom Hanks and Will Smith, Muhammad Ali and former president Bill Clinton.
Clooney and DeCaprio say they will each donate $1 million to the cause. Actress Sandra Bullock is said to have donated $1 million and Brad Pitt and Angelina Jolie also donated $1 million. Model Gisele Bundchen gave $1.5 million.
Speaking to MTV News, Clooney said, "You got about 130 to 140 actors, athletes, singers and television hosts, and they're all coming up not be on TV, but simply to answer the phones." He notes the telethon's main goal is to "raise money, period. That's it. … Just first and foremost that we can raise a lot of money. If I thought that we could all pick up shovels and go in there and not be in the way, I think a lot of people would do that."
Music performances from the telethon will be available for purchase and download from Apple's iTunes. Apple, the record labels and the artists have pledged to donate their share of the proceeds to Haiti relief funds managed by the telethon charities.
Those charities include Oxfam America, Partners in Health, the Red Cross, UNICEF, United Nations World Food Pragramme, Yele Haiti Foundation, and the Clinton Bush Haiti Foundation.
Proceeds from the telethon will be split among each organization's individual funds for Haiti's earthquake relief.
Photo: Haitian-born musician Wyclef Jean is overcome with emotion while discussing his recent visit to earthquake-stricken Haiti and how his organization, Yele Haiti, is helping with relief efforts, Jan. 18, in New York. (AP/Diane Bondareff)