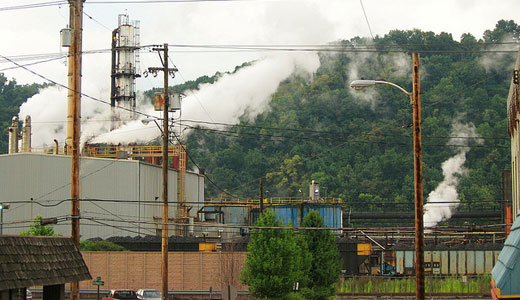 WASHINGTON – According to Steelworkers President Leo Gerard, the recent International Trade Commission ruling extending import curbs on cut-to-length carbon-quality steel plate from Korea, India and Indonesia will save around 4,000 U.S. jobs.
The ITC ruling, announced Dec. 5, extends anti-dumping and countervailing duty orders on steel plate from those nations for five years. The orders and accompanying tariffs were first imposed in 1999.
"Revoking the existing antidumping and countervailing duty orders on cut-to-length carbon-quality steel plate from India, Indonesia, and Korea would be likely to lead to continuation or recurrence of material injury within a reasonably foreseeable time," the commission said. Its vote was 6-0.
The ITC also voted to lift its orders and tariffs, also imposed in 1999, on steel plate from Italy and Japan, saying those imports are no longer undervalued and no longer threaten the U.S. industry. That vote was 4-2.
Gerard said all five countries argued for ending the tariffs, but the federal panel found that steel from three of them is still subsidized. He also pointed out the domestic U.S. steel industry is still trying to recover from a weak steel market.
"Five American steel producers operating plate mills in seven states and employing about 4,000 Steelworkers were threatened if the duty orders were not kept in place," Gerard said.
At an October hearing on renewing the orders and the tariffs, Steelworkers Local 6787 Vice President Pete Trinidad, whose local represents workers at the ArcelorMittal steel plate plants in Gary and Burns Harbor, Ind., told the commission about the impact further subsidized imports would have on members of his Chesterton, Ind.-based local. Trinidad led a delegation of 17 Steelworkers from Indiana and Pennsylvania mills.
"The last decade has been a real roller coaster ride for our members who make cut-to-length plate. They have faced bankruptcies, plant closures, layoffs, forced retire-ments, lost wages, and reductions in pension and health care benefits," Trinidad said.
"Every ton of dumped plate that is allowed to enter our market is a ton of plate that Steelworkers at Burns Harbor won't get to make."
The tariffs let ArcelorMittal's plants increase plate orders and sales starting in May 2010, Trinidad added – so much so that the plant was able to add a second crew this past August. Additional demand for that steel has yet to develop, he said.
Photo: Had tariffs not remained in place, jobs at steel mills like this one would have been in danger, according to the Steelworkers' union. christine592 // CC 2.0