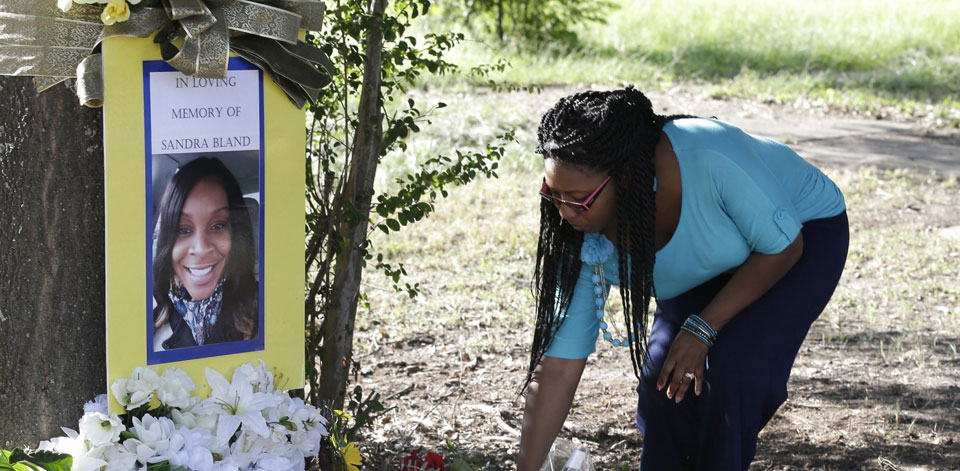 We now have video footage that shows Sandra Bland's arrest through her perspective. The video recorded by Sandra, the Black woman who was found dead in a Texas jail following her arrest in a 2015 traffic stop, tells a different story than the one given by the state trooper who took her into custody on that infamous day four years ago. Officer Brian Encinia claimed during the investigation into Bland's death that he feared for his life when confronting her.
Bland's cell phone footage shows former trooper Encinia to be a liar.
The footage tells a story of police brutality and excessive force—a situation faced by Black women at a rate much higher than the amount of mainstream media attention given would suggest. The revelation of this video and the reemergence of Bland's tragic ordeal in police custody brings to light again the need to confront the often untold stories of abuse, danger, and exploitation that Black women face against law enforcement and within the criminal justice system.
Sandra Bland was a 28-year-old Black woman who was found dead in a jail cell in Waller County, Texas, on July 13, 2015, of an apparent suicide. Sandra had been left in jail for three days due to her inability to gather the needed bail money. Some may argue that since Bland apparently took her own life the officer bears no fault, but in looking at the already known video evidence, and now the new footage, it is clear that had officer Encinia not abused his authority, and wrongfully arrested Bland, she might be alive today. Bland isn't an exception to the norm, as many Black women experience the real fear of police harassment and arrest on trumped-up or overly harsh charges.
What started out as a minor traffic violation escalated into officer Encinia forcefully removing Bland from her vehicle after a series of back and forth verbal exchanges, demanding she not record him with her phone, slamming her to the ground, and then handcuffing her face down. The video evidence shows heated words between the two, but no instance of Bland striking the officer. Yet, Sandra was held in a county jail for three days on a charge of assaulting an officer. Not only this but once she was taken into custody, she was not given the proper supervision to ensure she was not a danger to herself, even though she stated in her initial paperwork upon being booked that she had attempted suicide in the past and suffered from depression.
Sandra was wronged on a number of levels and by multiple actors—by the arresting officer, the police department, and the county jail. And then later by the mainstream media which reported on her death but failed to make the connection to the larger issue of how Bland was one of many Black women who have suffered at the hands of police—and how she would not be the last.
Encinia may have been indicted for perjury for his false statements surrounding Bland's arrest, eventually losing his job, and Bland's mother was able to settle a wrongful death lawsuit against the county jail and police department, but the fact remains Bland isn't here with us today when she could have been, and there are many just like her whose names we may never know. Sandra wasn't even the only one that year.
In 2015 alone, at least six Black women were killed by officers or died after encounters with police. That includes Mya Hall, a Black transgender woman, killed by police on the outskirts of Baltimore; Alexia Christian, killed while she was being handcuffed in the back of a police cruiser; and Meagan Hockaday, a young mother of three, killed in her own home. Those are just a few names among the many who have lost their lives.
This mistreatment and abuse that Black women face when it comes to police brutality also include sexual violence. We saw this with the case of Daniel Holtzclaw, the former Oklahoma City police officer charged with sexually assaulting and raping 13 Black women. Holtzclaw preyed on poor, working-class, Black women with criminal records. He would give them the "option" of sexual abuse or jail time. Holtzclaw's strategy to target those he deemed the most vulnerable in society—poor Black women—is not a new tactic; it's been used against Black women in this country since the time of chattel slavery, throughout the Jim Crow era, and all the way to the present.
There was a time when Black women were seen as "un-rapeable," and no Black person was allowed to testify against a white Christian in court. Sexual crimes against Black women simply didn't legally exist. Being Black and a woman put individuals in a position where their skin color made them a target for racial injustice, while their gender made it so the crimes against them don't get as much attention as their male counterparts. It still holds true today. It is the double-edged sword of living under a system that uses the tools of white supremacy and male supremacy to oppress and exploit.
Black women are 13.7% of the U.S. population, yet African-American women are three times more likely to be in prison than white women. And 33.2% of the girls who are detained and committed in juvenile justice systems are Black. These are not individual isolated cases, but rather represent the criminalization of the most vulnerable and exploited women in our society.
This is one of the reasons why, although it may no longer be a top trending social media topic, or attached to the latest viral video, the #SayHerName campaign is important now more than ever. The Say Her Name campaign is a social movement that seeks to raise awareness for Black female victims of police brutality and anti-Black violence in the U.S.
The criminalization of Black women isn't only detrimental to that group, but should be seen as an attack on working people as a whole. We've seen that when Black women are empowered, progress and change happens. Black women have one of the highest rates of voter turnout, with their percentage actually surpassing their share of the population in 2008 and 2012. This group was the key factor in the "blue wave" that swept the country during the 2018 midterm elections. Black women have also historically been the most pro-union, with their demographic the most likely to be union members. When Black women are criminalized and their rights disenfranchised, it is a blow to everyone's struggle for life and liberty.
Grasping the extent of criminalization and policing that Black women experience is imperative for understanding the ways in which the criminal justice system exploits and abuses Black people and people of color generally. It is worth studying, analyzing, and fighting back against. It of course doesn't mean that the high rate in which Black men and boys are killed at the hands of police should be ignored, but the story is incomplete if the continued criminalization of Black women is not included in the narrative as well. The erasure of Black women when it comes to reports of state violence and police brutality only stifles the fight back against these injustices.