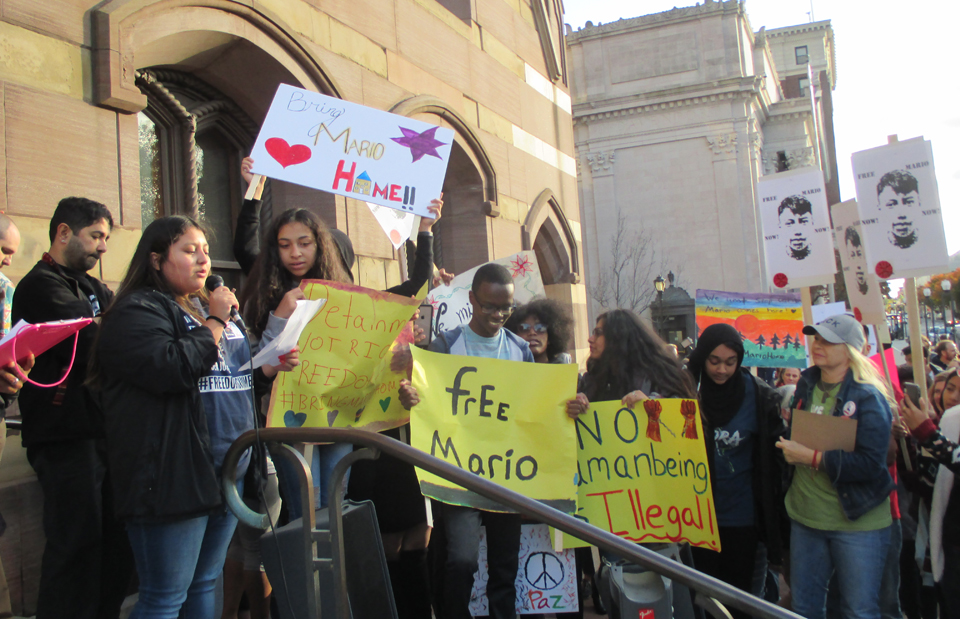 NEW HAVEN, Conn. – Students at Wilbur Cross High School got a civics lesson that may be more valuable than a year in the classroom. Dozens of students, along with their teachers and staff rallied on October 18 in support of classmate Mario Aguilar Castañon, who is being held by ICE without bond pending deportation. Community supporters and elected officials swelled the crowd to several hundred. Mayor Toni Harp, who defied Trump in supporting sanctuary policies for New Haven, opened the rally on the steps of City Hall.
A popular junior at Wilbur Cross who works 30 hours a week to help his family, Mario fled violence in Guatemala. While reporting to the courthouse in Milford to answer a traffic charge, ICE agents grabbed him and are holding him in detention.
Wilbur Cross Principal Edith Johnson, speaking in support of her "exceptional student," said that fear of ICE arrests must now be added to "community violence, tragic accidents, medical conditions and significant trauma" which impact the school's diverse student body.
Stephanie Paucar, a classmate of Mario and a member of Connecticut Students for a Dream (C4D), said, "We shouldn't have to leave home every day wondering if our loved ones might be detained. As the child of immigrants, I fear all the time about what if my parents would be detained."
In an emotional speech, State Sen. Gary Winfield said there is something deeply wrong in this country to allow kids to be locked up, and supported Paucar's call to abolish ICE. Winfield was a leader in strengthening Connecticut's TRUST act, which prevents state officials from unnecessary cooperation with ICE agents.
Mary Perez Estrada, one of Mario's teachers said, "Through this experience, Wilbur Cross students, teachers, and staff have learned how to be better activists." Surrounding her, the students led the crowd chanting, "What's outrageous? Kids in cages!" "Up, Up with immigration; down, down with deportation" and, "No justice, no peace! We want Mario released!" They carried hand-lettered signs reading, "No Human is Illegal," "Yo Soy de Guatemala y No Soy Peligroso" (I am from Guatemala and I am not dangerous), and "Bring Mario Home."