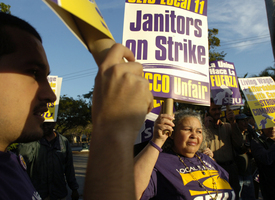 MIAMI — Hundreds of students, faculty, clergy, and community supporters marched through the University of Miami campus March 3 chanting, singing and carrying signs. At the edge of the campus this spirited throng joined scores of UM janitors, who raised the level of enthusiasm to a fever pitch, and the march continued along South Dixie Highway over to The Shops at Sunset Place, a pricey mall, before returning to picket outside Alumni Hall during Alumni Week.
Why? On March 1 the janitors went out on strike against UNICCO, a facility service company with which the university contracts for building cleaning. The janitors charge unfair labor practices.
UM janitors are among the most poorly paid university janitors in the country. The Chronicle of Higher Education reported in 2001 that a survey of 195 colleges and universities found that UNICCO workers were second from the bottom in pay. Many of these janitors earn less than $7 an hour. They do not receive health care. In fact, many contract workers at this prestigious university earn $4 less than Miami-Dade County's living wage.
UM President Donna Shalala, former U.S. secretary of health and human services, claims "neutrality." She argues that the janitors work for UNICCO, not UM and that, in any event, UM cannot intervene during a union campaign. Shalala has resisted contracting a living wage with UNICCO since a campus campaign in 2001.
Now, with SEIU involved and a strike, things are hotter than ever. Dozens of faculty have moved their classes off campus. Some meet on grassy corners. Others are in nearby houses of worship. The Episcopal Church has opened its doors as a home for Strike Sanctuary.
Ana Menendez has published two columns in the Miami Herald, the first comparing Shalala's lavish lifestyle to that of Zoila Garcia, a janitor struggled to get by on $6.70 an hour until she was fired for talking with a journalist (before work, off campus) and allowing him to take her photograph.
Students organized the March 3 action. The South Florida Peace and Justice Network initiated a food drive. Students and faculty have joined the picket line. Most recently, Felipe Estevez, the auxiliary bishop for the Archdiocese of Miami offered to mediate the strike. And still, the UM administration remains "neutral."
The University of Miami is the largest private employer in Miami-Dade County. The UM is a most visible institution, highly valued in the community for both its education and its sports teams. South Florida identifies with this school. But UM's janitors are among the lowest paid at any university. In fact, UNICCO janitors at other universities and at other facilities in Miami-Dade County are paid significantly higher wages.
Supporters say the significance of this strike goes beyond UM and UNICCO. "The struggle being waged by these courageous workers is for all of South Florida. This campaign has the potential to have, on the local level, the impact of the UPS strike some years back," said one activist.
Readers can follow and support this struggle via www.seiu11.org and www.yeswecane.com.