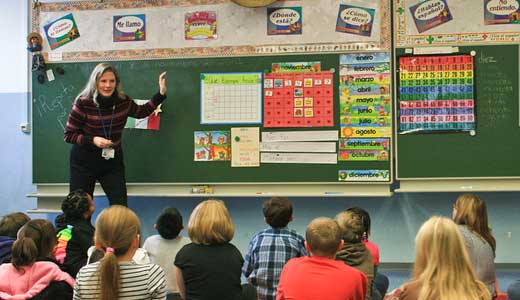 WASHINGTON – The nation's two teachers unions are taking a cautious, wait-and-see attitude towards a draft rewrite of the nation's basic federal education law.
But at the same time, the American Federation of Teachers and the National Education Association re-emphasize that any revision of the law must benefit students and teachers and not make their success impossible.
The revision must also eliminate reliance on test results as the sole measure of a school's progress and teachers' success, an aim the rewrite's sponsors say they achieved. That reliance produces "teaching-to-the-test" and sets up schools to fail under GOP President George W. Bush's 2001 No Child Left Behind act.
The unions took the cautious positions after Senate Labor Committee Chairman Thomas Harkin, D-Iowa, and its top Republican, Mike Enzi of Wyoming, unveiled their draft of a new federal education law on Oct. 11. The two senators dumped many of the onerous NCLB provisions. They even restored the law's old name, the Elementary and Secondary Education Act. Then they pushed it through the committee, 15-7.
The big change: The Harkin-Enzi bill dumps Bush's "adequate yearly progress" scheme, used to label schools failures and strip them of money for low-income kids.
The Senate panel set to work on the Harkin-Enzi bill on Oct. 19, facing more than 174 amendments, half of them by right-wing Sen. Rand Paul, R-Ky., a foe of the bill.
"Our bill will equip students with the skills and knowledge they need for success in college and careers," Harkin said. "It will support teaching and learning, rather than labeling and sanctioning, focus federal attention on turning around low-performing schools and closing achievement gaps, improve resource equity, and give states and schools the flexibility to innovate."
Enzi said the two started talking "more than a year ago," and both found big problems with Bush's law. "We set out to find solutions. As a result, our bill reduces the federal footprint in our schools, and continues the transparency that is critical to parents regarding student performance." He, too, emphasized giving the states more flexibility.
NEA President Dennis Van Roekel was cautiously pleased the Harkin-Enzi bill removed test results as the sole measure of success. But he said the bill is still too top-down, and urged his union's three million members to lobby lawmakers to go slow on it.
"The draft committee bill still relies heavily on outcomes of test scores instead of supporting true multiple measures of school performance," an NEA statement said. It also "prescribes top-down models of school turnaround that are not based on research, don't work, and ignore promising locally developed ideas" and the Harkin-Enzi bill "takes away teachers' rights to have a real voice in their own evaluation."
AFT President Randi Weingarten, whose union has 1.4 million members, was also cautious about the new legislation. "When done correctly," she said, "evaluation with tools and supports for teachers can lead toward a path of vibrant instruction. When done incorrectly, it becomes just a human resources sorting mechanism that devalues teachers, limits their growth, and undercuts our children's education."
AFT said the Bush law's "broken accountability system led to overemphasis on testing and sanctioning schools, rather than improving teaching and learning." AFT has always pushed for better teacher development and higher learning standards, it added, but it's not sure the Harkin-Enzi bill is the right way to achieve those goals.
Instead, the union favors "Common Core State Standards" for schools created and adopted by 46 state school superintendents.
"Valid and reliable teacher development and evaluation should be based on multiple measures, not just test scores, and should provide teachers with the feedback, tools, and conditions they need for continuous improvement," AFT's statement added.
There's one other interested party that is dissatisfied with the Harkin-Enzi education bill: The Obama administration.
Obama Education Secretary Arne Duncan, former chief executive officer of the Chicago Public Schools, said in a statement that "we cannot retreat from reform." Duncan regularly meets with the teachers' union leaders, but that did not stop him, or Obama, from pushing test scores as the way to evaluate schools, or backing arbitrary mass firings of teachers if schools "underperform."
Duncan didn't say he would recommend that Obama, his friend, boss and basketball partner, should veto the bill. "A comprehensive evaluation system, based on multiple measures, including student evaluation, is essential for reform to move forward," Duncan declared.
Photo: Herald Post // CC 2.0