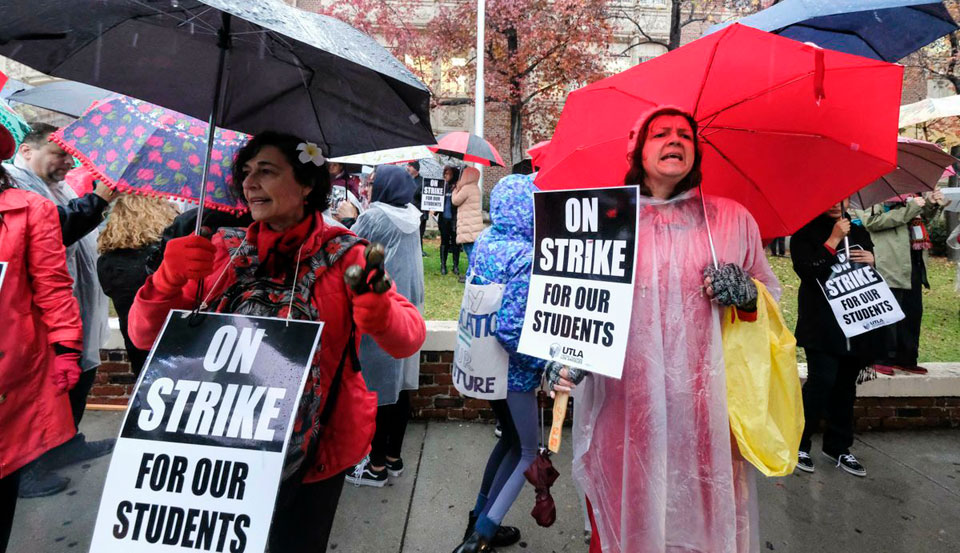 LOS ANGELES—On Tues., Jan. 22, after six days on strike, United Teachers Los Angeles (UTLA) announced an agreement with Los Angeles Unified School District (LAUSD). Copies of the Tentative Agreement were circulated to the 31,000 union members still on the picket lines. Chapter chairs at 1240 schools in the District conducted votes to approve the agreement.
The strike began on Mon., Jan. 14, and lasted all that week through four days of steady rain until the skies cleared on Fri. Angelenos were impressed by the dedication of teachers who wrapped themselves in plastic ponchos, continued to march not only in front of their schools but in massive rallies downtown designed to show both their own unity and broad solidarity among the parents, students and general public. No more than a third of the students attended understaffed schools during the strike, meaning that the financially strapped District lost over $100 million in state per-pupil funding.
The long MLK holiday weekend provided some relief from the vigors of the picket lines, but during that time UTLA and LAUSD negotiators huddled in City Hall with Mayor Eric Garcetti to hammer out an agreement. At 9:30 a.m. on Tues., when the picket lines had already resumed for the sixth day, the settlement was unveiled.
Although UTLA compromised on a number of issues down from their original proposal, the final agreement largely follows its contours. Members of the public, and the teachers themselves, had to ask why it took a painful, costly strike affecting 600,000 students and their families, to achieve what might have been won by bargaining any time over the 20 months since the expiration of the last contract.
The answer to that question is, of course, that LAUSD was provoking the teachers and the union movement itself, and the public as well, to see if a lack of community support would enable the District to continue dismantling public education and siphon off public funds into charter schools and private hands.
The public now has a much clearer understanding of the intent by the American "free enterprise" system to decimate, privatize and monetize what was in many parts of the country the jewel of the national commonweal—our public education system—which over the decades helped to establish a broad, well educated middle class. (With some glaring historical flaws that cannot be overlooked, such as inferior schools under segregation, gender discrimination, and rural poverty.)
The students also received a civics lesson unlike what their textbooks teach: They saw a form of class warfare playing out in front of their eyes, and in that struggle they could plainly see that the teachers were on their side.
In our series of recent articles in People's World we were able to outline many of the teachers' complaints—salary levels, of course; but the union made much more of issues such as out-of-control class sizes, lack of adequate staffing in schools, including counselors, librarians and nurses, and the proliferation of mostly non-union charter schools which discriminate in their non-acceptance of students with learning disabilities yet continue to operate on public school grounds and with public school money.
What the new contract says
On salary, the agreement stipulates a 3 percent retro salary increase for the 2017-18 school year and a 3 percent increase retro to July 1, 2018. According to the "Me Too" policy, school administrators will also benefit from these raises even though they did not sacrifice any lost salary during the strike.
On class size, the agreement eliminates the hated section 1.5 which had previously allowed the District to unilaterally ignore all class size averages and caps if it claimed a financial crisis. It further delineates gradual class size reductions over the next four years, but nowhere near to the degree that educators would prefer. UTLA President Alex Caputo-Pearl modestly commented, "We have started down a real path to address class size."
One of the issues teachers had consistently raised was the overemphasis on mandated testing which forced teachers to concentrate on "teaching to the test" instead of focusing on intellectual development. The new agreement says that beginning this school year, a joint UTLA/LAUSD committee will be created to develop a plan to reduce the amount of assessments by 50 percent.
Separate items in the agreement deal with staffing. By the 2020-21 school year additionally hired nurses will serve full-time at every school five days a week, and there will be a full-time teacher librarian at every secondary school campus five days a week. More student counselors will be hired, allowing the district to maintain a counseling service ratio of 500 to 1 per secondary school, which is a slight improvement over anywhere from 690 to 890 per student at present, according to the school.
The district has also agreed to designate another 20 community schools by the end of this school year, and 10 more by next year. Local School Leadership Councils at community schools will have much wider discretion over budgetary decisions; this provision aims to reduce the daily shortages of classroom supplies that plague teachers' lives and shortchange students.
As to the problematic issue of privatization and charter schools, the agreement states that "The Board of Education will vote on a resolution calling on the state to establish a charter school cap and the creation of a Governor's committee on charter schools at the next BOE meeting." This item reflects growing concern and interest in public education on the part of the newly inaugurated Gov. Gavin Newsom, and compels a statewide conversation over the nature and intents of the charter school movement.
On school funding, the strike brought into sharp relief how underfunded California's public schools have become—on the level of Louisiana and South Carolina. The principal argument of Superintendent Austin Beutner had been that though UTLA's demands had merit, the LAUSD budget simply could not fund them. Beutner's hurried visits to Sacramento to visit with legislators appealing for more school funding may have been little more than a public relations stunt, but the strike victory has called his bluff.
The new agreement mandates that "UTLA, LAUSD and the Mayor's office will jointly advocate for increased county and state funding." It is naturally in Mayor Garcetti's interest to achieve a victory for the city's schools, as it also was for him to play a visible role in settling the strike, in light of his much speculated-upon ambitions for a presidential run. But such considerations aside, state, county and city government—not to mention federal, which at the moment, under Secretary of Education Betsy DeVos, seems hopelessly antagonistic to public education—have been put on notice that educators, parents and voters are watching to see how they respond to the urgent need to prepare our children for their future.
Other clauses in the agreement deal with matters such as school co-location (shared use of school property by charter schools), more green space at schools for recreation, substitute teachers, adult education, union rights, and other topics. Significant for a school population such as L.A.'s, the new contract provides for an Immigrant Defense Fund: The "District will provide a dedicated hotline and attorney for immigrant families and will collaborate with UTLA for further services." The agreement also establishes an ethnic studies taskforce to assess current provisions and offer suggestions for the future. The full agreement can be found at UTLA.net.
Partially offsetting the gains from the new contract agreement, the six-day strike also caused teachers to forgo about 3 percent of their salary in lost wages. Although the new agreement passed by a large margin, some teachers were disappointed that in the end it did not vastly improve over what their union had rejected before striking.
Austin Beutner summed up the LAUSD perception of the strike, saying, "We can't solve 40 years of underinvestment in public education in just one week or just one contract." If the agreement cannot be seen as comprehensively transformative, a union that showed its muscle, a community that quickly became educated and engaged on public education, and a corpus of public officials, legislators and legislative bodies newly motivated to improve California schools, may all combine to make real advances in the coming years.
Future improvements might be enabled by demographic changes in Los Angeles. If current staffing, building stock and funding can be retained, that infrastructure may better serve a shrinking enrollment. A lower LAUSD population is anticipated from less immigration, smaller families owing to the cost of raising children, middle-class families sending their kids to private schools, and the high-priced economy of L.A. that is driving working-class and prospective home-owning families out.
There is no question that the education of our young people in America has become an existential struggle over basic democratic principles—what the country stands for, what its people can rightly claim, and what we are willing to fight for. Education itself is not an isolated problem: It intersects and overlaps with every other problem in need of answers—poverty, homelessness, violence, wages and the nature of the workforce, race and gender, voting rights, mass transit, the justice system, and much more. These issues do not all fall under the direct purview of the labor movement, yet if it were not for mass-based unions and their influence on the larger body politic, few of them would get addressed at all.