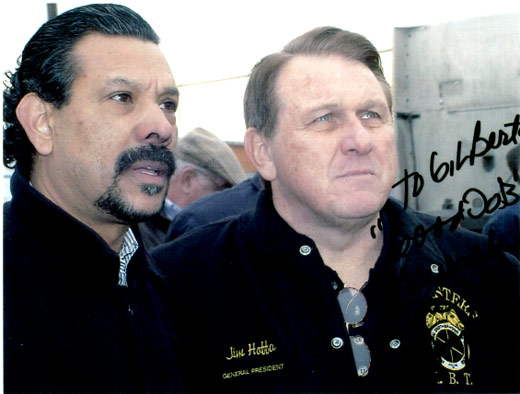 WASHINGTON (PAI) — It's been 10 years since Teamsters organizer Gilberto Soto was murdered in El Salvador, and that's too long to wait for justice, union President Jim Hoffa says. It's time for the Salvadoran government to end the coverup of the crime, he adds.
So to put public pressure on El Salvador, the Teamsters and 14 human rights groups bought a full-page ad about Soto's case. Headlined "Justice or Impunity?" the ad ran on November 5 in El Salvador's largest paper, La Prensa Grafica.
Soto was murdered while contacting Salvadoran truckers and unionists to establish fraternal relations there and elsewhere in Latin America. The ad challenges Salvadoran Attorney General Luis Martinez to reopen the probe of Soto's murder and other human rights abuses. In the past, the attorney general's office has been part of the cover-up, the union said.
"It's time for justice for Gilberto Soto's family and all who cherish human rights," Hoffa explained. "The unresolved human rights crimes of the past – the Jesuit case, massacres like El Mozote, like that of Gilberto Soto – involve deep emotional wounds for the families and relatives of those who died. These cases serve as a test for the criminal justice system, especially for the Attorney General's office, as to whether it can investigate effectively and without political interference," said another signer of the ad, Geoff Thale, program director of the Washington Office on Latin America.
Photo: Gilberto Soto and Jim Hoffa. Teamsters.org.