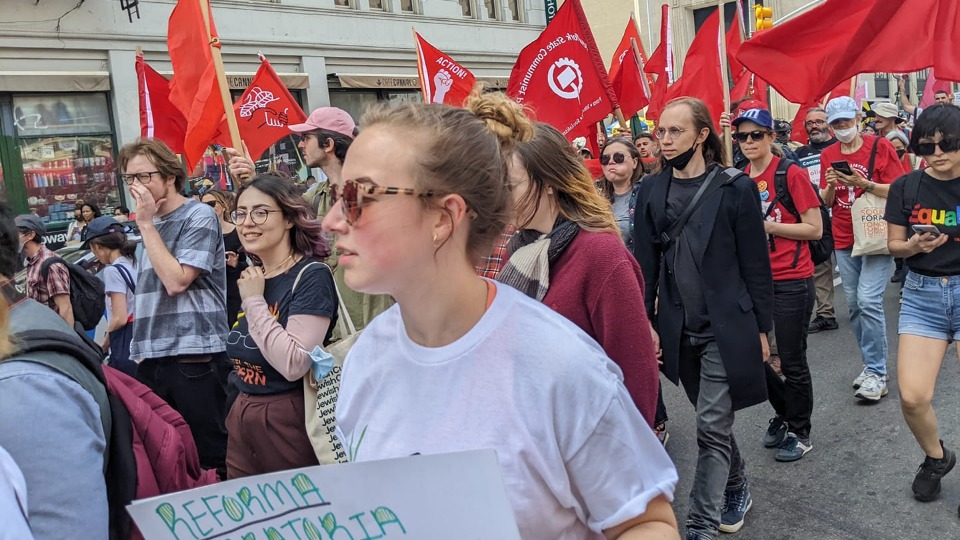 ARIZONA
Tucson labor movement keeps new May Day tradition going strong
By Joe Bernick
TUCSON, Ariz.—For the second year in a row, Tucson's labor movement held a May Day event at a Southside Amazon plant to express their solidarity with workers here and across the world. The action, sponsored by the Pima Area Labor Federation (PALF), attracted over a hundred trade unionists, retirees, and supporters.
Demonstrators interacted with Amazon workers through a chain-link fence, some who came over to chat, and others who signaled solidarity or honked their horns as they drove out on a delivery.
AFL-CIO Southern Arizona Field Director Ryan Kelly kicked off the event with chants of solidarity: "You deserve a union! You deserve dignity! You deserve a raise!" He noted that we are at a time when big things are happening, citing the organizing drives at Amazon, Starbucks, and many other workplaces, and calling it "an explosion of energy."
PALF Chair Trish Muir gave her May Day greetings but explained, "This is not a new day—this is still 1886, when workers were fighting for an eight-hour day and against exploitation," alluding to the original May Day actions in Chicago, adding that workers are still fighting for many of the same things workers fought for in the 19th century.
She continued, saying, "We are no longer willing to accept unsafe working conditions and low wages like those at Amazon. We demand better for ourselves, for our children, and for our brothers and sisters at Amazon. We will be in the streets and we will be in their faces, until we are fairly compensated."
Other speakers included Teamsters leader Mike Sanchez, Cecelia Valdez from CWA, Eduardo Placencio from USW, Arizona Jobs with Justice leader Steve Valencia, and Erica from "Defenders United," which is organizing workers at environmental NGOs.
Very significantly, it appears that Tucson's labor movement has adopted May Day as a holiday precisely because of its internationalism and tradition of worker militancy. Speakers and participants noted that Amazon, local mining companies, and other corporations that workers struggle against are multinational, and therefore international solidarity is required. Another advance is the understanding that organized workers need to be proactive in their support for new organizing drives at places like Amazon.
ILLINOIS
International Workers Day thunders down the streets where it all began
By Maxwell Schwarz
CHICAGO—Although the drizzle of rain didn't come until the end of the rally, the working class brought plenty of thunder to the streets. From Union Park, to Haymarket Square, and finally descending on Federal Plaza, the 133rd International Workers Day in Chicago was a celebration. But the working class celebrated more than the struggle this May Day; we celebrated the culture born out of our struggle.
As a crowd huddled near the stage flags of countries around the world, flags of unions, communists, and socialists were flying overhead. Unrelenting wind whipped the banners, among them the CPUSA's red hammer and gear and the flag of the Chicago Young Communist League.
While Chicago Police helicopters buzzed overhead, the march exploded onto Randolph Street, with hundreds filling the narrow boulevard. The jubilee drew workers out from restaurants and cafes who held up their fists in solidarity. The crowd marched on, making their way deeper into the city.
The memorial at Haymarket magnified the energy of the march. The monument itself, dedicated in 2004, is a bronze collection of figures, wagon wheels, and a canon. It feels insignificant when one thinks about what the scale of what took place in Chicago in 1886. Thousands gathered in Haymarket Square to demand an eight-hour workday. But when rain began to thin the crowd, a gang of 300 police officers came to expel any stragglers. Someone—history doesn't know who—tossed out a bomb, the police opened fire, and when the smoke cleared, Haymarket Square was littered with bodies.
In the vacuum, anti-immigrant hysteria and labor-crackdowns swept up the country. Chicago put eight anarchists on a sham trial without much evidence that some of them were even there. The state hanged four of them; another committed suicide in prison.
There was no martyrdom at Haymarket this May 1st, however. In small pockets of the crowd, people were dancing. People were singing and climbing onto the statue. For all the tragedy and setbacks, the working class remained optimistic. May Day began right there with a demand for decent working conditions—and ended in police violence—on these very streets.
The Chicago Communist Party Club and the YCL were in the thick of the march, nestled between banners declaring "Workers of the World, Unite!" and chants in Spanish for rights for undocumented workers. To the left, abortion rights activists. To the right, the Service Employees International Union. And marching right alongside were members of the Starbucks Workers Union in Peoria, Ill., the first unionized Starbucks in the state. We could feel that we were not alone.
The legendary Frank Chapman, who delivered a few words at the end of the rally, might have put it best. "I'll keep it short," he said. He told the crowd that they know the only way they can make change is if power is in the hands of the people, together. "I know that we can win," he said. "And that's that."
NEW JERSEY
Struggles for immigrant rights and workers rights join together in Princeton
PRINCETON, N.J.—Unidad Latina en Acción N.J. (ULA NJ) hit the streets here on May Day to celebrate International Workers Day. They demanded the passage of the New Jersey Domestic Workers Bill of Rights, the right to organize without retaliation, building a worker's center in Princeton, the Values Act, and an end to wage theft. The Worker's Center will be a place where workers have a place to meet and organize to demand better wages and working conditions.
Unidad Latina en Acción N.J. (Latinas United in Action N.J.) is a Latin woman-led grassroots organization with the mission to empower and fight for immigrants, labor, and human rights by educating, empowering, and organizing migrant communities.
On May Day, they made demands for all workers to have the right to organize, for the N.J. Domestic Workers Bill of Rights, along with mechanisms for implementation, no more collusion by local police with ICE, the N.J. Values Act., Desde Abajo (from below) Labor Enforcement and No to Wage Theft, and a $1Billion N.J. Fund for Excluded Workers. They also demanded asylum and papers for all.
The workers and their families marched in solidarity with Starbucks employees, Black Lives Matter, and No to War & U.S. Intervention. Rather than funding war, they demanded that money instead be made available for economic relief to workers and their families affected by the COVID-19 pandemic.
The annual May Day march here was at risk of not taking place this year, as the mayor of Princeton and the city council denied the permit. The workers overcame this hurdle by organizing and getting people in the community to sign a petition to waive the $2,000 that the city demanded.
The migrant worker community is criminalized by local police, ICE collaboration by local law enforcement, racial profiling, and the detention and deportation system. For 13 years, the ULA N.J. has dedicated its work to support the Princeton community by defending workers from being exploited by corporations.
These are the same workers that at the height of the pandemic were considered "essential workers" for their indispensable work at logistical sites, meatpacking companies, and elsewhere, keeping the supply chain open and the economy running. Now, they are invisible to our politicians.