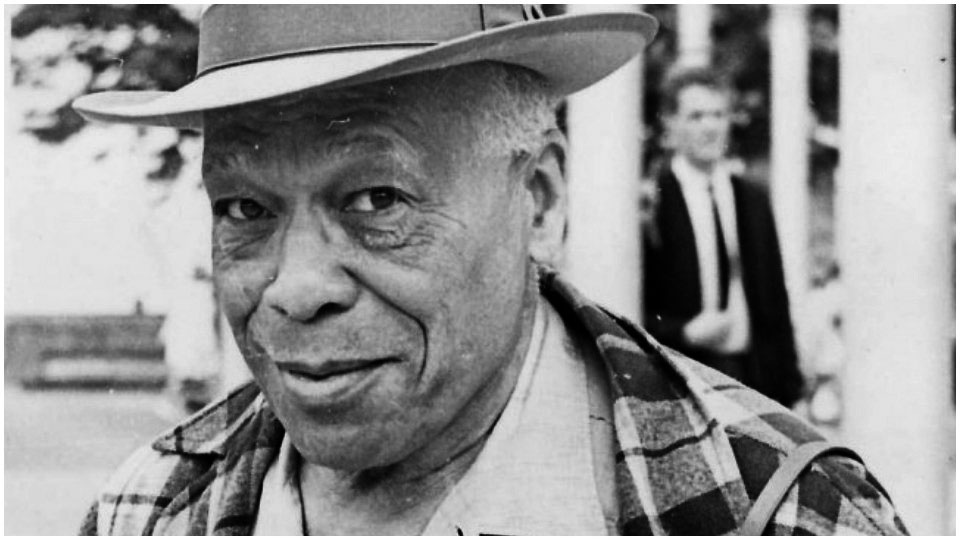 SEATTLE—Earl George was a quiet but energetic presence at every People's World picnic I ever attended in my youth, always with a camera around his neck, snapping pictures especially of mothers and their children at Seward Park or some other lovely park in Seattle. He was a short, lively man with a droll sense of humor. He and his wife, Vivian, were inseparable, welcoming visitors to their home in the Central District of Seattle.
We have one of George's black and white photos, displayed in our living room, of my wife, Joyce, reading a book to our two-year-old son, Morgan. He took that photo and eight or nine others—all treasured images—in 1965 when Joyce, Morgan, and I drove up from Portland and visited Earl and Vivian.
George was legendary in the annals of labor history in the Pacific Northwest, a participant in the great 1919 Seattle General Strike, an African-American warehouse worker, a leader of the International Longshore and Warehouse Union (ILWU). He joined the Communist Party in 1937 after reading Marx and Engels' Communist Manifesto. He was a trade union leader of the party in Washington state for decades.
Born in Denver, Colorado, in 1894, Earl George grew up steeped in the struggles of Denver's Black community. He joined his first organization in 1906 at the age of 12, the United Brotherhood of Friendship, which presented stage dramas of the struggle against racist oppression in Denver's Black community. He won a victory over segregation when a previously all-white group of cadets admitted him. But his family could not afford to buy him a uniform at a cost of $22.50.
In an interview shortly before his death in 1985, he told Marc Brodine and Juana Mangaoang that he was deeply influenced by the violent attacks of the banks, railroads, and mining interests to crush the workers' movement for living wages and working conditions, such as John D. Rockefeller's 1914 Ludlow Massacre. This atrocity was inflicted on 1,200 striking miners and their families living in tents outside Ludlow, Colorado, south of Denver. Scores of women, children, and men were murdered with machine guns.
George was 20, a student of math and chemistry at the University of Denver, when this barbarous attack occurred.
He was drafted into the segregated U.S. Army in 1917 and sent to Fort Lewis. Discharged from the Army in 1919, he found work as a steward aboard coastal steamships in Puget Sound. He joined the Industrial Workers of the World (IWW) with their slogan "an injury to one, is an injury to all," according to a profile by Robin Walker in the ILWU Dispatcher.
Earl George was one of the 65,000 Seattle workers who walked off their jobs in solidarity with 35,000 shipyard workers during the Seattle General Strike demanding a long promised wage increase. George commented in an oral history interview on the peace and quiet that descended on the city. "Nothing moved but the tides." The Seattle General Strike lasted only five days, but it left a permanent mark on this city, a union town forever.
2019 marks a century since the founding of the Communist Party USA. To commemorate the anniversary of the longest-surviving socialist organization in the United States, People's World has launched the article series: 100 Years of the Communist Party USA. Read other articles published in the series and check out the guidelines about how to submit your own contribution.
During the Great Depression, he helped organize the Unemployed Citizens League with the slogan "Organize or Starve" and the Workers Alliance, fighting alongside the CIO (Congress of Industrial Organizations) to win union rights for unorganized workers. He ran for a seat in the Washington State Legislature, where already a dozen members of the Communist Party were serving as legislators.
Together with Bill Pennock, a member of the legislature and leader of the Washington State Pension Union, George helped push through the nation's first pension bill just months before passage of the Social Security Act in Washington D.C. He also helped organize the Washington Commonwealth Federation.
(The CPUSA archives at Tamiment Library in New York contain a 1952 letter from William Pennock, then president of the Washington State Pension Union, to CPUSA leader Elizabeth Gurley Flynn regarding her "shameful and outrageous" imprisonment during the McCarthy era. Pennock writes in his letter, "I can't tell you where Elizabeth Gurley Flynn leaves off and the people begin.")
Earl George was a rank and file leader of the 1946 dockworkers' strike and was elected ILWU Local 6 president in 1950. Labor historians say he was the first African American elected president of a union local in the Pacific Northwest. As leader of ILWU Local 6, he threw his weight into a drive in 1948 to compel Safeway and Tradewell grocery stores to hire African-American workers.
Robin Walker writes that "George and then-ILWU Regional Director, Bill Chester (later International Vice President) were among a number of African-American unionists who helped found the National Negro Labor Council (NNLC). A powerful but short-lived labor organization, the NNLC focused its goals on ending racial discrimination in industry and racism in unions. They campaigned on getting unions to organize Black workers and were successful in getting a number of unions to call for non-discrimination clauses in their labor contracts."
Walker adds, "Earl George was a survivor of racism and also a strong combatant against it. Like many labor activists of his time, he also faced bitter red-baiting."
Walker writes that Earl George, like ILWU President Harry Bridges and other members of the union, was "scapegoated for his political views." He and Vivian were subpoenaed to appear before the House Un-American Activities Committee and Washington State's local incarnation, the Canwell Committee. They both refused to testify. His dear friend, Pennock, died from an accidental overdose of sleeping pills during this vicious witch hunt.
Lonnie Sue Nelson was a member of ILWU Auxiliary Number 3, daughter of Burt Nelson, a founding member of the ILWU, and one of Earl George's closest union brothers and Communist Party comrades. She remembers Earl George fondly in the Dispatcher profile. Earl George, she comments, "was one of the people in the ILWU who represented a wide understanding of life and industry. He was a working-class intellectual."
During those years, he befriended Paul Robeson, the great singer and fighter for equality and democracy. The Seattle branch of the NNLC invited Robeson to sing at a concert in Seattle in 1952. The Seattle City Council barred Robeson from singing at the Civic Auditorium. The NNLC, with Earl George in leadership, organized mass protests against that racist witch hunt. The concert took place and my brother, Steve Vause, and I hitchhiked down from Sequim to attend the concert, a life-altering event for me.
Robeson was also invited to sing at the convention of the Mine, Mill, and Smelter Workers (MM&SW) in Vancouver, British Columbia. But the State Department had stripped Robeson of his passport and he could not cross the border into Canada. The MM&SW voted to organize a concert right on the U.S.-Canadian border at Blaine, Washington. (Again, this author attended that concert).
And where did Robeson stay during all these dramatic events? At a fancy hotel in Seattle? No, he stayed at the home of Earl and Vivian George, best friends of the "tallest tree in the forest."
Vivian George was a power in her own right. A staunch member of the NAACP, she was elected as a delegate to the NAACP national convention in Baltimore. Instead of checking into the convention hotel, she stayed with my wife Joyce and me at our home in Baltimore.