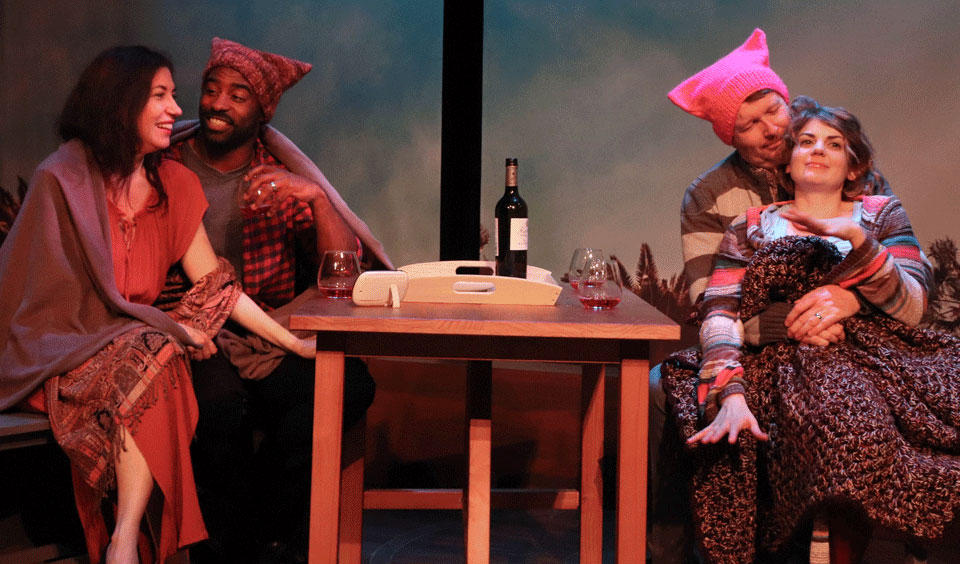 SANTA MONICA and NORTH HOLLYWOOD, Calif.—Two new plays now running in the Los Angeles area confront the role paranoid survivalist thinking is playing in our domestic life—that is, in the nation as a whole—and in the domestic lives of our homes and families. Both of these latest entries into the genre of dark political dramas have strong feminist elements woven into their plots, giving them an extra measure of contemporary relevance. I came away from them deeply disturbed and fearful for our country's future, wondering if we have reached a point of no return.
Since the time of the Greeks, the theatre has always served as a platform on which to discuss society's critical challenges. Back in the 1930s, stage productions of It Can't Happen Here, an adaptation of the 1935 political novel by Sinclair Lewis, frightened theatergoers with visions of a fascist America. Going back a few decades earlier, I can only imagine the shock it must have been for staid, middle-class audiences to watch Nora slam the door in Henrik Ibsen's A Doll's House, knowing that the system of gender relations had suffered a body blow from which it might never recover.
In the two plays under review here, both four-character works with two women and two men, women's liberation is a major theme, but also featured is the place of guns and armed self-defense. In one play, liberation is opposed to the gun culture; in the other, the two themes are inextricably linked together.
The Joy Wheel
Well known actor and director Jason Alexander helms the Ruskin Group Theatre's world premiere production of a new work by Ian McRae, whose earlier play, The Alamo, debuted at the Ruskin in 2017, was extended twice and ran for almost three months. I saw in that play a gifted writer's approach toward the subject of generational change, gentrification and the sense of male disempowerment as the old chauvinism and the old economy fall under assault.
In The Joy World (seen March 14), McRae continues his exploration of the battle of the sexes set in the context of end-of-times survivalism that has attracted who knows how many millions of Americans to its ranks. The basic premise of the play is that after forty years of marriage, life is changing for Frank (Dann Florek) and Stella Conlin (Gina Hecht). On the day of Frank's retirement party, after 45 years at a job he served dutifully but joylessly, it comes out that Stella, a habitual Catholic, has been invited by her best friend Margie (Lee Garlington) to join the cast of a community women's production of Tales from My Vagina, an obvious allusion to Eve Ensler's often produced The Vagina Monologues. Reticent though the couple are to openly discuss intimate matters concerning what happens—or these days is not happening—"down there," Stella is inspired by Margie's becoming a liberated, sexualized, independent woman.
Moving in the opposite direction, against the tenderness and vulnerability that love demands, Frank has been seduced into following the doomsday fears and prognostications of his PPPPPPP "prepper" friend Stew (Maury Sterling) by building an armed underground survival bunker in the space that once was the family swimming pool. For those outside the apocalyptic prepper community, PPPPPPP—which Stew has finally been able to secure as his Illinois license plate—stands for "Proper Planning and Preparation Prevents Piss-Poor Performance." When the barbarians come—you know, the "globalists" and their government jackboots—the well-trained preppers in this millenarian fantasy will stay on to defend civilization as we know it, and repopulate the Earth with fertile young women chosen for that purpose. McRae posits that everyone is riding the Joy Wheel, an amusement park ride where only the person holding the center of a whirling centrifugal circle will survive, the others being spun off the island. Happiness is a zero-sum commodity and few will win it.
Women's liberation is clearly no laughing matter, yet the growing pains that Stella goes through to enable her finally to stand before an audience of her neighbors, friends and fellow parishioners and celebrate "the fire in my hole" inevitably unleash some nervous, embarrassed humor. Frank makes the mistake of saying he denies Stella permission to do this play. Her friend Margie is a perfect guide into this brave new world of feminism, desire, and self-confidence.
Neither is the extremism of the survivalist philosophy anything to take lightly, but when guys hole up together to eat a "canwich" (that would be a sandwich in a can with a shelf life of several years) with a side of squirrel jerky, or fantasize about brothers braving out the toxic disaster above ground by drinking each other's filtered urine, with unmistakable homoerotic overtones, laughter at male folly will surely ensure. It's when Stew demonstrates his goose call that will attract food after the barbarians have devastated the land, that Frank recalls Stella's affection for the geese that used to water in their life-affirming swimming pool each year.
McRae's writing is winsome, and his characters are only exaggerated by this much. Each of them has their own truths to tell, and we are well advised to listen to them all. One especially funny scene, with Margie and Stew sparring with crude vagina and penis jokes, sure looked like it was going to end in a wild, unbridled erotic encounter.
If The Joy Wheel is ultimately a comedy, viewers pay a price for their pleasure. How is there any reconciliation possible with the fascist-mindedness of Stew's Storm Trooper-like buddies, whose real-life counterparts are out there in frightening force—in the woods, in bivouac encampments, in Charlottesville, and in hoods? Frank asks Stella in genuine wonderment, "How did you get so strong and I got so weak?" Realignment of gender assumptions is happening, and it's transforming society from top to bottom as we either grow more human or descend ever deeper into fear.
"While The Joy Wheel is fun and funny, it is also about people who find themselves losing connection and confidence in the lives they have built," says director Jason Alexander. "They desperately reach out to find something that helps them feel safe and secure. It feels like a reflection of what so many people are experiencing in these divisive, uncivil times. I very much wanted to be part of the journey that these characters take in finding something better."
I have never been disappointed by the work I've seen at the Ruskin Group Theatre. John Iacovelli's scenic design perfectly captures the tasteless banality of Frank and Stella's home, and the set for the former swimming pool now man-cave bunker seems to arise out of nowhere in a minor coup of stagecraft admirable for such a small venue. It's noted that there are no windows in a bunker, but significantly, there are no windows in the living room either! The intimacy of the theatre guarantees that every viewer will feel as if they are right there in Iacovelli's meticulous environments. Edward Salas did the light and sound design.
In the opening scene, when Frank is rehearsing his retirement speech, Stella has hoped to get a little color on by lying out in the sun, but she has fallen asleep and is now a bright and painful lobster-red and feels incapable of attending the dinner. A really fine touch in the costume and makeup department is the white un-sunburned image of a chain and cross around Stella's neck.
The Joy Wheel plays Thurs., Fri. and Sat. at 8 pm, and Sun. at 2 pm through March 31 (no performance on Thurs., March 28) at the Ruskin Group Theatre, 3000 Airport Ave., Santa Monica 90405. For reservations call (310) 397-3244 or go to the Ruskin website, where you can also view a video interview with director Jason Alexander.
Friends with Guns
The Road Theatre Company presents a world premiere of Friends with Guns (seen March 15), written by Stephanie Alison Walker and directed by Randee Trabitz. People's World reviewed Walker's earlier play Las Madres as "strong political theater that should not be missed." We'll be keeping our eye out for future work by this creepily insightful playwright—that is to say, it's creepy how you just don't see how sneakily some possible new ways of looking at reality all of a sudden start staring you in the face.
I say "a" world premiere because this play is being almost concurrently produced by companies in Portland, Ore., and Minneapolis.
Two young liberal couples, neighbors in Los Angeles (the wives meet at a children's park), initiate what looks to be a promising new friendship until the issue of gun ownership rears its head. Shannon (Kate Huffman) and Josh (Brian Graves) are horrified to distraction to learn that their pleasant fun-loving counterparts Leah (Arianna Ortiz) and Danny (Christian Telesmar) are passionate gun enthusiasts. Understand that Leah and Danny are no right-wing survivalists à la Joy Wheel, but in most other ways politically progressive and trying just as much as Shannon and Josh to be good, loving parents. Actually, Leah and Danny appear to be a lot less neurotic and given to hysteria.
Walker cleverly constructs her play to make it not so much about the facts surrounding gun ownership per se—such as the increased likelihood that someone with a gun in the house is more likely to die from a gun than someone without a gun in the house, not to mention the horrifying national epidemic of gun fatalities—but more about the visceral emotions we attach to gun ownership. And she also shrewdly puts the main arguments—the emotional ones—in the personae of the women, leaving the men to duke it out on the Second Amendment level.
By the time you're done, you'll appreciate—at least for these characters in this play—how owning and shooting a gun can be empowering and liberating. As Leah tells Shannon on their first outing to the shooting range, "Set the fear down, you can pick it up when we leave…."
The play indicates nothing specifically ethnic about the characters. Those decisions are left to the director. In this production, Leah is played by an actor with a Hispanic name and, without presuming to typecast, she could be said to look the part. Her husband Danny is played by an African-American actor, which lends special weight to his challenge to Josh: "Do you want only Trump supporters and the KKK and white supremacists with guns?… I want people like me to own guns."
Throughout the play I kept wondering, Why doesn't Josh bring up the first 13 words of the Second Amendment—"A well regulated Militia being necessary to the security of a free State"—that precede the following 14 words that gun owners, the NRA and most members of Congress cite: "the right of the people to keep and bear Arms, shall not be infringed." The second part is grammatically dependent on the first part. Where is the "well-regulated Militia" in the private stockpiling of lethal weapons, many of them AR-15's that have been involved in recent massacres? Where is the "freedom" in "a free State" for schoolchildren gunned down by a madman with some crazed political, psychological or even biological agenda? Where is your own freedom when your toddler grabs your gun and kills you with it?
And then I realized, of course, this is not about rationality, clearly stated facts and statistics. It's about fear and security, protection and confidence, perception and enemies. There is no quick and easy answer to these existential issues where in any case, under a system where lobbyists with unlimited resources control the conversation, we are really at the point, and maybe beyond, where a dispassionate discussion can be had. That was profoundly unsettling to me.
Further disturbing is the portrayal of the self-identified liberal "feminist" Josh who, when push comes to shove, like Frank in The Joy Wheel, denies his wife permission to pursue her "liberating" friendship with Leah and Danny. Is his own wife going over to the dark side, and can he stop it? Does he retain any right to control the limits of her feminism? Could he possibly compartmentalize his friendship with the neighbors—and with Shannon herself—and just agree to disagree on guns? Would he "allow" a gun in their own house? Would he even allow himself to handle and shoot a gun just to learn what it is that fascinates others?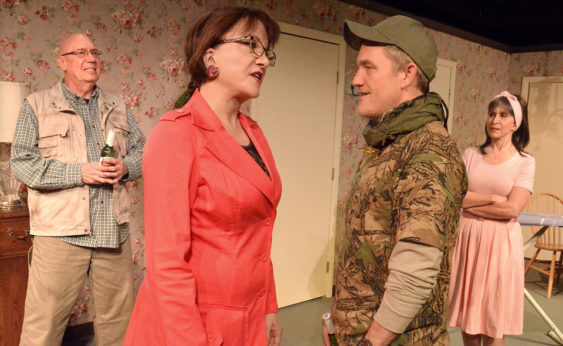 Still further upsetting is to see how we are manipulated—as of course, the American public has been—to treat the proliferation of guns as merely an honest difference of opinion with balanced arguments on each side as if there weren't a daily slaughter happening within our borders. Is that the price we pay to maintain "a well regulated Militia," and is that what that Militia looks like on our streets and in our schools?
If it looks as though Josh and Shannon's marriage is falling apart before our eyes, do we see this as a metaphor for the country? "You're worried you're losing your wife," Leah tells him, "because she's discovered her strength." Will we destroy ourselves over gender relations, on top of guns, never having found a way toward resolution? Is there any hope at all?
With all these issues so powerfully laid before us in the theatre, I can safely say I have never before been to a play that so thoroughly confronted and confounded my own assumptions. And I'm not sure I even appreciate that—which is finally, at least for me, the most troubling aspect.
The unpretentious set design is by Stephen Gifford, with lighting by Derrick McDaniel and costumes by Michele Young. The sound design by David B. Marling requires a warning: Best to cover your ears when the guns go off—I could feel the impact in my right eardrum for at least a couple of days, as Shannon herself felt it in her left ear.
Despite my own reaction to the play—perhaps because of it—I believe this is a highly important play for our time. It almost demands an audience talkback after each performance to process what we have witnessed. In the meantime, I'll be upping my donations to gun control groups in the "hope against hope" that somehow, sometime it may do some good.
Performances of Friends with Guns run through May 5 on Fri. and Sat. at 8 pm, and Sun. at 2 pm. Sunday performances are Pay-What-You-Can. For tickets, call (818) 761-8838 or visit www.RoadTheatre.org. The Road Theatre on Magnolia is located in The NoHo Senior Arts Colony, 10747 Magnolia Blvd. in North Hollywood 91601.