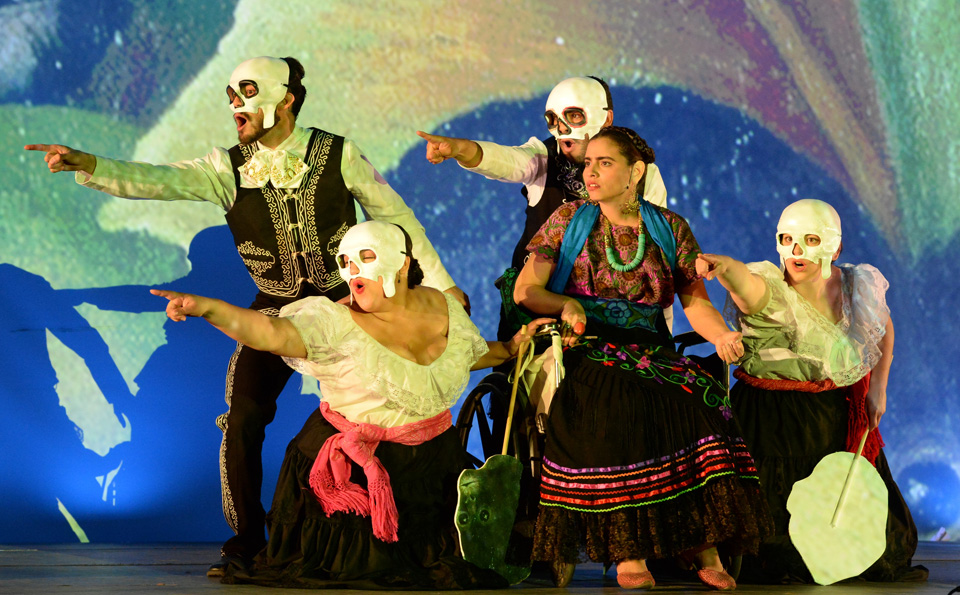 LONG BEACH, Calif.—Time was, when the lovely young unibrowed woman stunningly dressed in Mexican folk costume who stood beside her world-famous painter husband was introduced as Diego Rivera's wife. Given the meteoric rise in her notoriety in the years since their respective deaths, hers in 1954 and his in 1957, it's quite possible that the muralist of the Mexican Revolution will be remembered equally or even more as Frida Kahlo's husband. Kahlo has become the best-known woman artist of all time whose self-portraits document a life of merciless introspection.
The life and career of this incomparable painter, her vivacious spirit, passionate sexuality, pitiable fragility, and her tumultuous relationship with Rivera, who was two decades older than her, all this life writ large was "an opera waiting to happen," as its composer put it in a pre-performance panel on June 18.
More than 25 years ago, in 1991, the San Antonio, Texas-born Robert Xavier Rodríguez' captivating, eclectic score portrayed Frida with music that richly conveys her inner pain and prolific struggle to conquer death. Frida is currently enjoying its inexplicably long-delayed Southern California premiere in a lusty, fresh outdoor production by the provocative Long Beach Opera (LBO).
Sung in Spanish and English, with projected titles, Frida is a fast-moving succession of vignettes, starting in 1923 with Frida in high school. In 1925, when she was only 18, a bus she was riding crashed with a tram in Mexico City and she was nearly killed. With almost every bone in her body broken, and her internal organs skewered by a stray piece of metal, it was a miracle she survived at all, though her life from that moment on was one of constant operations and torturous pain. The fine Puerto Rican mezzo-soprano Laura Virella, making her LBO debut, is almost always on stage in the title role, negotiating not only the music but moving around both on her own two legs and by wheelchair. She totally looks and inhabits the part.
Diego Rivera is the lead male role, performed with masculine bravura by Venezuelan-American baritone Bernardo Bermudez. By centering the opera around Frida, Rodríguez achieves the remarkable feat of reducing this monumental figure to a co-starring position.
The world loves Frida Kahlo. She symbolizes the Everywoman who has endured the worst physical tragedy imaginable, yet risen above it through her lasting art. If anyone ever exemplified how to manage the balance between the personal and the political, her life would be a good place to start looking.
With Rodríguez' music, a book by Hilary Blecher, and lyrics and monologues by Migdalia Cruz, Frida was commissioned by the American Music Theater Festival and premiered in Philadelphia in 1991. Revised in 1993, it has had 13 other productions in the U.S., Mexico and Europe, making LBO the quinceañera—the 15th. Next week, the 16th production opens in Cincinnati. This property has legs in a Fridamania-obsessed world.
At LBO the score was performed by six players, on violin; clarinet and saxophone; trumpet and flugelhorn; percussion; accordion; and piano. Kristof Van Grysperre returned to the company as conductor. In the opera's previous productions, the orchestra has counted up to 11 players. The economy in Long Beach produced at times somewhat thin, tinny textures, and not always fortuitously miked.
LBO's cast also included four other hard-working performers, two women (Alejandra Martinez and Joanna Ceja), and two men (Jonathan Lacayo and David Castillo). They play relatives and various lovers, Mr. and Mrs. Henry Ford, Mr. and Mrs. Nelson Rockefeller, Mr. and Mrs. Leon Trotsky, and Hollywood actor Edward G. Robinson, as well as a quartet of frolicsome calaveras, skeleton figures who are always hovering around Mexican life, keeping the awareness of the journey ahead always in mind. One or more of these other characters are onstage practically the whole 2 hours and 20 minutes (with one intermission).
(As the story goes, one Day of the Dead Rivera presented Trotsky with a sugar candy skull with Trotsky's name on it, and the old Russian felt highly offended by what he interpreted as a most ominous gesture. Perhaps he was clairvoyant, but the opera doesn't expand on what effect Trotsky's assassination in August 1940 might have had on the famous couple.)
In past, more generously bankrolled productions, the cast has also been greatly expanded with more of these roles performed by individual singers. Seemingly answering critics who demand more representation on the stage by the kinds of people portrayed in the work, LBO can be commended for what appears to be an all-Latinx cast. LBO's artistic director Andreas Mitisek took a break from conducting, and both directed and designed the production, using projected details from Kahlo's paintings to reinforce the drama on stage.
In keeping with the setting, Frida's score features mariachi-style orchestration, including some authentic Mexican folk songs and dances, and the composer's own "imaginary folk music." The cast sings a "Zapata Hymn" which never existed until now. While I am on the subject, since Frida and Diego actually get married twice in the opera, with one divorce in between, do you know, Reader, the origin of the word mariachi? When the French occupied Mexico in the 1860s, soldiers either brought their fiancées over with them or married local women, and they hired musicians to help celebrate their mariages.
At one point Rivera issues a kind of manifesto, "Art is ham for the common man to share," set to the strains of the "Internationale." Kahlo has her own lightning bolt of social consciousness when she witnesses the death of a beggar woman's baby. "That's where the fight begins," she says. "Children must have bread."
Both Frida and Diego were, intermittently, members of the Communist Party of Mexico, though he, at least, was also denounced by the party for accepting "bourgeois" commissions. They welcomed the exiled Leon Trotsky into their circle and their home—where Leon Trotsky promptly became a lover of Frida's, to Diego's intense distraction. She also enjoyed sex with other women. For his part, Diego reportedly slept with Kahlo's sister Cristina, among many other women. There was much to love, and much to forgive, between those two.
The episode of the mural Rivera painted at the new Rockefeller Center in New York, which the tycoon Nelson Rockefeller ordered destroyed in 1934 because the artist would not remove the image of Lenin, is well handled. Frida finds no will to celebrate the prestigious commission in the face of breadlines out on the street. At that point Rodríguez goes into satirical Kurt Weill mode to capture both the humor and the decadence of the ruling class. "You've gone and painted a communist," Rockefeller says. "Red is not our color." It is here, too, where the libretto discloses, to the horror of these über-capitalists, that Kahlo is half-Jewish on her father's side.
Remaining performances are Sat., June 24, and Sun., June 25 at 8 pm at the Museum of Latin American Art (MOLAA), 628 Alamitos Ave., Long Beach 90802, and a free staging on Thurs., June 23 at 8 pm at Grand Performances, 350 S. Grand Ave., downtown Los Angeles 90071. All performances will be outdoors, so dress accordingly as evenings can get chilly.
Two hours before each performance at MOLAA, Frida ticket holders will have free exclusive access to the exhibit, "Frida Kahlo: Through the Lens of Nickolas Muray," and to the rest of the museum (and gift shop), much worth a visit. One hour before each performance, there's a pre-opera talk with Artistic Director Andreas Mitisek.
Tickets for Frida can be purchased either by calling the LBO box office at 562.470.SING (7464) or by going online to this site. Student Rush tickets for $15 will be available space permitting. Additional information about the opera can be seen here.